Should i change to english?
---
I want to jump horses more than anyone can imagine. I have been riding for two years. I can not even canter. I have had multiple meltdowns after being in the english saddle. I switched to western not so long ago. I feel like i dont really like any western disciplines. I would love to do dressage,jumping, or saddleseat. I would not like to do any western disciplines. I am thinking after i get confident in a western saddle then i will move back to english. I am afraid of falling basically. My first canter i leaned forward and fell off and i landed on my feet. I started crying but i was not hurt. My instructor is patient and herself is a jumper and dressage rider. She is really nice and will absouletly positively let me jump but i am not sure if i am ready. Please tell me if i should start jumping now or wait till i am confident in the western saddle then move back to english.
I would move back to english if western doesn't interest you. Just spend lots of time doing flat work before you try to jump. You need to have a solid seat before you jump.
---
Help me horse forum! You're my only hope!
I'd say switch back to english and keep getting experience on quiet trained horses. All of us fall (and not once), it's part of learning.
Personally I don't think western saddle (even with horn and all) will help much if the horse decides on bucking or rearing or bolting. I was bucked off western saddle just like that and horn didn't help a bit.
Well im still not sure i feel like i JUST switched to western like ummmmmmm fall or so !
As others have said, you'd need to get comfortable with flat work before you even think about jumping. A lot of trainers push to have kids jump when they're really not ready for fear of them losing interest. If you really want to jump, just remember to take your time with the basics. The better you learn them, the easier jumping will come to you :)
---
Worth The Wait <3
Yeah i texted my trainer already
Posted via Mobile Device
If you want to do English, then I see no point in doing Western!
I'd switch back to English. Just remember, it's not a race. No one will force you to do things that you are not ready for - have a word with your trainer and say that you are a little nervous. Don't feel stupid, I've been in this kind of situation, I talked to my instructor and now I'm a lot happier than I was! You're doing riding for pleasure so there's no hurry to suddenly start jumping 4ft poles, like the others have said, work on your flatwork, get cantering comfortably and in no time you'll be jumping!
The flat work is the most important. I've jumped cross-rails at a trot, and we do a little jumping work, but we still do a lot on the flat. I have cantered, but haven't did much recently, sitting trot without stirrups is what my instructor is focusing on now, just so when we do go into more canter work, we will have that seat.
If your really don't like western switch back to english, though a benefit would be to do english in a western saddle. One of the girls I first started riding with rode in a western saddle till she was comfortable then braved the english saddle. She already had the knowledge of english, since she rode english in a western saddle, but now had more confidence to tackle the english saddle.
---
A pony is a childhood dream, a horse is an adulthood treasure.
Rebecca Carroll
she said it was fine and that she was happy for me I LOVE MY INSTRUCTOR lol oh and i need your advice hold on ...... like all of you hold on i want to know if this boot is like good for english for like my first time to ride. I actually have riding pants but i want to know if these boots are okay i mean they might be for riding my mom thinks they are but yeah i found them and i just bought new freaking boots and now i changed to english lol they are just like working boots not really even close to western boots or i mean cowboy boots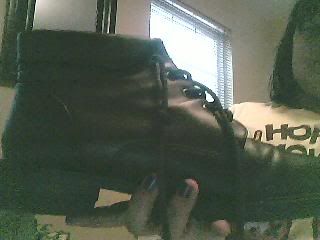 okay so those are the boots i geuss they would be good oh and also i found a size 5 child english boots in the closet so yeah offers no im kidding lol wat i was saying was that they look almost like these boots but they are black and not lace up they say saxon and they look like riding boots so yeah i think someone gave them to us
i mean i like them and duh they dont fit i wear like a 9 womans loll
Those boots look like they're probably fine.. I don't think you want a real thick/heavy tread though. your foot needs to be able to slip out of the stirrup if you fall. - also, you'll probably want half chaps riding english.