a shetland that was 8.1hh
---
Pocket - 8 yr old, 15.1hh Thoroughbred Mare
~You know you're a horse person when you say 'whoa' to your dog~
Teen Forum Moderator
Join Date: Dec 2010
Location: South East Texas
Posts: 7,157
• Horses:
2
I've ridden a 9hh Minature horse that I was training for a little girl a year or so ago- but I'm only 4'11 (veryveryshortperson o.o) so it wasn't really that big of a deal xP
13.3 ish quarter horse =)
Quote:
Strange- That sounds just like Willow. She's 13h Haflinger Cross. Does the little bucks until you let her know you aren't going to put up with it then she's good as gold. : )
Haha yeah. It scared the little kids we usually put on him and since he knew they were scared he'd keep doing it. So I just rode him for a while for fun. xD I really wanted to stick him in my truck and just take him home. He was absolutely adorable!
Here's a picture of him! We called hi, Fabio.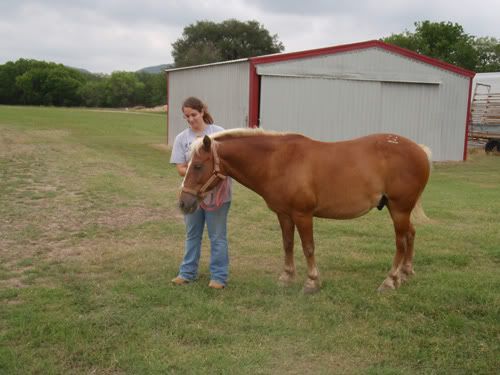 He's super obese, I know. I kept telling my boss we didn't need to give him pellets like the rest of the horses because he's a pony and not that old anyway. But they never listened. In the winter he was so cute and fluffy! I love that pony haha. I totally wanted to teach him to go english and jump.
NOTE: The girl holding him is like 5'1", so she makes him look bigger than he really is, lol.
---
"Always be yourself. Unless you can be a unicorn. Then, always be a unicorn."

The smallest I've ridden, was my first pony, she's about 9hh. But that was when I was a kid. In the past 6 years, the smallest I've ridden, even took to Pony Club, was 10hh.
Haha ive been on equiniphiles mini for a couple minutes... she started trotting.. it was really bouncy and i slid off
---
The Wind Of Heaven...
Thats What Blows Between A Horses Two Ears...
10hh only because me and a friend had to train a pony for driving and a little bit of walking.
---
A horse can teach a girl courage, if she chooses to grab mane and hang on for dear life.
12hh pony of some sort. Can't remember what breed.
---
♥When riding a horse, we leave our fear, troubles, and sadness behind on the ground.♥
I'm breaking a 9hh or 10hh mini for a little girl right now. I'm the smallest person at the barn that could do it, but I'm not planning on riding her tons, just enough to get her to understand stuff. I'm finding that walking beside her with the reins in my hands and leaning some weight in the saddle is doing just as well though..
She's so cute too!!
---
They say money doesn't buy happiness -- well happiness doesn't buy horses!
`A coupple of weeks ago I rode my 33.5" shetland gelding and I am 5'8 her was really good as it was is first time not being led (I am backing him) but he wouldn't turn or stop and would ocastionaly break into a trot but apart from that really good.