So Proud! I cried.
---
I just had to share the news I was told this afternoon. You will need to keep an open mind and think a little outside the box.

My daughter is 10 and has been going through a little crisis of the confidence type, she has come a huge distance in such a short amount of time I have been so proud of her. She has really put the hard yards in to get good results and has taken her pony to her first gymkhana just a few weeks ago, coming away with 2 firsts, 2 seconds, 2 thirds and 2 fourths and huge amounts of pride and confidence. This confidence, although fabulous, has led to Tareya believing she is some what the super hero horse rider. I have been a little worried that she might do something beyond her skill capabilities and put her right back where we started from.

Going off on a completely different tangent now to fill in the rest of the story. Eight months ago I purchased a chestnut TB, he is a lug of a horse but was quiet as a mouse and had a fabulous nature so I think he is gorgeous. A little chestnut filly TB was thrown in for free because they were going to send her to the doggers so I caved in and took her too. She is 3 and we were having a few problems with keeping the weight on her, she dived so suddenly I thought I might have lost her but she is looking almost half decent now so we thought we would slowly bring her back into work. HowClever on horseforum works for me and has been working quite closely with little Jazzy to bring her up to scratch, if you ask her she would say she is frustrating as all hell because one week she gets it so well and the next week she forgets it all. LOL! She is an unforgettable little filly though, such a love junkie.

Anyway Tareya (my daughter) has always expressed a desire to ride Jazzy but I've kind of been a bit hesitant. I go by the saying green on green equals black and blue, and although Jazz is very quiet she is still a 3 year old TB! I didn't want to take the chance that she would do something to ruin her newly found confidence.

So having heard all of that I am sure I know what you are thinking. She didn't actually let her ride the OTT TB did she? Well... no... I didn't but I am really happy that someone else did. Huh? Yep I have seen photographic evidence of my two babies trotting and cantering around the arena having the time of their lives and I did actually cry. I am going to continue to let them have fun together, under supervision of course, because sometimes the strangest things happen and you need to go with the flow. Who would have thought a 10 year old on a 3 year old TB was even possible. I know the dangers that still exist, babies will be babies, but I think with the right precautions this might be the best thing for both of them. I am over the moon, and slightly odd, but thats ok. LOL
Thanks for reading my novel, I just had to share. Just as a side note Tareya also rides Sahara Fantasy, she is HowClevers' mums horse and also a 3 year old and an anglo arab to boot. I think we might just own the bestest pair of 3 year olds in the world.
Oh that is wonderful! I know there are dangers but there are dangers riding your bike on a soft wooded trail (14 stitches for my son in the tummy:() I think some animals realize when a child is with them.
It was pretty cool to watch! If only little Jazzy would retain the things that I have taught her too!! Haha. Photos? Yes, photos!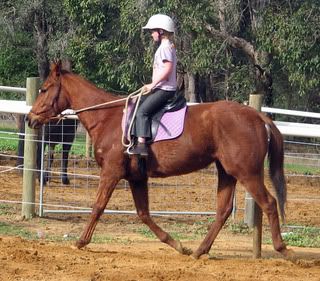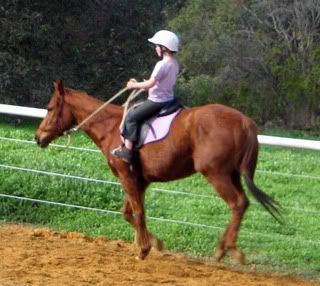 ---
Flirt-Hugo-Phoenix-Romance-Fanta-Nippa-Shiloh

Trojan 09.11.02 - 26.10.10 // Kody 01.09.89-25.06.12 // Rex 05.11.95-21.12.12

Ouch Chella! 14 stitches in the tummy must have been a bit traumatic! I agree though, there are dangers every where you just need to take the right precautions.

Yay.. thanks heaps HowClever, I was hoping that you would put in one or two of them having a good time. It's funny how matched they look, Tareya doesn't look as small as she really is on Jazz and yet Jazz is around the 15 hand mark. Weird.
Wow! What a persistent (and brave!) daughter you have there, haha. Even I would be hesitant to get on a 3 year old green TB. They really do look great together. She's going to be quite the horsewoman someday
---
He knows when you're happy,
He knows when you're sad,
And he always knows when you have carrots.
I think we put too much faith in age. You can be an old soul and be the complete opposite of your age. My second pony was 5, but the sweetest most tolerant thing ever.
Sometimes, the bond between a rider and a horse overcome age/experience. My two grandkids, ages six and eight, both have a way with horses that I've never seen before. They must get it from their momma. They've been helping a friend demo some of her Pasos for potential buyers. I get really nervous seeing them on those hot looking horses (who are actually beautifully trained - they just have a lot of "presence"), but they are closely supervised and are having the time of their lives!
---
Plain Old Dee, horses Dancer and Rain
I believe in dragons, unicorns, good men and other mythical creatures!
You know its funny, I have not seen Jazzy do anything that could be considered "hot" I know what she is, and I know how young she is but I think that she might be the old soul like Gidji says. I am trying to think back, the worst I have heard (not seen cos I was at work) is that she bucked once while HowClever was riding her, but if I remember clearly we put it down to pain for some reason. Either a sore back or a sore on her back, some thing like that. She has never acted her age! Ever. If she wasn't branded I don't think I would believe that she was so young.

I would love to see your grandies at work Dee! It sounds like they are having a blast.

It would be so nice to think of my two babies growing up together, almost like a story book happy ending. Getting a little ahead of myself I know but I've always had a great imagination. LOL
How sweet. We are in the same camp as you. My daughter is 11, we have a green 4 yr old quarter. I've been lectured many times but the love of the two of them has overcome obstacles. Good luck with both your girls.
Posted via Mobile Device