Western Riding Boot
---
Hello to all,
Just a question on a comfortable Western Riding Boot...My husband and I are
taking a vacation out west to MT to a Cattle Drive. My question is what would be the best Western Riding Boot? Any help from you all would be very
helpful
Thank you..
Carol
---
Ride with the wind.
90% of my riding is done in these:
Ariat Heritage Roper Cowboy Boots - Sheplers
I'd prefer more heel, but I also do a lot of walking in these.
I'd like to buy these (Tony Lama), but my wife is taking the totally unreasonable position that we need to put some money aside instead of spending it all the time...
Whatever you get, buy them far enough in advance that you can oil them (pure neatsfoot oil) and wear them a while to break them in. Good luck!
---
"Make the right thing easy and the wrong thing...well, ignore it mostly."
The kind that you aren't afraid to get dirty, are comfortable, and are not FRICTIONLESS (smooth no traction) on the bottom... (HORRIBLE IDEA!)

Do not get Phat baby or w/e as people have had issues with those the stirrups....
---
"Strength is the ability to use a muscle without tension"

these are the most comfortable riding boot I have ever owned.
Not the most comfortable standing and walking in boot ever but not horrible.
This is the boot I buy when I have the money go big or go home, right.
Bucboots
---
Last edited by CowboyBob; 02-18-2013 at

06:25 PM

.
Showing
Join Date: Jun 2011
Location: Cariboo, British Columbia
Posts: 11,951
• Horses:
3
Those boots that the previous posters showed, are very nice boots and work very well. However, if you are going to be using them for that vacation and maybe once in awhile after that, I recommended these Justin Ropers. I have this pair and it's been over 20 years. I still show and ride in them and they still look great....dollar for dollar, these are your best value. But if I was looking for a little nice ones, the Ariats would be my choice.
Justin Stampede Roper Cowboy Boot - Sheplers
Tricky question when you ask about the best. You can spend a small fortune on them. I still ride in my trusty old Tony Lama's. Love them. They may even be small mens. Not sure but I love them.

Oh and to add, leather bottom. I want my foot out when I want it out, ya know??!!
---
Melinda
definately ariat. And make sure they're tall to protect your legs!
I will have to say Tony Lama. I love mine and very easy to get feet out if need to :) these are mine.
. And my husband wears Corals and he loves his..
.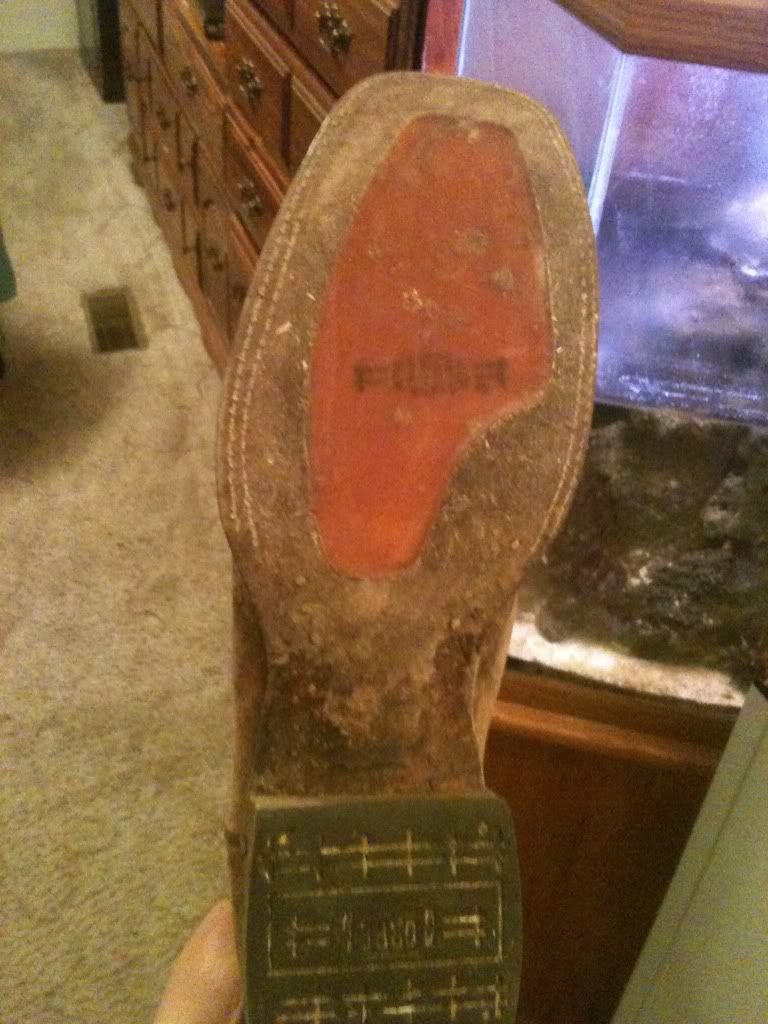 Posted via Mobile Device
For people who ride only occasionally, I recommend a plain roper like the one pictured in BSMS's post. If you will be riding several hours a day, I would upgrade a bit from the Ariat type boot and get a boot with a better shank.

If you have a very flexible or undersized shank in a boot and ride a decent amount of time, it can contribute to your feet falling asleep, leg cramps, wondering why you thought this would be a fun vacation.

I've even seen riders not bear weight through their legs/heels because their feet were uncomfortable, which then contributed to saddle sores on the backsides!
Whatever you get, just make sure that the soles are thin and designed for riding. Leather soles are ideal because they will slip out of the stirrup easily and you likely wouldn't get hung up even in a fall. Run far away from those treaded soles that look like hiking boots or sneakers.
These are the boots that I wear. They are the only ones I've ever found that were comfortable for me to walk/stand in. Also, even though the soles are rubberized, they are harder rubber designed for riding and they slip out of the stirrup almost as easily as a leather sole (and they don't slip and slide around walking on grass
).
http://www.amazon.com/Ariat-Womens-Quickdraw-Badlands-Brown/dp/B0033WTAHQ/ref=sr_1_1?ie=UTF8&qid=1361233213&sr=8-1&keywords=ariat+women%27s+quickdraw+boot+badlands+brown
Oh, and if you have wide feet like me, a square toe will be a lifesaver.