I have a few mondo girthus and a couple ploddus alongus. What about equus greenus stupidus and equus pushus buttonus, that's what I have the most of :)
---
Life is like a camera. Focus on what's important, Capture the good times, Develop from the negatives and if things don't work out, Take another shot.
Quote:
Originally Posted by
mhfoundation quarters
View Post
what about equus greenus stupidus and equus pushus buttonus, that's what i have the most of :)
i have one of those!!!! Along with randomus stoppus!
She sees something that is "different" she freezes, no matter what she was doing before hand!!! She almost needs a bumper sticker "beware of sudden stops"
This is too funny.
Sky is such a good girl, but if I had to categorize her I would say a cross between Equus Suddenus Ravenous and Equus Randomus Stoppus. We walk by trees with her mouth hanging open trying to get that one bite, and I've almost been sent flying over her head on several occasions, but I have yet to hit the ground.
I have come across most of these lol
---
Country Woman


I have come across all of these and several more! I've only ridden lesson horses so I get quite a variety of characters
.
Started
Join Date: Sep 2011
Location: In Sunny, HOT and HUMID S.C.
Posts: 1,531
• Horses:
2
Quote:
Thought this was adorable and needed to be shared.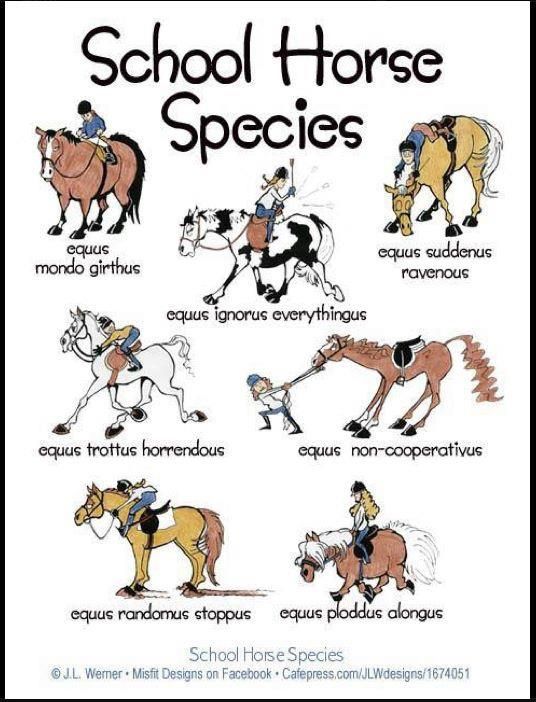 Which one did you ride in lessons?
I think I rode just about every single one.
I was very lucky little boy and was taught to ride on a wonderful Percheron that was patient, tolerant and did everything right (even when I didn't). Go, stop, trot, canter, gallop, jump, whatever I asked for was given by that wonderful horse. Even though I've never owned one (not best suited for my riding requirements), I'll always have a soft spot for Percherons, because of that horse.
Specs. Definitely the equs non cooperativus. I don't take lessons though. :)
---
Every horse is an angel... They just don't need wings to soar!
Started
Join Date: Nov 2010
Location: Lethbridge, Alberta, Canada
Posts: 1,634
• Horses:
2
Oooh, I don't know, most lesson horses I rode were plodders, but mine doesn't really fit any of those right now unless someone else rides her, then she's an equus ploddus alongus.
Cowboy - Equus Mondos girthus
Diamond - Equus Non Cooperativis
Oatsy - Equus Ploddis Alongist

And all 3 are a mix of SaddleBag's play - Equus poopis a lotis
---
~ When I Die, Remember Me By My Horses ~
* Because They Are Responsible *
.: For Letting Me Live :. (c) xJumperx