Quote:
Now that you mention it, though, I can't remember having ever seen a black horse. Very dark brown, yes, and pinto/paint with patches that I would say are true black, but never one that was really black over 100% of the body.
That is because the whole black vs. brown thing is exactly the same as the white vs. gray. It really boils down to genetics, the
actual
color is usually genetically totally different to the
PERCIEVED
color.
As you said, to a lay eye, gray horse is white and dark brown horse is black. But genetics tell us that because the white horse that has gray or black skin and amber to brown eyes, it is really a light gray horse and the white horse that has pink skin and blue eyes is a double dilute.
Same with the dark brown horse, genetics tells us that if the horse has brown around its muzzle, eyes, ears, lege, etc. even though its coat looks really dark to black it is not a black horse genetically, it is a brown horse, that the horse is only truly black if that is the only color on the horse(before sunbleaching of course) besides white markings, there will be no red or brown tinting to the coat overall.
---
Ω Horses are a projection of peoples dreams Ω
Quote:
Here are a pair of blacks (mother and son),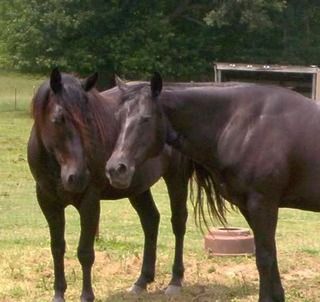 Hate to say this, but they both look brown to me
Quote:
ricci, your horse IS black & white. It's not rare for a horse to have white markings, it's rare for them to have the gene that turns their entire body white.
Oh!! That makes sense. Thanks. =D
---
"Great spirits have always encountered violent opposition from mediocre minds."