Agree with palomine on this, i had a rope horse start doing this, took him to the vet and he had some teeth that were irritating his mouth. Once he was floated he quit doing it immediately.
Good point palomine. Yes my hands are steady. The rider in the picture is my student, she's still working on that. I do a lot of lunge lessons to work on her steady hands at the trot before she gets the reins. I know the bit is adjusted in her mouth correctly, it was hanging very low before I adjusted it the first time I rode her. I've been using all the owners tack for her, and its a loose ring single jointed snaffle, so I wonder if its poking her in the palate. The bridle has mecate reins and slobber straps so the weight on a single jointed snaffle could be just enough at the trot to just bump that joint up into her palate. Great point palomine. I have a double jointed Myler type bit I will try on her and see if that helps. Thank you SO much
Thanks ropin biker. I know the owner is having the vet out on the 20th of this month for a vet clinic, so I will suggest having the vet check and float her teeth. Thank you.
So the horse is dragging down on the bit and leaning on your hands? Is that right? I thought she was just 'going low'? If she's on your hands, more leg, lots of leg....just hold your hands steady and give her lots of leg, once you feel her moving out and off your hands lower them but keep her moving out, as soon as she gets on your hands, hold and squeeze until she gets off them....she will soon realize that there is incentive to NOT do this behaviour when you release her.
My guy does this to stretch, but he doesn't gape or get on my hands.....
After checking the teeth, which you will be doing, maybe using a bosal for a while? Just a thought. You have far more experiance than I do.
---
If you ever find yourself in a fair fight, it's because your tactics suck. ~ Marine 1SGT J. Reifinger
Ok, so I switched out the bit from the regular loose ring snaffle to the double jointed bit and that alone made a huge difference. She does seem to have a pretty shallow palate, her teeth seem fine to me, I'm no expert though. Nothing is swollen, cracked, no bothersom wolf teeth, she's not showing any other signs that her teeth are hurting her. The owner is planning on having her teeth floated in about 2 weeks though.

We were riding her on a loose rein before, which she's great with neck reining and responding to your seat to slow down, but I had my students ride with just light contact and had them hold fast if she stretched her neck down, not to pull back or jerk, but to hold her and squeeze if she bumped herself in the mouth and slowed down. She really didn't try it much and I think the bit had a lot to do with it, when she did try and my students closed that door, she picked her head back up and kept going. So, you guys were right about her evading the bit, and I think she was evading it so much because it hurt. I asked the owner if it was something she normally did and he said he honestly hasn't ridden her enough to know what was normal. He said he has ridden her probably 20 times in the 5 or so years he's had her. This man owns and operates an equestrian facility. A very nice one. Today went really great though. Thank you all for your help.
---
Last edited by Tessa7707; 04-03-2013 at

07:02 PM

.
Oh, I forgot I was going to add a picture from today.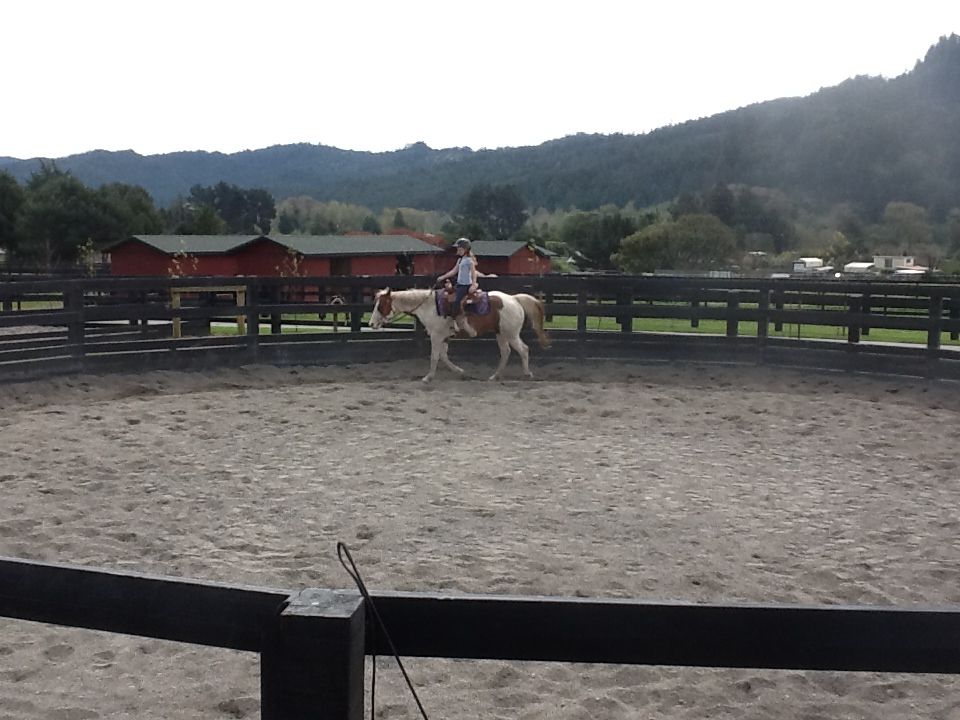 Good going!!! :) I love double jointed bits.. so nice
---
"Strength is the ability to use a muscle without tension"

Looks much better!
---
Celeste
Carpe Diem!