Not from Utah or Canada lol but here in Ohio it can get chilly.
I suggest stalking up on "Carhart" brand clothing & winter wear. Get some hand & feet warmers to put in your boots & gloves. Carry some around in your jacket pockets.
Just got my Mountain Horse tall winter boots on sale! I'll finally be able to feel all 4 limbs after trail riding this winter. Yey!
---
You just have to see your distance...you don't have to like it.
We have a long and cold winter here in Finland. I have a warm underwear, sweater, normal-winter-outdoor-trousers (I don't know how to say it but I haven't found enough warm riding trousers :)), winter jacket,
this kind of hat
and Roeckls winter riding gloves (are very warm and good!) when I go to ride. And yet I have wool socks and winter riding boots :) I'll probably be crazy looking but I don't have cold :D
Instead of wastefully creating a new thread, I'll just pop in this one for a second:
Any suggestions for very warm socks and gloves?

I'm from ND. Our winters are the same as Canada for the most part, but I have this condition called Raynaud's. It basically constricts circulation to my hands and feet (nose and ears also, but I can just wear a hat for my ears. Nose doesn't bother me). It gets really annoying because even right now, and it's still fairly warm for the middle of November (35 degrees right now), my hands and feet get painfully cold. And instead of just going numb when they get cold, I lose blood flow to different fingers or toes..or from the ball of my foot forward. If I pull my socks or gloves off, they're completely white. It's kind of hard to maintain balance in a saddle if you can't feel the ball of your foot.

Anyway. Any suggestions?
Poseidon, I got the most warmth from a $14 pair of Ovation winter gloves. I put hand warmers in them if I'm going to be out for more than 2 hours. I use ski socks, no particular brand.
---
You just have to see your distance...you don't have to like it.
Quote:
Originally Posted by
MacabreMikolaj
View Post
You would DIE in Canada woman. Your winters = t-shirt weather for us! As soon as March comes around, and the days start warming up to around 14 degrees Fahrenheit, we're riding in sweatshirts!
...
We never stop riding though, we're a little insane. This is my all time favorite picture to show JUST how cold Canadian winters are!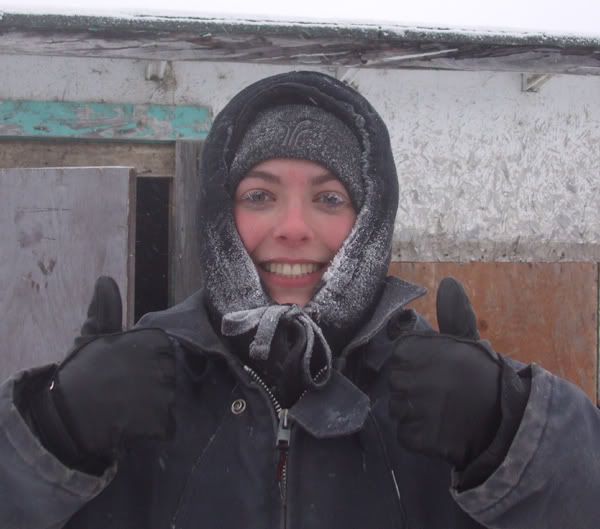 lol - I love Canadians!!! you people kill me!
*wants to be Canadian*
Did I mention that I despise hoods? With a passion. I absolutely hate that feeling of having my whole head trapped in a stiff, cumbersome thing that won't let me turn my head to see what's behind or beside me. I prefer to wrap my head separately from the rest of my body.
This is my best winter pic. It was about 3 degrees that day with a very chilly, very powerful north wind. The only part of me that got cold enough to make me want to stop was my feet. I even have a fleece scarf that I wear wrapped around my face if it is too bad. I can remember many a night at my old job with frost on my eyelashes from the frozen condensation from my breath coming up from underneath my wrap.
Bahahaaha. I like that you call that winter. There's no snow! 3 degrees is a good day where I live. -40 with windchill. That's cold.
In addition to snow up to at least your knees. Waist occasionally.
I love Macabre's picture. I've definitely had my hair freeze if it's even the slightest bit damp.
---
Last edited by Poseidon; 11-16-2010 at

02:39 AM

.