I'm 5'2 and about 120, and Scout is 14.1 and around 800-900 lbs. by weight tape measurement. He's getting porky, so English my heel falls a couple inches above his belly. Pony weight watchers, here he comes!

I like my little guys... much over 15 hands and I start feeling the need to buy a parachute.
---
A stubborn horse walks behind you, an impatient one in front of you, but a noble companion walks beside you ~ Unknown
You don't sound too big. I'm 5 feet 6 inches and I trail ride on a 14.2 hh AQHA mare. She has very short legs with a big body and she has very thick and strong legs. I know there is some kind of chart about going around the cannon and that transfers how much they can carry, just not sure where it is! (I'll try to find it) But I know mules and pack horses are allowed to carry up to 2/3 rds of their own body mass. I wouldn't put that much on them but people safely do.
---
"Don't turn you disabilities into a crutch, turn them into legs and run with them"
I am 5 ( 5' 1" on my tall days!) and I weigh 120 pounds (I am trying to get to a normal size though) and my horse is 14.3 adn weighs about 950.
---
RIP Minnie, 1981-January 15, 2010
RIP Maggie Mae I miss you
---
"Don't turn you disabilities into a crutch, turn them into legs and run with them"
You all are killin me.. I'm 5'7" and weigh more than any of ya so far as I can tell. I ride all different sizes. My old horse is 14.3 and I rode him for 18 yrs. My big boy is 16.1 and too tall for me, tho I look fine on him. My mares are around 14.2 and 15.1 and they carry me just fine as well. I also have been seen riding my granddaughters gelding at around 14h tho I haven't sticked him.
Cinder 14.2 ish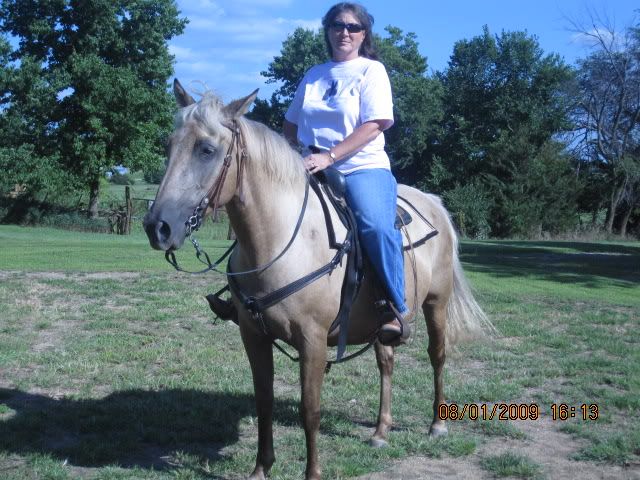 my granddaughters gelding
Abe, my big boy
---
I am 5"5.5" and my horse is 14.2 using a horse measure tape.
She is a stocky horse and I fit well with her. She has no problem carrying me.

I had an arab that was 14.1-14.2 hands and I road her as well but I honestly thought I looked funny on her..maybe because she was so small built. But she carried me fine as well.
Oh and another thing is the guy I got her from is 6 foot something and 300 something pounds and he rode gidget so if he can ride her and she can run than I am sure she you and your horse are fine.
Quote:
Oh and another thing is the guy I got her from is 6 foot something and 300 something pounds...
Ouch! Poor horse!
At 6' and probably 200 lbs dressed, I can't help feeling that carrying me around all day is too much to ask of a horse, enough so that I look for a lightweight saddle and tack to ease the load a bit.
I am 5'5" and 115 lbs. My current horses are 14hh and 14'2hh. Previously I have owned and ridden horses up to 16hh, but I always felt like they were too big. People told me I looked like a monkey on their backs.
My husband is 6'3" around 200lbs and competes on a 14'1hh mare, they do just fine together.
To me it seems in the Western world it is more acceptable to ride smaller horses. My niece is a show jumper and one of her top horses is considered very small at 15'3hh.
Green Broke
Join Date: May 2009
Location: Winnipeg, Manitoba, Canada
Posts: 4,510
• Horses:
2
I find that "size chart" a bunch of hooey. In my experience, anything that's trying to give you a mathmatical equation to determine things like height and weight are just bogus because they do not take into consideration the outside factors.

For example, the "20% of body weight" rule. How on earth does the horses weight determine how much it can carry? For both this charts, you would end up with a very small person riding an Arabian for example (don't weigh much, and impossibly tiny cannon bones). And yet Arabians have been bred and equipped to carry MUCH larger people based on their bone structure.

Likewise, look at a Draft. Based on both charts, they weigh a lot and have enormous cannon bones so they can carry the heaviest people right? WRONG. Drafts are actually notorious for having a much weaker bone structure due to the immense weight they already carry on their frames and being bred to pull, not ride. A very large man or woman in the 300+ pound range is actually better suited to riding a thick sturdy QH or Mustang type animal then using a Draft!

What about ponies? Based on those charts, they should only be carrying very small children based on weight and cannon bones, and yet they are often easily able to carry riders just as big as QH's and Arabs can manage.

It all comes down to a better knowledge of specific breed bone structure then trying to use silly equations to determine things. According to a standard BMI chart, I am considered obese. I'm packing a few extra pounds, but you can just bite me BMI, because obese is a lark. It takes zero into consideration about my bone structure and my health. I am overweight for sure, but obese is ridiculous as far as I'm concerned.

That being said I am 5'6" and I weight 185lbs. I ride a 14.3hh Arabian who has never had a single issue carrying me in the almost 11 years I've been riding her. I have ridden ponies as small as 13hh who never had an issue. So in the end, unless you're massively obese, the vast majority of horses and ponies will NOT develop problems from carrying you.

---
Quote:
I hope God tells her to smash her computer with a sledgehammer.