I'm 5'2'' and I weigh 115. I ride a gelding who is 14.3hh, and Honey is even smaller at about 14hh, while the mare I ride at Toni's is only 13.2hh. Don't worry, you're fine ^^
---
Pssh.I didn't pick up the wrong lead
It's called a counter canter...
...A very advanced maneuver.
Quote:
I have a question.
When we got my sister's POA Kodee, we were told that a man about oh lets say 5'7-5'9 rode him, the man weighed 300 pounds...
My dad now thinks that since a man that was 300 pounds rode the pony that he can too. My dad is 6'1 and weighs 200 pounds.
I think it would be mean to put my dad on the pony, what do you think?
Here is a picture of me on Kodee keep in mind I am 5' tall.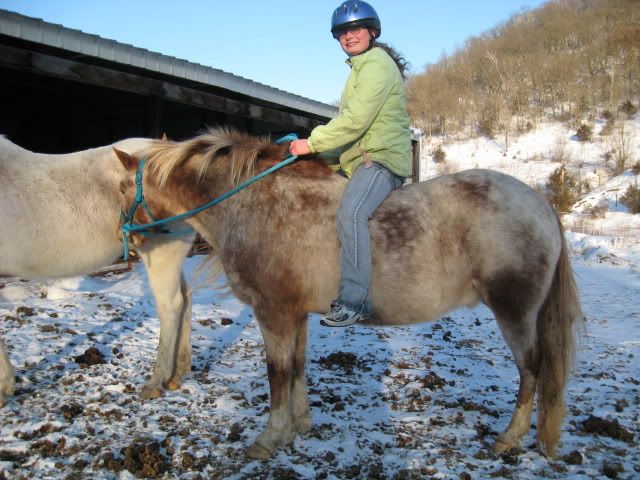 Here is a picture of my dad just leading the pony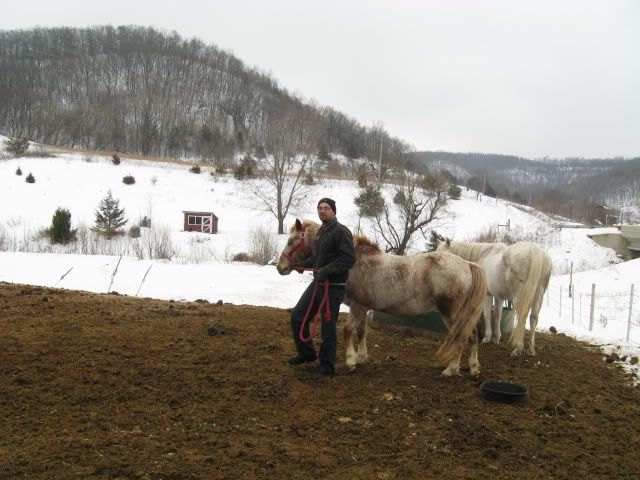 If your dad wants to get into serious riding, he will want a little bigger horse just for his own comfort. However, for short rides, I doubt there would be much issue.
---
All I pay my psychiatrist is cost of feed and hay, and he'll listen to me any day!


What a fun thread! Really have enjoyed reading it and absolutely refuse to get into the whole weight thing.
With that said, neither of my horses have any problem carrying me, and we have ridden for over 8 hours on some trails. Yes, they do get breaks (so I can pee!, and it's often, **** ancient bladder!
).
ONce in a great while I do feel it is only fair to offer to put the saddle on and let T ride me home though! So far she hasn't taken me up on it!
---
Be the kind of woman that when your feet hit the floor each morning the devil says, "Oh crap, she's up!".

I'm 5'3" 108lbs and both my horse and the lesson horse I ride are 15hands. I've ridden my sister-in-law's 16hand horse but she is so big, I felt like I was flopping around.

I wanted a smaller horse, my legs are so short that by the time the stirrups are set to the correct length, I can barely get my foot up and into the stirrup. We weren't able to find a smaller horse that we liked in our price-range so my husband built me a giant mounting block. If we're riding elsewhere (my mounting block cannot be moved) I have to drop the one stirrup down and then once mounted have someone adjust it back up.
Quote:
Sorry if there has been a thread like this before, couldn't find one. Anyways, I often feel tall with my 14.2hh, 800lbs appy mare. I am 5'4", 120lbs and have fairly long legs. When riding in a western saddle, my legs are about 4 inches below her belly. If I'm english they are right at her belly. I just feel huge for her sometimes, and I'm afraid I am heavy/uncomfortable for her. We do trails and western gaming, and jumping for fun sometimes. I was just wondering if you think I'm big for her? What is your size comparing to your horse?
No way! Well, what breed is she? I'm like 157 cm and I have a horse that's like 13.2 - 13.3 hh and I'm not too big. She's active and likes to run and go for rides with me. She's half Percheron half Australian Pony, but she's still small! Um as long as your horse isn't showing signs of pain.
Horses are stronger than some people give them credit for, especially if they are heavier boned and have a low center of gravity, they can easily carry large men... They may not enjoy it too much, but it will not hurt them...

When I was younger(and a bit hefty) I broke my 10hh shetland pony. Sure it looked ridiculous, enough that a friend of my grandmas saw me riding one day and asked " when are you gonna hop off and let him ride for a bit(meaning the pony)", but he was perfectly fine, not a problem one...
---
Ω Horses are a projection of peoples dreams Ω
Quote:
They may not enjoy it too much, but it will not hurt them...
Maybe I'm being silly, but I'd like to think that the horse does enjoy the ride. In a perfect world, she'd react to the sight of a saddle in the same way* that my dog does when I get out the backpack and say "Let's go for a hike!"
*Well, ok, make that "with the same sort of enthusiasm". I can do without the dashing around chasing the tail part
That's my horse, she's happy to see the saddle come out, not sure it's the riding part she loves so much, it's the going, and if she has to take a passenger along for the ride she's for it!
Wow, this thread makes me feel better riding paul. i'm 5'5 and 230 pounds and paul is a little over 15h. he is bulky with muscles and strong. i would ride him and hear him groan and think it's because i weighed too much but the BO had to repeated tell me that that is NOT why he groaned. that was interesting to hear about arabians being bred to carry more weight and drafts not being able to carry as much.
---
Jackie's Sonny Daze
Haflinger Gelding
myQHpaul, I notice your quote says you're from NE Ohio...where in? Anywhere near Medina by chance?
---
"The times when you have seen only one set of footprints in the sand, is when I carried you..."