Hunter Ring Attire
---
I was just wondering from the people who show on a regular/competitive basis- what colors are in?
I tend to be a classic navy jacket, khaki/green breeches and white shirt (i always want to venture out in my shirt color but never do)...
So what do you wear? (and you can include pics if you want
)
**my picture is like a year old- i guess we haven't taken any at shows lately sorry!
---
:: Karley ::
Tucker WB/TB- 11 yr
Speedy QH/TB- 22 yr
I have a navy pinstriped jacket, very light coloured beige breeches and a green/teal shirt with red and cream pinstripes or a pink shirt. I have a pin with my initial on my rat catcher that is gold with a red rose. And of course black boots/helmet/gloves and a light beige half pad.
And I have fairly dark tack, it's about the colour of my dark bay horse where he is lightest.
For some reason I don't have any white :P
Well, I have three coats an many shirts (for week long shows). All my shirts have initials embroidered on. In order of my favorite
1)Light greyish with light purple checkering (matches Ben well) usually worn with a light purple shirt matching the stripes
2)Dark navy, very, very subtle purple/blue striping-usually worn with ugly green/purple/orange/blue striped shirt that I hate but everyone seems to like
3) Dark navy, plain-usually with a light blue shirt
Not the greatest picture and you can't see the colors, but here is my favorite jacket (with the wrong shirt) Note my always baggy breeches and too fat, too short tall boots, lol. I have new, better fitting boots now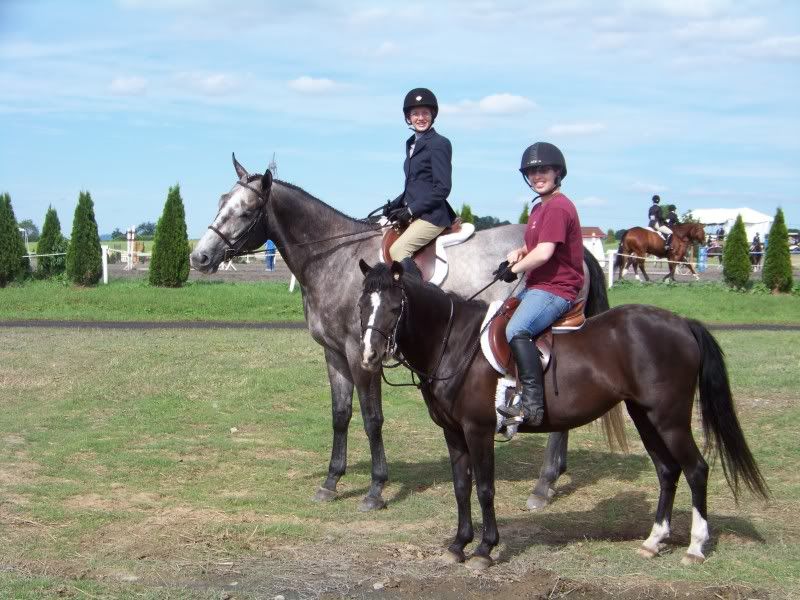 Nice ladies! I have my rat catchers embroidered too
and i have about 4 white shirts so that i can last at shows too- oh and 3 pairs of show breeches
and my jacket is pin striped which light blue, i have thought about getting a light blue shirt as well but im not sure.
---
:: Karley ::
Tucker WB/TB- 11 yr
Speedy QH/TB- 22 yr
I wear a navy jacket, white shirt (may want to get something prettier next year! lol) and tan breeches.
---
passion is when you put more energy into something than is required to do it. it is more than just enthusiasm or excitement, passion is ambition that is materialized into action to put as much heart, mind, body and soul into something as is possible. // <3 starlite - dream - lady - georgia
For me, I wear beige or green breeches. They are always brand name, either Ariat or Tailored Sportsman... down here everyone wears big names. I have a brown show jacket as well as a navy one. The brown show jacket compliments my horse so I usually wear that. I have several colours of show shirts - purple, orange, this white patterned Ariat one I really like... and a few others. I usually buy CoolMax shirts just because they are a lot more sweat-efficient if that makes sense, lol. My jacket is sitting weird here, but here's a pic. Also you see a ton of GR8s in the hunters down here. Mine is a GR8 - black with silver stripe. I'm hoping to get a black on black or GPA next year :)
---
Last edited by dunsjump; 11-18-2009 at

11:43 PM

. Reason: added another picture
Make sure your cuffs are longer than your jacket sleeves. I remember being told something about judges and points involving cuffs but I don't know what exactly.
beige/greenish beige breeches with a light shirt and darker jacket (greys, navys, some browns) are traditional for the hunt ring. Subtle (and some not so subtle) changes come in and out though. Rust breeches started coming in last year (mainly rated shows) but I haven't seen as many lately. My friend who runs a tack shop told me black jackets (with a subtle pinstripe or plaid) were coming in and at the Syracuse Invitational almost everyone had a black jacket. And Euroseat breeches (kind of look like full seat breeches, but also have knee patches). Show jackets with colored piping around the collar are getting to be popular as well. I've noticed with the jumpers people are getting jackets with colored collars. I think the piping is cool but colored collars are too much for me. For a while GPA and Charles Owen helmets were neck and neck but I think CO's are finally winning out. (at least in certain parts of the country) GPA Speed Airs are still pretty popular though.

All my show breeches are greenish beige. My jacket is a charcoal grey with some plaid. I have a light blue plaid, pink plaid, lavender, khaki/white, and green striped show shirt.
i love the dark teal hunt coats with beige breeches. its a nice look.
---
Anna
Always try and do the right thing
Jackets: Green, Grey and Navy
Breeches: Ariat, TS, or Pytchley for shows Fawn/Khaki
Shirts: I have Peach, Greenish/Yellow/Blue, Blue, 2 Lavender, Lots of White
Gloves: Black
Boots: Ariat Crowne
Helmet: CO AYR8 all black because its classic