I think it would depend on how much money you want to spend.
For local shows a nice shirt that compliments your blanket choice with dark jeans and boots is very acceptable. I do ranch horse classes so I dont have to go crazy, I find most of my shirts on Ebay. You can get name brand shirts for good prices rather than buying in a western store.
I think Beau159 on here does some show/rodeo shirts for a good price too, if you want something with crystals.
Or if money isn't an issue you can go all out on custom made show shirts!
---
I DON'T LEAD 'EM AND FEED 'EM, I RIDE 'EM AND SLIDE 'EM.
You just made me very grateful I dress this child for dressage and jumpers....two sets of tack, two pair of breeches a polo, a dress shirt and coat is easy....hardest part is a bun under her helmet! I am liking all black, a scarf and a silver slide. Groom her to the nines and get Em!!
Posted via Mobile Device
LOL, If I had any sense I would stick to English, so much easier!
OK I really like this Fabric
and this is kind of cool
If you are thinking of doing any reining, I would do exactly what Waresbear said. The fancy fabric stretchy tops are NOT reining, at least any I have ever seen. Plus, think of how pretty it would be with this:
http://www.yuccaflatsinc.com/yahoo_s...3944_large.jpg
And if you change colors all you have to do is change your shirt.
---
Signature undergoing edits. Please standby.......
Don't know if we will be doing any reining this year,
If the weather doesn't smarten up we won't be doing much of anything this year.
If anyone finds a black shirt with crystals in plus size let me see.
I think that the all black will be one outfit, and then one purple (ish) shirt for other events.
I have asked the local lady to send me some samples so I can have a look in the flesh. As a bonus she does alterations so if I lose weight (laughs hysterically) she will make it fit again
Still working on my outfit, but making progress on hers. I'm told that it is not done to have a bridle with silver and a plain saddle, so put my plain headstall on her, and a curb bit, and yes I know my curb chain is on wrong
Also the snaps on the reins are just for training and the stirrups are my oversize winter ones, I do have ones that match the saddle which will go back on.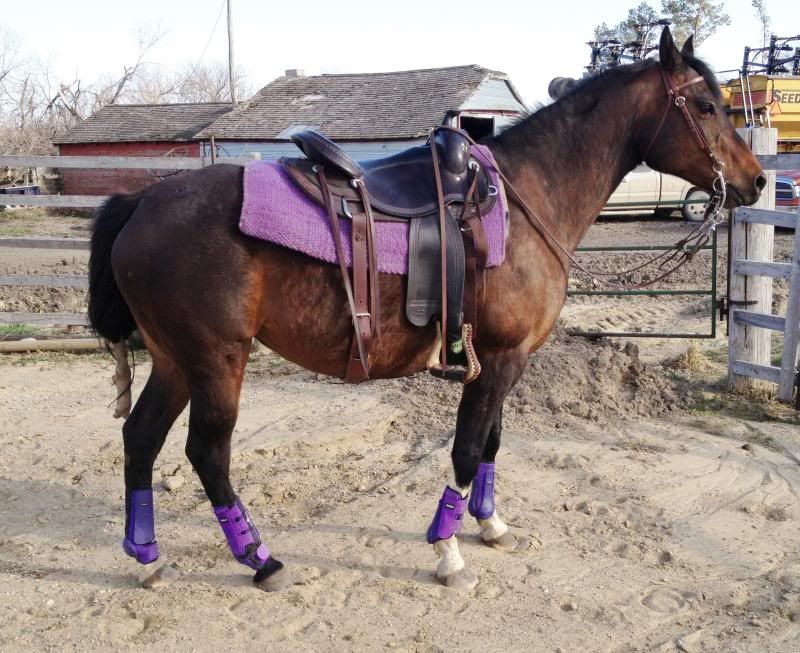 What numbers should I ask for sample of do you think?
showshirts
IMO, purple isn't the best color for a bay. You colors are fine for gaming but there's better for pleasure. The red blouse would look awesome with black chaps and a white hat to show off your pretty face. I would opt for a black pad or pad cover. There are no rules regarding silver. A little silver on the bridle would help draw attention to the attractive head. Think about how you can enhance the horse's attributes. If you use the brown bridle, push the brow band up toward the base of her ears as it will enhance her eyes. Now, you are judged the moment you begin entering the gate, not later. Before you get to the gate allow the horse ahead to get a good horse length ahead of you. As you enter the gate, look like both you and the horse just arrived from the dry cleaners, no bit goobers, no dust on your boots and smile wamly to the judge to acknowledge him/her. One gal who often won pleasure lost out one day because as her horse was entering the gate it stopped and took a step back then came forward. Bad first impression. Her performance in the ring meant nothing after that incidence.
If you want a shirt with the purple, I probably would get samples of all the purple ones, because you just cannot tell about she shade accurately on a computer.
---
Signature undergoing edits. Please standby.......
If you are dealing with high temperatures, the color sand, blanket chaps and hat and a summer print shirt would look good on your bay as well.