Showing help!
---
hi, I am planning on showing my piebald gelding (cob) and im not sure what colour tie ,browband ,button hole and gloves to buy? I have a grey tweed show jacket,white jodphurs and black jodphur boots i have black tack btw
Green Broke
Join Date: Oct 2010
Location: Some times Llanelian - North wales, sometimes Hull in East Yorkshire (UK)
Posts: 3,679
• Horses:
5
is this a traditional cob or a hogged show cob?
As you are in the UK your horse needs to be in plain hunter bridle (so no ribbon browbands)
No button hole on a tweed jacket, brown gloves (black is totaly incorrect in showing),
Tie can be any colour except black or white. I would suggest a burghundy with gold spots or blue.
If you want to get more serious with you showing then I would suggest swapping the white jods for cream or canary, the grey tweed for a green or brown tweed, and your boots for long black ones if your horse is over 14.2hh or short brown with jod clips if your horse is under 14.2.
Also a navy velvet hat with cream leather straps is correct in the showring.
This is me on a traditional cob, turnout for a hogged cob is the same except the horse would have mane hogged, feathers removed and tail pulled and shortened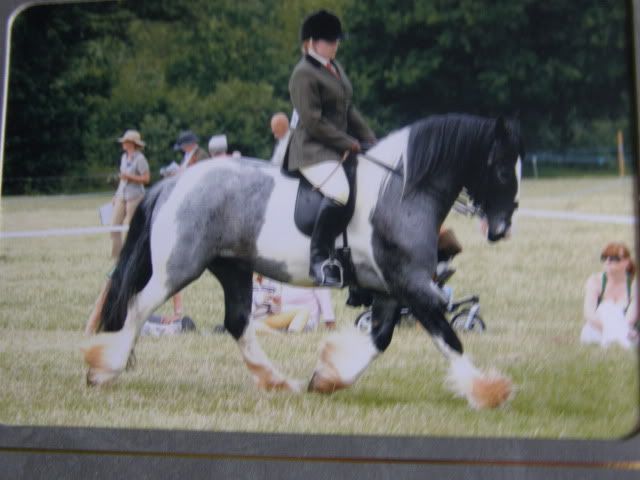 ---
RIDE your horse FORWARDS and keep him STRAIGHT


---
Last edited by faye; 08-05-2012 at

02:31 PM

.
He is a traditional cob and its just going to be afew local shows nothing serious so no button hole or ribbon browband? and brown gloves?
Green Broke
Join Date: Oct 2010
Location: Some times Llanelian - North wales, sometimes Hull in East Yorkshire (UK)
Posts: 3,679
• Horses:
5
yep,

if you ever replace your tweed jacket, go for a green or brown based one as they are far more acceptable. At local shows it isnt the end of the world but the better you look the better the impression you will give the judge
---
RIDE your horse FORWARDS and keep him STRAIGHT