Test driving some new boots
---
I was cruising through Ebay, looking at some boots. I have wanted to get some new "work around the barn boots" that would double as some boots to wear cubbing. All of my boots are custom, as I am tall and not easy to fit. My favorite boots are my three buckle field boots by Dehner. I sure didn't want to spend the money for custom knock around boots, though.
Please excuse the poor quality photos. Taking a photo in a dark bathroom mirror was less than perfect!! LOL!
What my old boots look like clean.
I don't like zippers as they are prone to breaking and these boots are extremely comfortable.
Anyway, I saw a company on Ebay advertising three buckle field boots for MUCH less than the Dehners. I gave them a call to see what was up with them. Their stock boots were pretty tall and, if not tall enough, you can spend an extral 80.00 to get them customized. I suspect they are made south of the border (the store was in Texas), but that doesn't bother me too much.
I went ahead and ordered brown in a regular calf, so I could wear winter breeches.
Today they came and I was anxious to check them out.
The boots were interestingly shaped. The leg and calf were made for someone much more "shapely" than I am.
They were fairly nicely made. The leather is not the quality of the Dehners, for sure. But, they are 800.00 cheaper! The edges were not well finished, but not something I could live with. The foot fit well, but as I suspected, the calves were way too big for me.
The height is not tall enough. It looks OK now, but once they collapse, they will be close to an inch short. Pardon my old boots, they are very dirty. I wanted to show them in comparison. Notice the calf shape difference.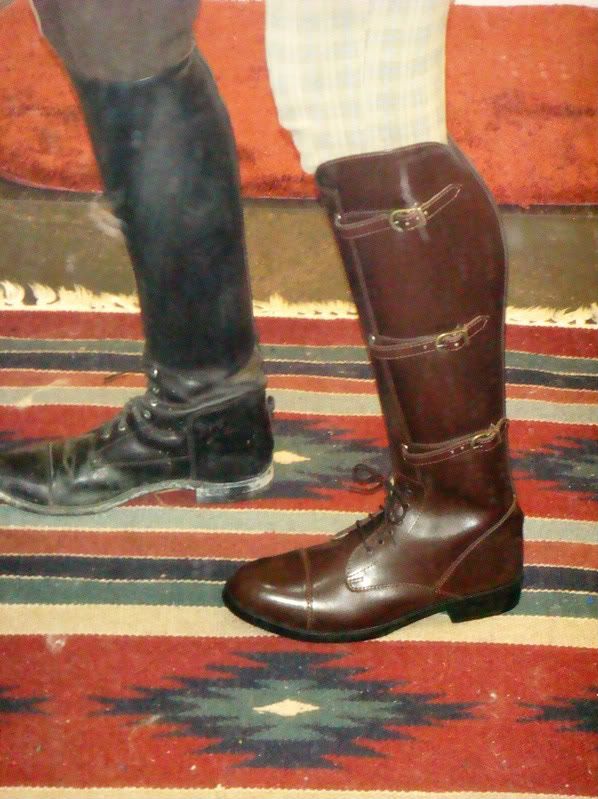 As for the flap shape, the Dehners are much better aligned at the top leading to a more finished appearance. The new boots don't line up well. Also, the custom boots hug the top of my calf, whereas the new ones gap quite a bit at the top.
People with larger calves will have a good chance of finding one of their boots to fit them. I, overall, like the boots and feel they will suit my needs pretty well. I will be sending these back to exchange for a semi custom pair that will be narrower and taller. Well worth the extra $$. I will be sending the photos of the leg shape I need and hope they can fix some of the gapping at the top. Because the leather is poorer quality, I doubt they will hold up as well as my Dehners have, but they were only around 230.00. Hard to beat that.
I think they look pretty nice and will get replacements that fit better (I hope).
So, this weekend I will return these, include photos and measurements and see what the next pair look like. I will post an update when they get here (which may be a month or so...)
So, what do you folks think of them?
---
Last edited by Allison Finch; 03-14-2012 at

07:29 PM

.
Showing
Join Date: Jun 2011
Location: Cariboo, British Columbia
Posts: 11,770
• Horses:
3
I have never seen riding boots with buckles before. They look very similiar to what the RCMP wear when on motorcycles.
Quote:
I have never seen riding boots with buckles before.
It's an old British design IIRC.
That style was adopted by the US Army as the standard-issue cavalry boot in 1940. I snagged a pair from e-bay last year.
The major difference between these boots and what Allison has is the last (shape) of the foot. In the 1930s the US Army adopted the Munson last as standard. It gives a close fit around the sides of the foot and a wider toe box. It is actually quite comfortable.
Allison, if you search for Hispar on the COTH forums you will find some eye opening accounts about customer service.

Please let us know how your exchange works out.