Western 4H attire???
---
Hello again, I have another newbie question. My daughter has been showing her horse Charlie for the first time this year. She has done 4 or 5 shows. She mainly shows English and we have a pretty good grasp of the attire she needs for that. So far the shows we have done have been fun shows and so no specific attire is required. The fair is coming up and we want to know a list of the western attire that she needs. We know a little bit, but not near enough,

Thanks!

Julie
Her club leader is the best source of information as they can advise you what is acceptable/required for your specific locality. Two years ago they went to plain, solid color button up western shirts rather than the blingier western styled show shirts that had been worn in the past here in our county.....while other counties still allow the blingy wear. By asking your local resource, you can be sure that she is in adherence with the local requirements.
Here is a list of western attire you will need-and the places to get it for low prices.
-Shirt,Savers or 4h tack sale
-Black bootcut jeans or dress/show pants, savers or 4h sale
-Boots- find a size and style you like at a shoe or tack store and then buy online.
-Hat(only needed for halter/showmanship) You should get a steamed one to fit your head at a shop that does it.
-Brown or black helmet, ebay or tack store(troxel sierra is a good one)
-Black gloves, 4h sale, or Fleet Farm might have them or online

That's pretty much it! Those are fairly cheap places, but you can look otherwise if you are willing to spend a bit more money. When I refer to a 4h sale, it can also be a used tack sale. If it is allowed, she can wear just the hat to ride, but usually it's not allowed for riding. Good luck!
---
~*~lkjhorse927~*~
Don't wear gloves for Pleasure/Horsemanship classes. A lot of kids here do it locally, but it's not considered appropriate outside 4-H shows.

Black pants (I use regular slacks from Kohl's under my chaps) or black jeans, cowboy boots, and a flannel shirt will do the job. If you don't have a saddle blanket that matches the shirt, use a plain one--white, cream, black, etc.
We've been out of 4h for a couple years but, the girls here when showing at districts had to find the bling rail shirts, silvered up saddles and the whole nine yards, you don't have that the judges wouldn't even see the kid or their horse and its ability.
It really depends on the show. Our little local County Fair requires cowboy hats (helmets for riding classes for kids under 18), pants and a belt, boots with a heel, and a shirt with a collar. Most people simply wear button up western shirts.
Once I started discovering Western fashions being worn at bigger shows, I decided to go all out. My SIL, the little girl showing my pony, and I were the only ones wearing "fancy" clothes. It didn't bother us, but it may make a person feel out of place. Certain judges might've taken it as "showing off" (fortunately our judge liked our outfits).
The first year I went "fancy," I had a very small budget and decided to attempt to sew my own clothes. I bought show slinkies, but made blingy vests for myself, the little girl, and my SIL. Here was mine: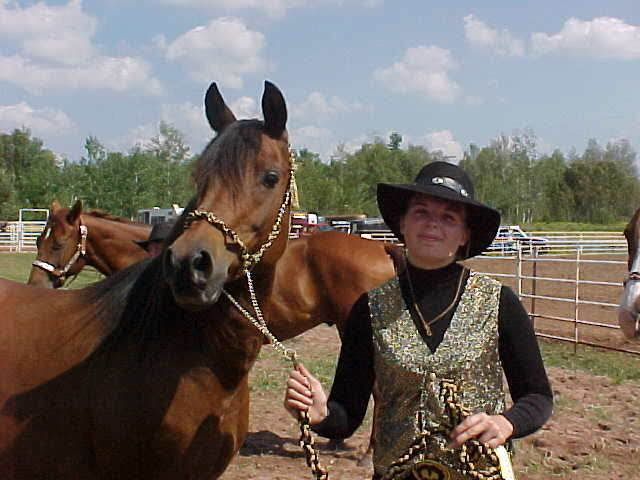 (you can't see it, but I'm wearing black "jean type" wranglers and Justin Roper boots).
The next year, the mother of the little girl decided to buy us clothing, so we got leather-like vests with blingy zippers and blinged out purple show slinkies: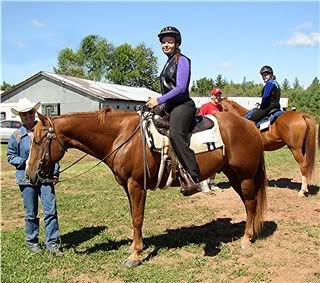 (you can see my SIL in the back, I LOVE her vest)
And just because she's a lot cuter than me, the little girl:
In later years, I decided for less fuss and more comfort and just got a fancy-ish blouse to pair with my my black pants, belt & boots:
You can see my cousin, who's showing my QH for me, was much more casual, and that was perfectly acceptable.
As another example, here's a friend of mine wearing the type of outfit most exhibitors wore: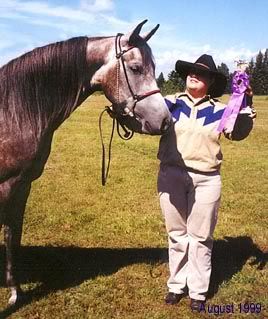 Most do wear black pants, but she was brave and went with tan. :)
Well at the local county free fair the 4H show there the kids pretty much follow PRCA dress code (Shirt with cuffs collar, cowboy hat) You will see one or two of the kids pull out their good show clothes, which isn't bad it makes for good practice.

But make it to your District show, they sort of expect the nicer flashier stuff.

In all things if your 4H saddle club is well organized the Leaders should be willing to help you find what you need.

I have been complaining for years that at any 4h horse show they should limit the kids competing to White Button Up Shirt, Straw hat and blue jeans, and not some $200 rail shirt, $6000 saddle ect. To me it makes it a bit more fair to the families who may not be able to afford that stuff.