What Colour Looks Best on My Appaloosa?
---
Hi Everyone!
I'm looking to start showing my new Appaloosa mare in a few months, and I'm having trouble deciding what colour would look best with her. I'm going to be showing her western in halter/showmanship and pleasure, as well as barrels/gymkhana. She's chestnut, white, and a little bit grey, but roan so it all blends in.
Personally, I like turquoise on her so far the best, but I'm biased because it's my absolute favourite colour.
Let me know what you guys think! (:
[IMG]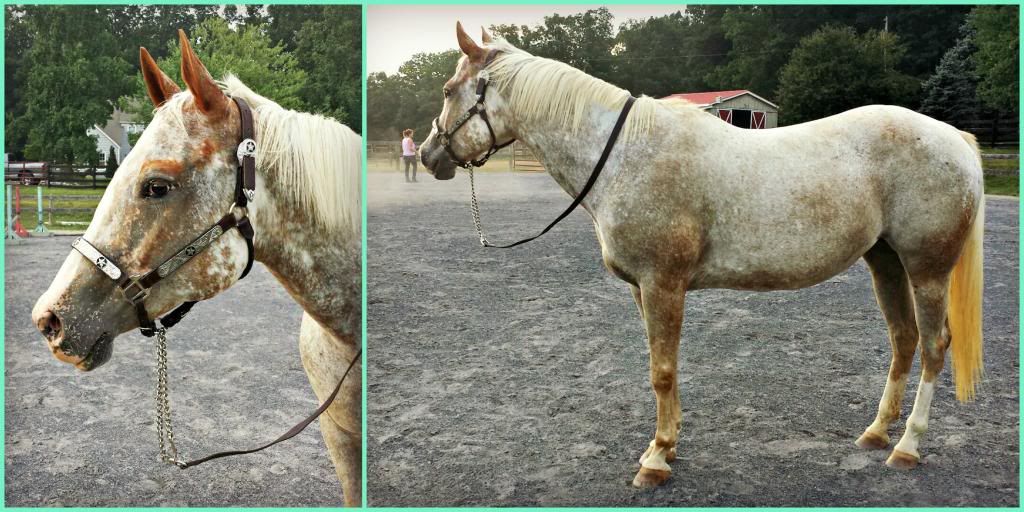 [/IMG]
I think reds/maroons would be great on her, or navy blue.
---
"Strength is the ability to use a muscle without tension"

As a general observation on this color horse you need dark and bold colors. Navy, deep maroon, darker purple. If your turquoise is deep and not in what I refer to as a pastel shade, that works as well. Lighter colored horses do well in bold colors; darker horses in brighter colors.

My new gray looks fantastic in Royal Blue and a dark Teal but for show purposes I am going to use a black pad (dressage) as the white pad fades into his coat.
it's funny, I actually do have all maroon stuff for her everyday tack. but I do like the navy blue idea a lot, I'll have to try that on her. Most of the turquoise show tack and clothes I have are that deeper colour, so hopefully it'll look good. I actually just bought some deep turquoise chaps, I'll post a picture on here if I think of it when they get here. But here's my mare in her maroon!
[IMG]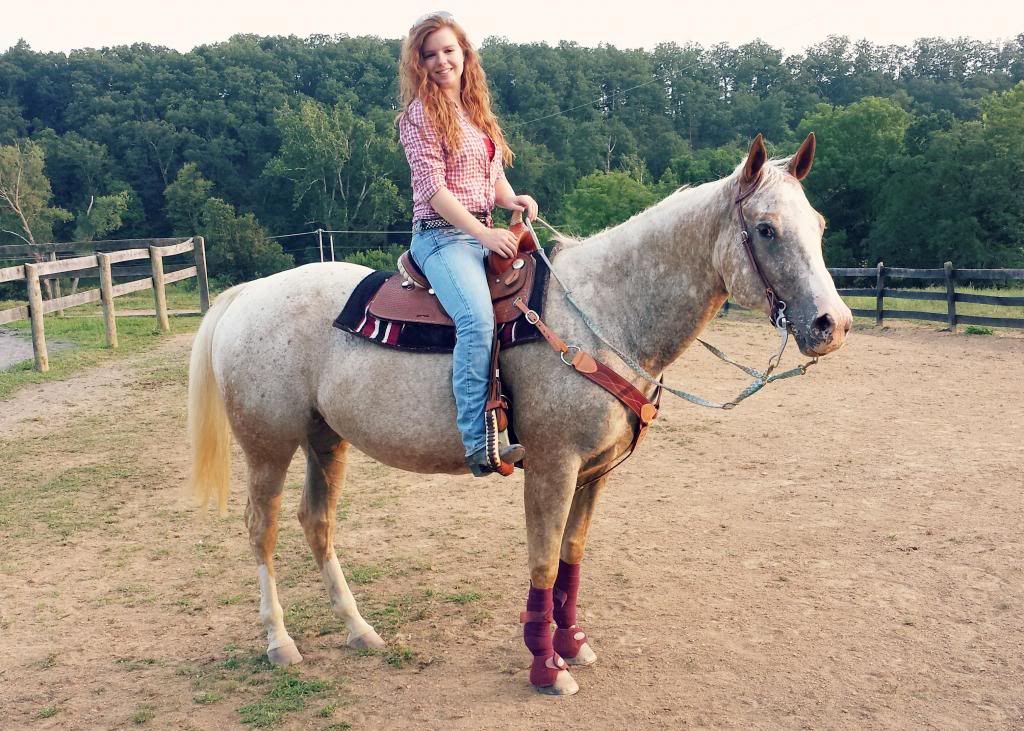 [/IMG]
Definately turquoise or maroon(:
---
People say to hold on tight to what you love-
especially when it's trying to buck you off
With her, I'd do outfits with a black base accented with jewel tones like emerald, turquoise or purple. Solid fitted shirts are a very popular trend right now, and I think that'd look really sharp on her in contrast to her loud coloring.
I see that you just said you bought turquoise chaps, so personally I'd at least start witha solid blouse in the same color, then find a patterened saddle blanket that incorporates the turquoise, and maybe black and white as well to add a little "pop".
For showmanship/halter, a (cheap-ish) option is to buy a simple pant suit, dressed up by a blouse in a color of your choice plus a scarf. Of course you can go the "blingy" option as well, but I think it's nice to being with some nice "staple, always in style" items and go from there.
My outfit as an example:
Edit: here's an example of the plain fitted blouse look with a patterned blanket. You really can't go wrong with it! Plus, you can always get a different blanket and scarf to change it up a bit.
---
Last edited by Haley; 08-29-2013 at

02:11 AM

.
Your halter needs to be adjusted to be shown in. Pull it up higher on your horses face. The throatlatch piece needs to go behind the cheeks and around the throatlatch. The noseband should hit right below the cheek.

Pull it up a couple of holes at the crown and adjust the shape of the throatlatch and the tightness of the nose. It should lay flat against the head all over. No loose bits.
That's not her halter, it's my other appy's... I just put it on for fun since I haven't ordered her a halter yet. Also, this isn't a "critique my horse's whatever" post, I was asking what colour looks best on her. But thank you for the advice.
Yesterday was like Christmas- it was payday, and most of my new show clothes came! :)
So, this is the pleasure/equitation outfit I plan on using with my appy. I wanted to do something different than the usual, since in the past I've always done black hat, black chaps, and a black-based shirt. I figured the chocolate brown would be a nice blend to her colour, and then the turquoise would pop without being too obnoxious. It all started with the turquoise chaps, which came with a gorgeous turquoise shirt but the turquoise in the shirt didn't match the chaps. So, I found this shirt and fell in love with it! It's got subtle turquoise coloring through it, but has the chocolate base. And then the hat came along, which actually has turquoise stones in the buckle. Just to be safe (and because I found such a good deal), I also got a pair of chocolate chaps in case the turquoise doesn't look right.
I also have a showmanship outfit on the way- it's brown based with a beautiful turquoise and tan colored design through the shirt. I'll post pictures of that when it comes, too. I'm so excited! :)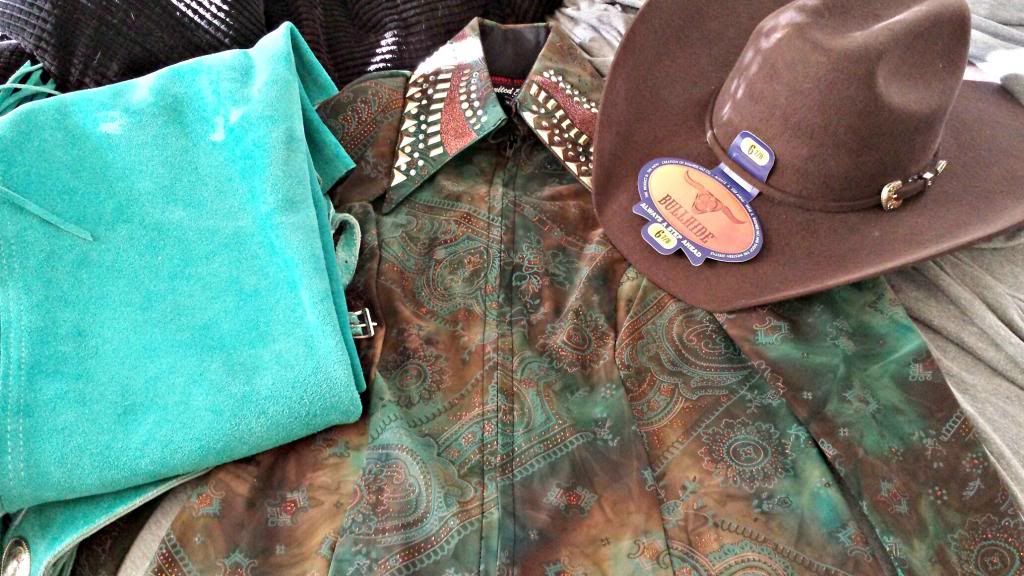 Good combination of colours with your outfit, QtrAppy. I like the brown base colour scheme for your guy. I must confess that I think the chocolate chaps may be a better choice over the turquoise but I guess we won't be able to say for sure until we see pictures of both assembles modeled. What colour of saddle blanket are going with?