what do I wear for a schooling show?
---
I haven't shown in ages, but this coming season I will be doing a few schooling shows, probably just flat classes maybe a few over fences type thing (my mare is still young). tomorrow I am planning on taking a shopping trip to pick up some much needed new riding clothes. I don't think I'll be getting new breeches just yet (though I do really badly need a pare), I will just be getting a few tops and such.
but anyway! can I just wear a colored polo? can I get it from anywhere? I have a bunch actually that I just wear to the barn currently from Aeropostale - obviously I have no idea if that's okay in the show ring, but since it's just a schooling show and it's fairly simple, like there's no big letters across the shirt or anything, could I use one of those? I get them for a pretty decent price, and for somebody who is limited on what they spend on new clothing, I'd rather not shell out big bucks for a couple tops
so if something like what I've already got will work, awesome.
& what brand/style of breeches would be good for simple schooling shows? I need it to work for around the barn too, all of my current breeches are getting a little on the old side ..
Also! do I need a coat? or can I just show in the polo or show shirt, whichever?
It kind of depends on your aera. At home, it is uncommon to see people showing in polo shirts (unless they are doing the jumpers), everyone in the hunter/equitation ring are all in show shirts and hunt coats. Ask your trainer how casual the show is. If it is casual, you should be ok in a polo, breeches, and tall boots. As for breeches, don't be afraid to spend a little money on a good pair of two. Spending more money on a good quality product that will last you longer is cheaper in the long run than spending less money on cheaper quality. I am personally a fan of Ariat breeches. They are comfortable and I have had the same few pairs for years and they still look alright.
Hunter schooling shows always appreciate people dressed in coat and breeches, even if not required. I would really try to dress that way. many judges see it as showing respect for the judges.

You can often buy very nice used hunt coats here or on Ebay.
I actually just bought 3 new show shirts today :)
And all they are, are just button up shirts. I got:
A white, short sleeve, button up
A white, Long sleeve, button up
A blue, long sleeve, button up

AND! they were 20-30 bucks, AND! I got them for 30% off at a normal store in the mall :)
---
Horses are scared of two things... Things that move and things that don't.
Show shirts and button up shirts you can get at the mall are completely different.
Posted via Mobile Device
Green Broke
Join Date: Aug 2010
Location: Southwestern Ontario, Canada
Posts: 3,324
• Horses: 0
I agree with counter...a shirt you buy at the mall is not the same as a shirt you buy specifically for showing.

For a schooling show, go for clean and neat. If you are doing hunters, go for navy, dark grey or black polos. Its more conservative, and looks better. Be sure to tuck in, and wear a decent belt. Nothing with big logos or such.

For cooler weather, a black long sleeve shirt/sweater and a vest work well.

Breeches wise, whatever brand you prefer works.

I've been in schooling show classes with a mix of people in show jackets and shirts, or riding in jeans, and it has never made a difference in placings.
Posted via Mobile Device
---
Last edited by VelvetsAB; 10-29-2011 at

09:39 PM

.
How are they different?
---
Horses are scared of two things... Things that move and things that don't.
A show shirt has a collar that stands up and covers your neck and works with your body as you ride, allowing for arm and body movement. It is made to complete the look with your hunt coat. When fitted properly, your shirt and coat can hide posture problems and elongate your upper body.
Unlike a regular women's button up shirt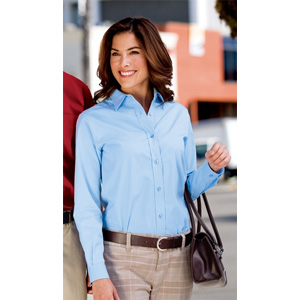 I can move just fine in mine. And she is onl going to a schooling show, not a high level competition.
---
Horses are scared of two things... Things that move and things that don't.
It doesn't matter, if you are going to wear a hunt coat you need a propper show shirt. It looks silly and tacky if you wear a regular button up with a hunt coat.
Posted via Mobile Device