WP green show shirt; what color hat/chaps?
---
So I got this shirt yesterday. It's just going to be a fun show outfit. So my question is.. What color hat & chaps? It's solid green with no accent color!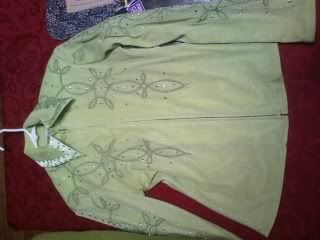 Posted via Mobile Device
Go with a light tan/sand. I would really make the green POP!
---
Live to ride. Ride to live.
I was thinking tan/beige too. However I'm really fair skinned & I'm blonde so would this make me look dead? Lol
Posted via Mobile Device
I would think not, becuase you will have your hair up. Just put different shades on your skin :)
---
Live to ride. Ride to live.
Just so you have options that are all over the color wheel ... I would say a pretty chocolate brown
I think black would look good.
---
Journey, Spirit and Goldie...
Love is when reality is better than your dreams!
Oooo, I didn't think about chocolate brown. I really like that option! Thanks so much!!
Posted via Mobile Device
& thanks everyone else as well!
Posted via Mobile Device
Posted via Mobile Device