Going to our first show... any major things to know?
---
I am taking Tareya, my daughter, to her first show/ gymkhana in two weeks and I was wondering if there was anything I should definitely do.... or not do... in order to make it a great day? The last time I did any showing with horses was 20 years ago and Im sure things have changed, plus Im not sure I can remember a hell of a lot of it LOL.

I am planning on being there early as I have no facilities to wash the pony at home, except the dam water and that is nice and muddy at the moment. So I intend on using their wash pad to give her a nice bath. I am going to practice a french braid, I think, if that is the one that runs down the neck? I am shocking at the little rosette plaits and really don't want to pull her mane if I can help it, it's so luscious and long. I am a master at braiding the tail though so I shouldn't have too much trouble there. She is woolly as all get out seeing as it's the middle of winter and she only has the one rug on, so there isn't much I can do as far as patterns on her bum... it would all stand up and look hilarious.. might try that some time just for fun though.

Tareya is only going in first ridden classes but she is 10 and very conscious of how every thing is supposed to be, I want to try my best to make things right for her. Any hints or tips you can give me will be very appreciated.
Thanks in advance. =)
This might help:
First Show!
Along with this:
showmanship/halter videos please
They were questions about something specific...Then I started to get worried/scared, so they turned into a thread about my show nerves and how to deal with them!!!
I was/still am like that about wanting to know how everything is supposed to be.
No matter what people tell you to prepare for the show. From what the class will be like, to where you enter the ring, the order you leave the ring, how much time you have to prepare between classes, etc. When you get there, a lot can change!!! At least thats what happened to me.
But... It all works out in the end. There are lots of people at the show that will help.
I would get to the show early, go over everything. I asked lots of questions, even to the people in the shows (who were older and more experienced) that helped a lot.
Have Fun!!!
There are 3 or 4 people on here that can help you way more then I did. They helped me a lot!
---
Last edited by Pro; 06-22-2010 at

10:53 AM

.
Thanks Pro! Those threads were very informative. I am looking forward to the whole event but so far I haven't even told Tareya because I don't want her to get overwhelmed or anything. Thanks again.
She doesn't know about the show she will be riding in?
She didn't, no, I have told her now though. She is very excited about it and was out with her pony this afternoon trotting her around the roundyard. I was trying to see if she needed any extra aids like a crop to help with consistency but when I explained what I was looking for she had Poppy (the pony) trotting around like a champ! Because she will only be in first ridden they wont be asking for too much, and the kids don't have to canter if they don't feel confident enough.

She is super stoked and looks like a beautiful princess all dressed up in her riding gear, all brand new. I feel like a pageant mum! It's all way too exciting for me. LOL I'll be the one in the back taking deep breaths and trying not to yell out instructions :( hehe
Just posting these for RowdyLover
Poppy
Tareya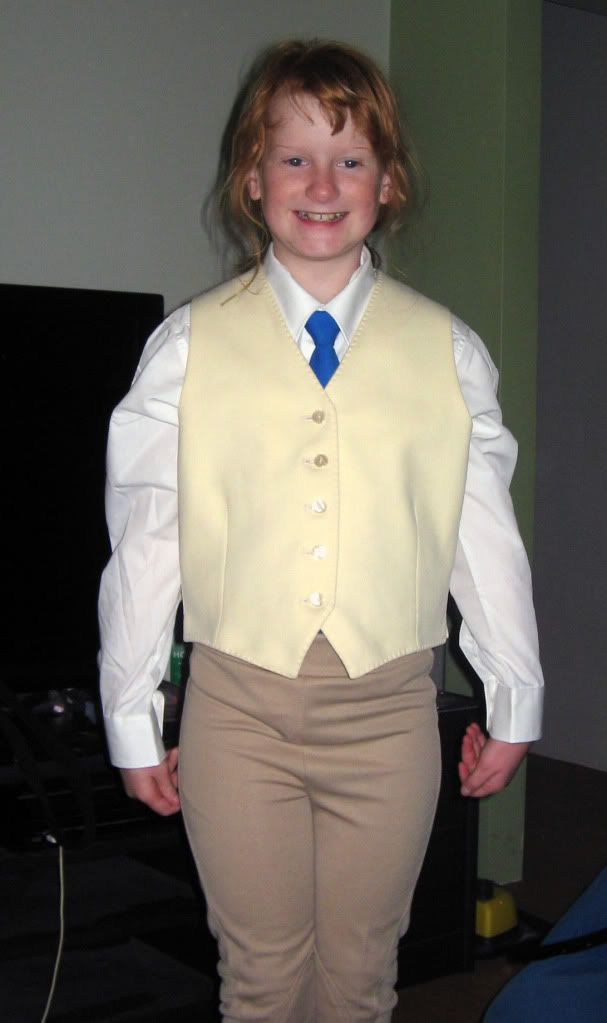 ---
Flirt-Hugo-Phoenix-Romance-Fanta-Nippa-Shiloh

Trojan 09.11.02 - 26.10.10 // Kody 01.09.89-25.06.12 // Rex 05.11.95-21.12.12

I would definitely suggest limiting the number of classes for your first show. As Pro said, no matter how much you plan, things change when you get to the show. You both want to have the time to enjoy the event and not feel rushed and running the entire time. Once you get a routine down, start adding more classes. First and foremost.......ENJOY !!!
Green Broke
Join Date: Aug 2010
Location: Southwestern Ontario, Canada
Posts: 3,324
• Horses: 0
Invest in a large rubbermaid tub that has a hinged lid! It makes it so much easier then having 10 bags of stuff to haul around. You can keep all your "show" stuff in it, or pack everything into it as you need to. It would be a good idea to leave a spare halter and lead, as well as an extra crop and gloves in there just in case. I leave a pad for just showing in the tub as well so it doesnt get forgotten. Its always handy to go to the dollar store and buy a bunch of "bar" towels and throw them in as they can work for wiping off the horse and the kid. If they get ruined, it isnt a big expense to replace them. If your pony has any white on her, you can use baby powder(also from the dollar store) to whiten socks up. Its best to do it while they are still slightly damp and rub it in. A lot of the little girls (or their moms) come to me wanting their hair braided, so I also keep a few extra hair nets, bobby pins and a comb.

Since it is your first show, try and remember to write everything down that you pack so that next time you can type up a packing list so you dont forget anything. :)

Hope this helps!!
I just went to my first show a month ago - - I don't think I know what to say to help you but I can always wish you luck. ;)

So,
GOOD LUCK!!

:)
---
Hopefully my post helped; if that's what you needed! <3 Luv ya! ~*~ APPY ~*~