When you lead her be sure you are standing by her jaw so her head is slightly ahead of your body. Walk her a few steps then back her a few, then forward. Mix up the number of steps so she doesn't anticipate. Then trot a few and back her. This get her thoughts elsewhere. If she grabs at you then back her up many steps then ask for the trot again. She likely won't figure it out after the first backing but after two or three she'll definitely be making the connection. Don't at any time pet her. This is business, her job is to trot when asked without biting and your job is to back her when she does.
The Clinton Anderson method has worked for me as well. I get comments often of how well mannered she is on the ground. We are now working to get that in the saddle:) Try It!!!
My gelding use to grab the sleeve of my jacket... but only in front of the judge... I just had to haul out and hit him one day in the class, in front of the judge. It was the second class of the day, so the judge new he was being naughty LOL Didn't place but that jerk never grabbed my sleeve in another showmanship class ever again!
---
I've got a lovely bunch of Neuticals,
There they are all standing in a row
Big ones, small ones, some as big as your head
When I first got my mare she "tested" me to see how much she could push me around, she turned around while I was picking out her front hoof and bit me in the tush!!! Well I whirled around and bit her back...index and middle finger, jabbed into her neck. That surprised the crap out of her, and she has NEVER tried that again (I've had her now 3 1/2 years).

It's completely a respect thing if you're not doing anything to cause the horse pain and they try to bite you anyway. If you let it happen, it will just continue and will probably escalate too into other bad habits.
---
"The times when you have seen only one set of footprints in the sand, is when I carried you..."
Green Broke
Join Date: Oct 2009
Location: Outside of Oklahoma City
Posts: 2,653
• Horses:
6
I know my 3 year old HATES halter classes with a burning passion, it's far to boring to him:P He will stand perfectly still until the judge walks over, and then it's like ooooh I think I need to move now. Judge leaves, and then it's like Heyyyyyyy mom I want you hat! What is that? I'm going to bite it mkay? Noo don't get mad I'm too cute!
---
Be wary of the horse with a sense of humour. - Pam Brown
Just a question for the OP....do you give your horse treats out of your hand? If you do so on a regular basis, this could be the source of your problem. Your horse is going after your hand for a treat. I do SMS with my horse and he knows better than to nibble on me during the class and in halter class. If he does he WILL get a pop from me. But because we practice it at home all the time, behavior like this is nipped in the bud.
Quote:
Originally Posted by
AmazinCaucasian
View Post
I'm with GOODHRS! If she nips or bites one time, it should be the last time. This is one thing you should over-disclipline at home because if and when she realizes you can't tune on her at a show, you have a sour horse on your hands.
I SO agree. I've had nippy horses and I own 2 nippy geldings, one is much more so than the other. My 5yo QH, "Buster Brown" is nippy and plays with everthing he can pick up and move. Every morning I find that he's thrown his rubber feed bucket AND his Jolly Ball throught the window in the barn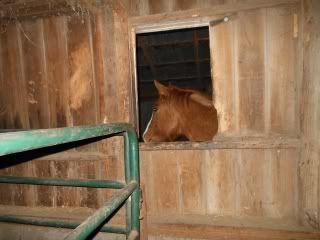 He also wants to grab my shovel, or my clothes or nose me and lip me. You CAN train this out of your horse, and I've got him almost finished with this BAD habit. Now, I flick his nose with with my finger when he forgets and I say, "No." Just FYI, he hasn't lost his trust or gotten skittish, even though I started to address this problem by really hitting him, and it was immediate. When They're bad you HAVE TO get them out of your circle until they show you respect, bc it's dangerous to let this continue unanswered.
My POA gelding would nip/bite me all the time in the arena. Until one show in the warm up rig I found a piece of hay or a twig (can't remember lol) and every time he bit me I would poke him. It obviously wasnt hurting him but startled him every time I did it. After that he rarely bit me during showmanship although when he did I did have to "pop" him enough to startle him a few times. He finally got the hang of what I was trying to teach him and he turned into a showmanship machine...well he was before I got him to quit but just had a little glitch. Ha :)
Posted via Mobile Device