Would this horse do well in Halter?
---
So I was thinking about showing my QH/TB horse in halter shows, but was wondering if his conformation is even good enough, and if the huge scar on his shoulder would affect his score (though it does not affect his movement).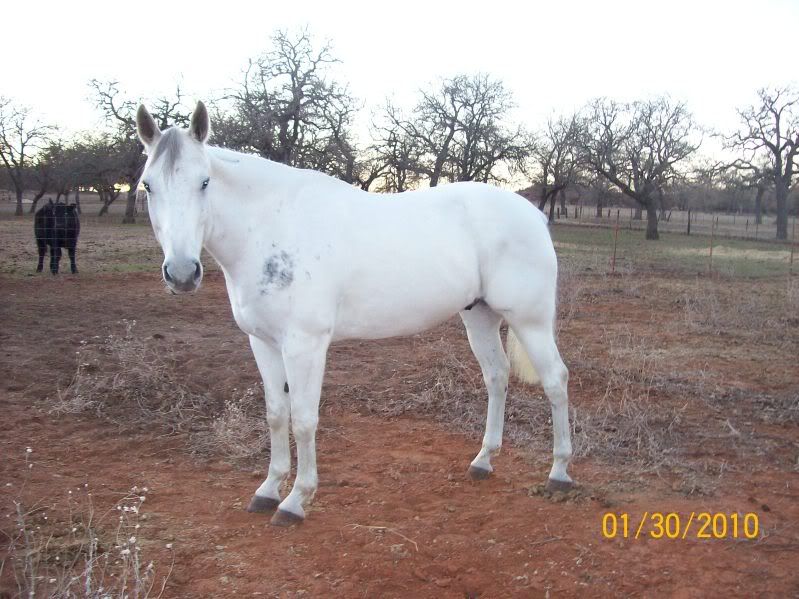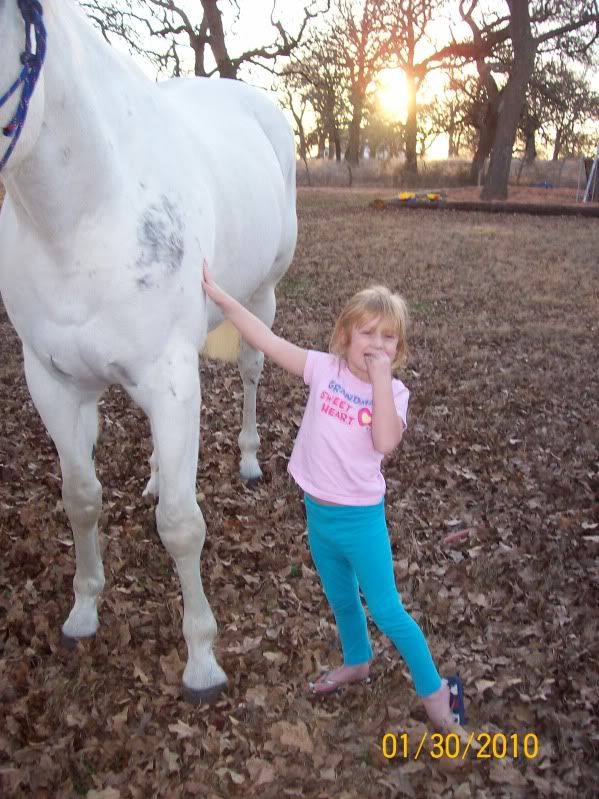 The last picture shows the scar the best...it's the darker grey/black spot near the little girl's hand.
I think he looks quiet nice (although the pics are bad confo ones) Sometimes scars do effect the scores.
---
Cross Country- The act of hurling yourself and your equine partner at a stationary object with poise and grace while attempting to survive...

I love him! Faults that stand out to me is he looks quite short through the back with a defined short neck. He also looks like he is very straight/upright through the shoulder. And to me he looks a little narrow in the shoulders? Would need more opinions on that though. In the 2nd photo he looks a little cow hocked, but can't tell in the other photos.

But, good points!! He deffinatkey has presence! And greys ALWAYS stand out from the crowd! He has "amazing" topline! To be honest I think he is **** cute! I could steal him!! He is perfect weight too..

But for led, I would buy a false tail.. They like them nice and thick! I know from in-hand they like them larger, with a very heavily muscled appearance, while keeping small heads with wide jowls and refined muzzles. And scars do usually lead to discriminance but I would play around with some chalk.. Have a go at it, see what the judges say!
---
The Perfect Day-
Going to bed with a Dream
and waking up with a Purpose!
---
Last edited by JackofDiamonds; 03-29-2011 at

06:28 AM

.
My advice
---
He has a nice solid build and is quite pretty but depending on the judge and the size of the scar and how visible it is will determine how ell you go
Are you planing on showing him in the hack ring or the quarter horse ring
There is also makeup you can buy from horse land to cover up scars
Goodluck!!!!
Wow is he stout for an appendix! I agree with JackofDiamonds on some of the confo points. His neck is a bit short & slightly cresty and his shoulder is a bit upright and that highlights his shorter neck a bit more. Overall he is pleasing to the eye.

As far as scars, it depends on the judge. I personally don't mark down for scars, they are big goofy animals and they all end up with at least one in their lifetime! There is a big difference between blemish and unsoundness. I don't mind scars, some judges do. If they have major scarring on knees, hocks, shoulders, etc. I will spend more time making sure that the old injury doesn't affect the horse's way of going but do not knock a horse down just for the scars alone. You are fortunate with his color, there are tons of things that can be used to cover scars!

My vote is show him. You will have fun and make lots of memories regardless of what color ribbon you walk out of the ring with :) Good luck!
Thanks for all the advice!! I don't really know what I'll be showing him in, I just wanted to show him (probably little local shows at first). I don't think he is actually cow hocked, but he wasn't too keen on the flashing object at his butt and was shifting around :) .

What would y'all recommend showing him in?

(And the date on the pictures are wrong...my camera had a technical difficulty, they are from 2011)
---
Last edited by horseyfikes; 03-30-2011 at

01:00 AM

.
For local shows, do you mean western or English?
---
The Perfect Day-
Going to bed with a Dream
and waking up with a Purpose!
Where I am...mostly western shows.

Also, dark tack or light tack?
I think you guys could do great at local shows and have a blast doing it, so I vote to go for it!

Tack...idk why but I think a dark oil would look nice on him. Not completely black, but a really dark oiled brown. And I've always wanted to have a gray to wear purple with so I'll just throw that out there as an outfit option haha.
Posted via Mobile Device
I can help with what classes to do for western, sorry only english. I'd go Dark brown, like really dark! I do English and wear black tack on greys but western dont do black do they? Also outfit wise I'd go
- Red,white & silver
- Turquoise
- Lime green (my fav),
-you could even do hot pink
Hehe just my two cents worth..
---
The Perfect Day-
Going to bed with a Dream
and waking up with a Purpose!
---
Last edited by JackofDiamonds; 03-30-2011 at

07:54 PM

.