Help me decide on show names!
---
So Jester's injured right now, but in the event that he is able to show again, I need help deciding on a show name. If we're given the green light to compete again, we'll be registering for NCHJA and USEF. His previous owner had him listed as Paint by Numbers, which I don't really like. He's unregistered, as he was a rescue and I have no idea of his pedigree. Here are my two choices: Made Ya Look and Ideal Design. He has very unique markings, so he catches everyone's eye (which isn't always a good thing!), but he sure stands out. Here he is:
I got Charlie last April and his JC name was Beecher (eewww) and his owner showed him USEA and USEF as Deployment Gift. Now, he wasn't MY deployment gift, so a change of name is definitely in order. I have it narrowed to Publicity Stunt or Insanity Plea. Publicity Stunt came to mind because 1)his pedigree includes Stage Door Johnny and 2)The 2 shows I've taken him to, he's made some sort of ruckus so now people even recognize him (a TB chestnut, cause they're sooo rare). I like Insanity Plea because, well, he can be quite insane and I think it'd be cool to hear from the loudspeaker. Anyways, here he is too.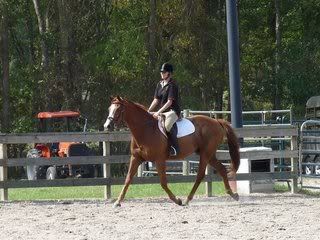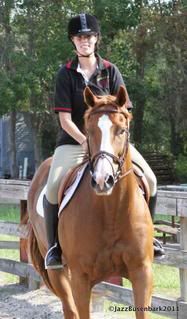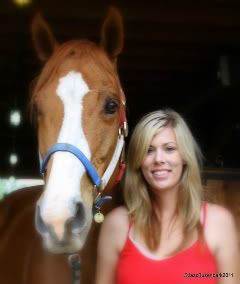 Not sure why even though I'm resizing the pictures, some are still so big...
Thanks guys!
I like Ideal Design and Insanity Plea.
---
"The greatest pleasure of a dog is that you may make a fool of yourself with
him and not only will he not scold you, but he will make a fool of himself too."
-Samuel Butler
I like Ideal Design and Publicity Stunt. :)
Posted via Mobile Device
I like Ideal Design and Publicity Stunt as well
---
Sometimes I wrestle with my demons.
Sometimes we just snuggle.
paint by numbers or ideal design and insanity plea