Quote:
What do you all do with the Championship ribbons that go around the neck?
I also am a fan of curtain rod, but I use the IKEA DIGNITET Curtain wire. Its a metal cable. The metal hooks fit perfectly over the cable, (for ribbons w/o metal hooks I just use hanging alligator clips.:
and I just hang the Neck Ribbons around the wire and let hem hang. If I wanted to have them hang higher, I would fold them in half and over the cable and secure them with a small butterfly clip or with another ribbon:
I use the curtain rod method. I have a wall with curtain rods going along it that my ribbons hang on. I have too many ribbons to fit though, so I only have my favorites and most recent ones hanging, the rest are in plastic tubs.
---
<3 Dallas, Dakota, and Shaymus <3
RIP Shaymus 8/16/13
When I was in high school I ran bailing twine across the top of my wall. Once it was full, I ran a second set. It was really neat because by the time I graduated the entire wall was covered. They are in a suit case in the basement now. My trophy's are in a doll case....

I do have a shadow box that I haven't figured out yet, I want to put my Old Black horses halter, a photograph, his tail clipping, and some ribbons in it. I also have one of the neck sashes on the wall in the work out room with some ribbons and a photo of Pistol in the middle...
---
"Be a best friend, tell the truth, and overuse I love you
Go to work, do your best, don't outsmart your common sense
Never let your prayin knees get lazy
And love like crazy"
I have a friend who has been showing since she was a kid (she's 28 now) she has TONS of ribbons. She took some of hers and used the tails and sewed them together to make pillows. They are super cute. I put a string around my room (where the wall meets the ceiling) and hung them from there.
When I was in college and competed in IHSA, I used to bring my ribbons home and my mom would string them along the windows of my room like curtains. :) It was sweet and fun to see when I'd come home on breaks!
I hang mine from my belt along with the buckle I won.

See, me and my buddy put on rodeos and fun shows and we don't tell anybody. That way we pretty much win everything. We take turns judging to keep it fair. Last week I won first in cutting on a Percheron that only been rode twice. He bucked twice and ran thru a fence, but we kept the lead. Then I took the saddle bronc riding on my kid's old foundered mare. Well I fell off 6 times, but the judge kept giving me a re-ride and was nice enough to hold her for me. Then my buddy got a first place in halter with an arthritic mini donkey.

I'm gittin so **** many ribbons I'm running out of room on my belt
---
Last edited by AmazinCaucasian; 03-31-2013 at

02:59 AM

.
I pin mine to notice boards,were in ireland so its rosettes and trophies we get :)
so far they are on Walter's stall. lol
Meet the shrine behind my door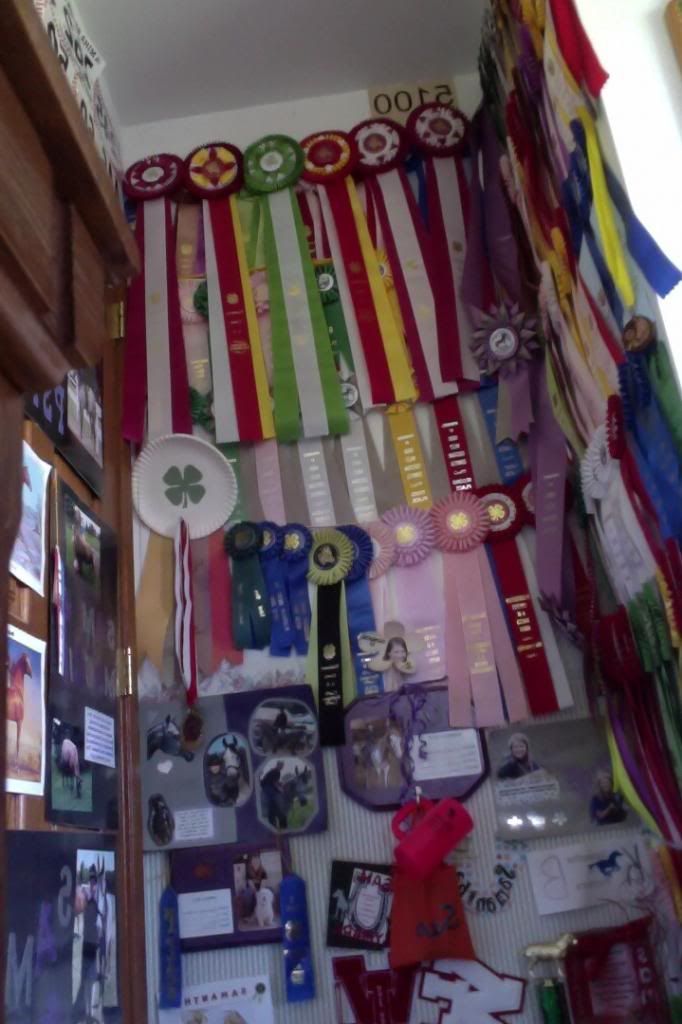 ---
Psymantha & Psymara <3

"There is nothing better for the inside of a man, like the outside of a horse."

Just on a shelf, I have to dust them once in awhile.
Lisa