Our Show Results Yesterday
---
So yesterday I was in 5 classes in the county fair.
My first class was Pony Halter 50-56 inches with Buttercup. We ended up with 3rd in this, which I was pleased with.
Our next class was 6-10 Year Old Mares 56inches and over with Summer. We won this class last year and came in 2nd in it this year. I was very pleased with this because the horse we lost to was a very expensive multi championship horse that is absolutely gorgeous.
Our third class was Grand and Reserve Championship Mares with Summer which was for all of the mares that same in either 2nd or 1st place in their class. We didn't get anything in there.
Then, we had a 30 minute riding warm-up. I decided to just ride Buttercup bareback in there. We did w/t/c. By the time we got out of there, Buttercup was drenched in sweat. It looked like I had peed myself when I got off of her.
Our last class of the day was Bareback Pleasure with Buttercup. She didn't want to slow down, so we didn't place in there.
It was a very good day though, and all of the horses behaved themselves. Here's the only picture anybody got all day. Sumemr in front with me, Buttercup in back.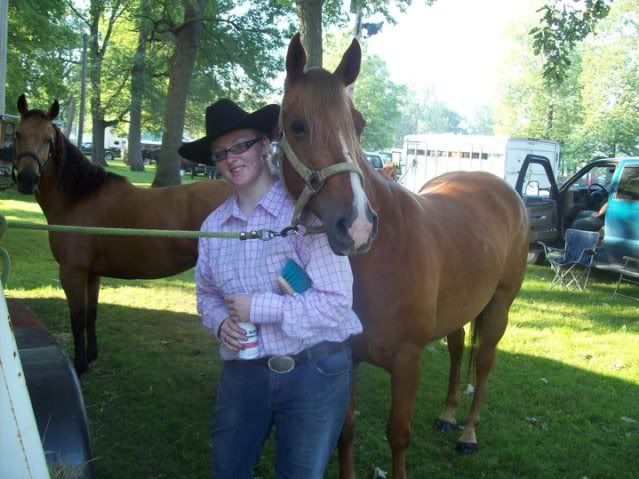 Congrats! Cute horses you've got. :)
Thank you, they are my life<3
Great job at the fair! Buttercup is adorable :) I love Summers forelock too
---
Horses and children, I often think, have a lot of the good sense there is in the world.
Josephine Demott Robinson
Feed, muck, groom, ride. Repeat daily!
Haha. Thanks. (:

I wish I had more pictures, but my mom was cool and decided not to take any.
Congratulations! Job well done and great pictures!
---
Congrats on your 3rd and 2nd! Well done
---
There is one principle that should never be abandoned, namely, that the rider must first learn to control himself before he can control his horse. This is the basic, most important principle to be preserved in equitation - Alois Podhajsky
Well done! That's pretty good.
---
*~ THE HORSE STOPPED WITH A JERK, AND THE JERK FELL OFF -- Jim Culleton ~*
MANURE HAPPENS