Saddle Pad color
---
I am going to my first western show later on and I'm preparing my outfit (I have to order it). I know you have to color coordinate, but I have a tan saddle pad that goes over your thick pad and I'm mainly going to be wearing a dark outfit. Here is a link to the saddle pad:
Tough-1 Topeka Saddle Blanket - Statelinetack.com
It's the tan one.
My horse is a sorrel.
Does everything go together or do I need to use a different color saddle pad?
Thanks for the information.
Your blanket should coordinate with your shirt.
What kind of saddle are you using? That's a pretty small pad at 32x32. Measure your saddle, you'll need room around the edges. Most standard show saddles can fit a 34x36 (recommend 34x38 though). Look into mayatex, you'll be able to find a wide range of colors in a decent price range.
Where are you planning to show in NC? I'm from NC too. =)
This is what I wore to my first show, and I fit right in: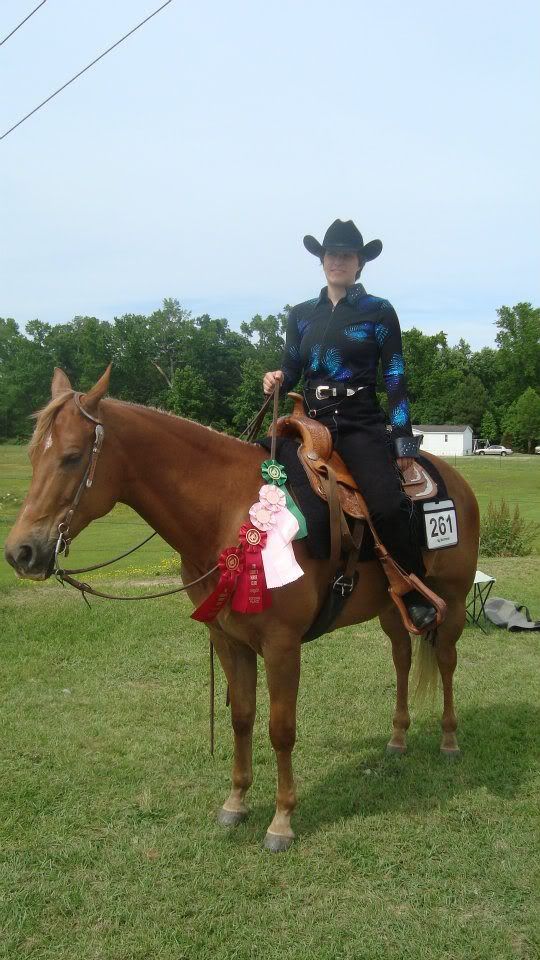 You want your whole turnout to coordinate, from hat to boots to pad. You'd be surprised at how little I paid for that outfit, minus hat and tack. My parents gave me my hat as a gift, and the tack is borrowed from my instructor. I wish the chaps fit better, but I'm a hard fit, and they were super cheap, so I make do.
Hertford is where the show is. I'm actually wearing black jeans, boots that are brown at the bottom...and a blackish/silver shirt (If it fits, I ordered it so I'm not sure if it'll fit or not). Since you're wearing similar to what I"ll be wearing (blck) and using a dark pad, I guess I can't use my saddle pad then since it's mainly tan.
Can you get a picture of what you'd look like sitting on your saddle with that pad (that was quite the mouthful lol) ?
---
"Strength is the ability to use a muscle without tension"

No, I don't think I can. I can't really get anyone down there lol. How come you have to see it?
So we can see if it looks good or not or if it's going to clash.

Vague about the shirt, and the boots.. and we sort of know what the pad looks like, don't know anything about your tack.

I'm a visual person when it comes to giving outfit advice or horse tack colour advice. Sometimes the combinations surprise me when I see them actually together.

But that's just me.
---
"Strength is the ability to use a muscle without tension"