Quote:
Okay...anyone talking sh** on this forum needs to be quiet...I have trained MULTIPLE horses that are underweight...and have talked with many trainers on this very topic...
There is NOTHING wrong with showing a horse like Bear...he is not emaciated or unhealthy in appearance or being. His rider knows what she is doing and knows her horse better than anyone on this forum does! It is her decision...
Back on the topic from a trainers perspective...

When working with a horse...that you want to show...a schooling show is the BEST option...it is low key and not stressful on the horse. If she was doing a 4ft jumper course...yes I would be worried, but Bear is fit and fine for what his rider is asking of him. The BEST and HEALTHIEST way of putting weight on your horse is simple...increase calorie intake and exercise. An underweight horse should never be left to wait to gain weight back...that can be VERY dangerous to the horses health and physical being. Anyone with a problem can talk to me about it... I have trained multiple horses and riders...and have worked with many horses, riders and trainers which is wear I take my wisdom from. Thanks you
Haley
Haley, welcome to the forum. It would perhaps be wise to watch your language a little.
I have been riding and showing for nearly two decades and will not hesitate to bring attention to the show authorities if I see a horse that is underweight at a show. There IS a problem with showing an underweight horse, that is why it's unaccepted.
You have trained many horses that are underweight? Wonderful for you. Light training on an underweight horse to help them muscle up? Great. Showing and hard riding? NOT cool.
Quote:
I think people should be very careful when judging others. I'm glad that the OP has this horse and is willing to ask opinions. Her horse, while being a rescue (good for her!!) isn't in THAT bad a shape. This is a fun, local show and the horse seems healthy and happy. It does no harm to give the horse a good experience. That being said, I would probably take him mainly for the experience of going somewhere. I would put very few demands on him and only do minor, simple requirements. If someone is rude enough (or concerned enough) to mention his light condition, be willing to kindly and patiently explain his rescue status.

Take him to the show, have fun, demand little, and give him a positive experience.

BTW, while I would take him to this show, and others like it, I would wait until he is in somewhat better condition before I would take him to any rated/recognized shows.

You have a really nice horse and you should have fun with him. Oh, and be a bit careful with the jumping. He does look like he does have some issues with his front legs that might not be compatible with a lot of hard jumping.
I'm not judging anyone at all. I am offering my opinion as to why the OP should not show this horse. Thing is, a horse that is that underweight shouldn't be going to a show, and I will not hesitate to call someone out on it.
Quote:
Originally Posted by
eventerwannabe
View Post
Thanks for the support TwoPoint & Allison! I was hoping at least one person was going to say that I should go because I got a lot of other horse people telling me I should go. Anyways, yes, I am going. Im not doing the Showmanship, as he isnt really ready for that and I think that might stress him out a tiny bit.

Allison:
Yeah, I wouldnt be doing any rated shows until late spring/summer, once he is fat and in shape. Also his knees are like that because of a bad hoof job. We werent able to get our normal farrier out so we had to use another farrier and he did a VERY bad job... Plus he was 4+ weeks over due when we got him. Now he is a bit frog soar, and I am doing something about that. He used to do 3' hunters, but he wont be doing that until he is in top conditioning and his legs/hooves are doing better. When I do start jumping him again, we will be doing tiny stuff, just 2' tops. We will be doing lots of grid work and such to get him into shape and to get me into shape. (:
Of course you're going. Some people have told you yes do it so of course you're going to take that excuse and run with it. Never thought for a second you wouldn't, but I did think for a moment I might have convinced you not to.
---
The lovely images above provided by CVLC Photography cvlphotography.com
Alrightey, lost it a bit there. Here is my revised edition:
OP, you are free to do what you wish. It is my personal opinion that your horse is a bit on the thin side to be showing. That is my personal opinion. I do bring stewards' attention to a thin horse on the showgrounds, but again that's me. Your horse is not emaciated, but he is quite thin.
Because I have dealt with skinny horses, I may get a little defensive. Overly so? Probably.
He needs muscle and I absolutely think you should be working him - lightly.
I wish you the best of luck with Bear.
If you have any questions you are more than welcome to PM me, as this will be my last reply on this thread :)
---
The lovely images above provided by CVLC Photography cvlphotography.com
I would honestly hold off on showing him until he got some more weight on him and you've ridden him a lot more. There is no rush! Give you and him more time to get used to the western deal, too.
I know how you feel, my horse will be back in my loving arms (I'm away at college and he's coming out here from home) in a few weeks, and I want to just be out there riding all the time and I'm already looking at shows to go to... but I need to be realistic. He and I need time to train, he hasn't been worked (just like your horse.. you said you've ridden him 6 times?) and he's not in show condition (neither is your guy, in my eyes.) so... just take it slow. I know it's hard but if I were you I'd wait several months.. it won't do anything but help! Like JDI said, it's just one show!

:) Good luck either way though! I'm glad he has such an eager owner who wants to do so many things with him! He's going to be beautiful at full weight!! (and he is pretty now, too of course!!)
---
Proud owner of 13yr old Paint Gelding, Bali! <3

---
Last edited by BaliDoll; 10-21-2009 at

06:34 PM

.
justdressageit,
I wounder if you would see a REALLY fit three day horse (not a combined test horse) and think it is "underweight", would you go report them? You would be wrong. They are lean and muscled with little extraneous fat.

Unless a horse is unhealthy looking, I will keep it to myself. If I feel passionate about a horse's condition, I will go to the owners and ask about it. They deserve a chance to explain. If I don't get a reasonable explanation ONLY THEN will I go to any organizer to complain.

I see neither in the OP's horse, IMHO.
---
Last edited by Allison Finch; 10-21-2009 at

07:53 PM

.
A very muscular horse with VERY little body fat, looks DRASTICALLY different than a just rescued horse. Just saying...
And it's not rude for someone who is concerned to say something. It's actually a lot worse NOT to say anything, IMO.
---
Proud owner of 13yr old Paint Gelding, Bali! <3

Quote:
A very muscular horse with VERY little body fat, looks DRASTICALLY different than a just rescued horse. Just saying...
And it's not rude for someone who is concerned to say something. It's actually a lot worse NOT to say anything, IMO.
Quoted for truth.
A skinny, undermuscled horse looks NOTHING like a fit, toned horse. There is a MASSIVE difference. This horse is both skinny and undermuscled, not fit.
Personally, I wouldn't take it to a show. Denny looked like that when I first got him (rescue/upgrade) and I covered him with a blanket (seasonally appropriate) because I was embarrassed - and I was the one that rescued him! He put weight on quickly though and a month later even looked like a completely new horse. But I'd be ****ed if I had ever taken him out while he looked the way he did.
---
The lovely images above provided by CVLC Photography cvlphotography.com
just dressage it...
thank you but this is not a first time for me in these threads. I was once a victim of this site and had to change my username because of how bad people would get on here. I do not believe a schooling show is that bad for a horse like bear...thank you for agreeing with me on the light riding, and i do believe that a horse in bears shape is more than healthy to do what his rider is asking of him. I also have had to report to people when their horse is underweight but Bear is not at all an unhealthy looking horse. The pix posted on here do not look like an underweight unhealthy emaciated horse at all!
Quote:
The pix posted on here do not look like an underweight unhealthy emaciated horse at all!
The horse is underweight. Not emaciated, but so underweight I would never even think of showing him.
Welcome back.
---
The lovely images above provided by CVLC Photography cvlphotography.com
---
Last edited by JustDressageIt; 10-22-2009 at

01:22 AM

.
thank you. i was hoping i would never have to return here since it is an internet public place where people can pretend to be whoever or whatever they want...too many posers and fakers on here that think they know everything...and after looking at this horse..i wouldnt ever want you to see my horse...my horse is thoroughbred that was bred to be light for racing...his ribs are almost visable due to his cribbing problem yet he is the healthiest horse at my barn...appearances are very very deceiving.
Image - TinyPic - Free Image Hosting, Photo Sharing & Video Hosting
the link is to a picture of a horse i recently had to give back to its owners as I did not have the time needed to dedicate to the horse...but this is ellie...another light bred ottb mare. she may appear light and unhealthy here but she has been shown in 2 hunter (flat) shows since this picture was taken and is worked just like most of the beginner flat horses are worked at my barn and has only continued to get better. although some people disagree with her weight...it is natural for some horses to be lighter than others...and it could be the case with bear...not saying it is...but its not smart to judge a horse by its appearance
While that isn't a great picture to judge from, she is not nearly as underweight as the OP's horse.
I have a thin Thoroughbred as well. I know how hard it is to keep weight on some of these suckers, but guess what? I sure as heck woudln't take him into public if he was that underweight. Bear is an unhealthy weight. He should be put on a good diet and light exercise. He shouldn't be dealing with the stress of showing. He's not emaciated, but he's thin enough that he would turn an eye or two.
Here's my thin, hard keeper Thoroughbred gelding when I first bought him: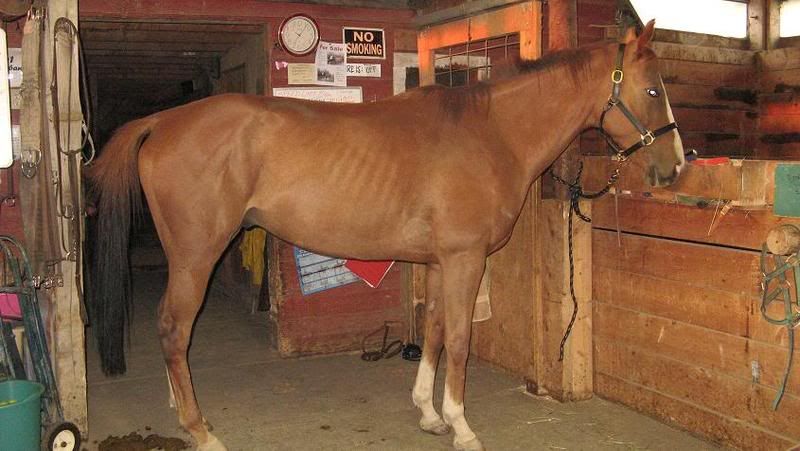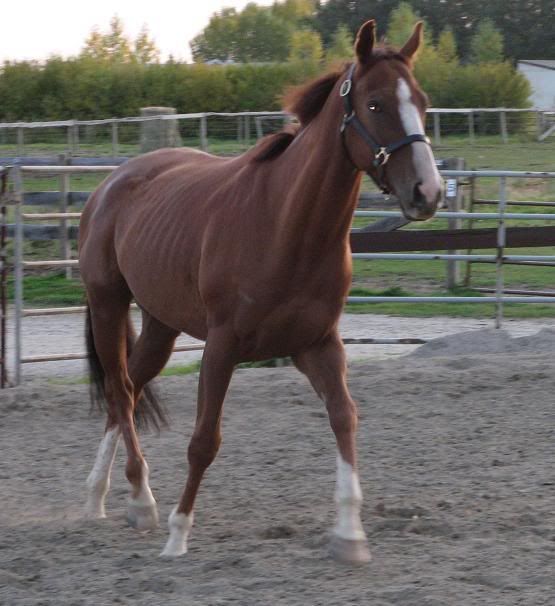 I kept (seasonally appropriate) blankets on him because I was embarrassed. He was a rescue, everyone at my barn knew that, but I have to say, showing was the absolute last thing on my mind. I had ample opportunity to, as well.
Here he is now: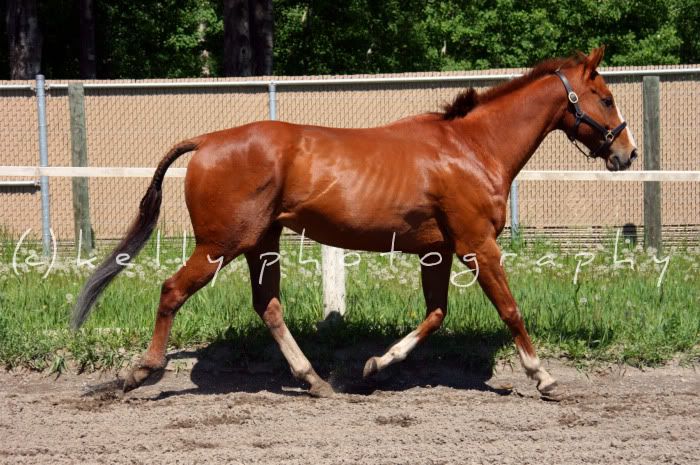 He's a little on the sleek/thinish side, but you can see the difference. He's muscled, he's got weight, he doesn't have the protruding spine or pockets behind his scapulas, or lacking in the hindquarter.
The OP's horse is thin. He has a protruding spine, and is lacking muscle or fat in major areas of his body. He is not a show-fit horse.
---
The lovely images above provided by CVLC Photography cvlphotography.com