Where do you Put your Tack?
---
I was wondering if everyone put their tack or would put their tack during a show? Do you use your trailer? What if you don't have a trailer, and had gotten a ride with someone else? Are you worried about someone stealing anything? Or bothering your horse?

Is there things you always forget or wish you brought? I've never shown on my own always a groom for a barn, so it would be my first time showing my own horse. Plus I hate messy stall fronts, and not being able to find anything.

Trying not let Spice being sick get me down and still hope she'll get better and we'll be able to show next year. For the life of me I can't figure out where your suppose to put anything without a tack stall, because the shows I would go to don't offer them. The stalls have sliding doors so everything has to stay away from the stall wall by a few inches. Plus one is 5 days long, another is 3 days.

Any way, mostly rambling here, but you're bound too if you haven't been able to talk the past three days.
I leave it inside the truck, or inside the trailer's tack room if it has one. No one would bother stealing my tack, it's not something to lust after, it's pretty beaten up. When I show I have to borrow a friend's trailer, so I don't have my own, but she comes with me, as does my boyfriend and dad, so we have an ample amount of people who are able to keep an eye on things and make sure Arrow is doing ok and not being harassed or anything by the trailer.
I haven't forgotten anything yet, because I make lists and pack everything well ahead of time.
Posted via Mobile Device
My insurance agent told me my tack would be covered if stolen from a locked vehicle. So that's where my saddles and tack were while at a show.
Showing
Join Date: Jun 2011
Location: Cariboo, British Columbia
Posts: 11,770
• Horses:
3
Since my trailer has a tackroom, and it's my base, I tack up at the trailer.
I'll dream the day I have a trailer, so much of my tack would live in there, and not in my office.
I keep a sterilite with my tack in the front of my BP. When I trailer with my friend, I put it in her LQ trailer tack room. If I'm using a stall, I use a steralite (or two) and a saddle rack and bridle hook in front of the stall to keep things organized.
Posted via Mobile Device
I keep mine in the trailers tack room. My tack isn't at all worthy of stealing, but others keep drool worthy tack in it at shows. Someone is always there to watch the horses and tack, so I don't really have to worry about it. Because I trailer with the barn owner, she always keeps track of whats needed for the trailer and horses, so I just need to worry about my tack, grooming supplies and clothes. I've never forgotten anything, which is pretty surprising for me!
My tack is in the dressing room of the trailer all the time. I have a back tack but the saddles don't seem to ride so well back there and so I moved everything into the dressing room and put the extra not so used stuff in the back. My daughter shows and everything she needs is in the trailer.
Here is the inside of my trailer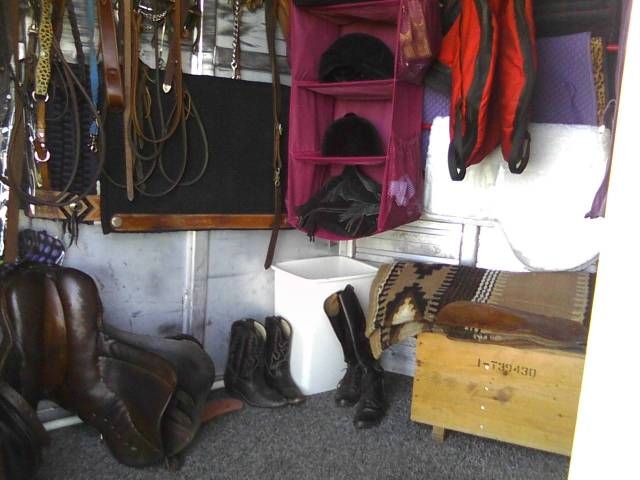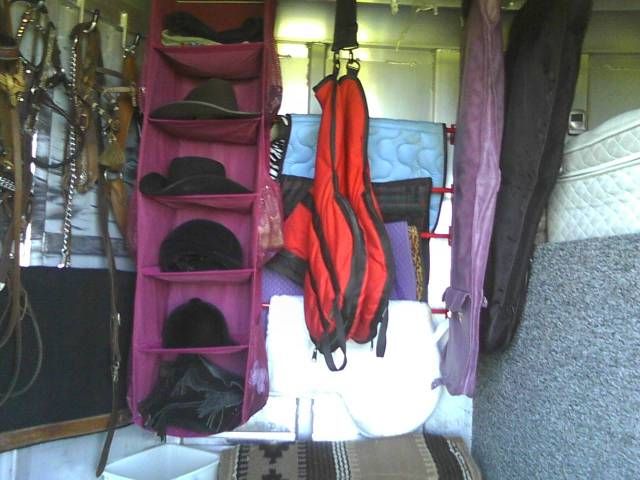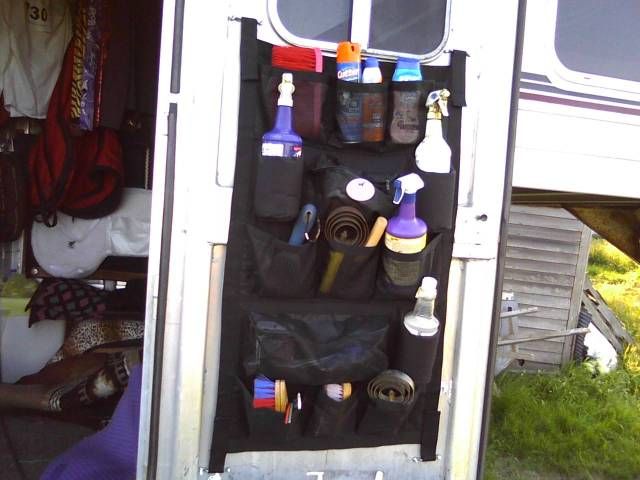 Again need to ask Santa for a trailer.

I was hoping to figure out some idea for myself (no trailer), oh well. Really like your trailer's tack room Wickednag, much bigger than what I'm use to I aka a 2 by 6 slot in front of tiny trailers.
Green Broke
Join Date: Jan 2010
Location: south of nowhere, north of nothing
Posts: 4,643
• Horses:
6
i have all my show tack in my trailer....

but when i hitch a ride with a friend to a competition i have a chest with all my brushes/grooming supplies, my boots, blankets, etc. my saddles are in their cover and they put them in their trailer, which gets locked if nobody is there.