Sam's story...
---
Sam is a clydesdale x appy gelding that I purchased before my kids were born. We bought him as a green broke 4 year old for my husband to ride. He was a gentle giant with attitude and a sense of humour. Sam never did anything he really didn't want to do, but he could be easily convinced to go along with most adventures. The first few years, we rode Sam around the ranch and on the trails. After my daughter was born, I started showing and jumping him a bit. He loved to jump and could clear anything, including the 4 foot 2" pipe rail fence that was supposed to contain him. As the my daughter got a little older, we would have him pull her around the farm on a sled over the snow. He was always quite hot to ride, but when it came to the kids, he was ever so careful and ever so gentle.
A number of years after we got Sam, we moved to Saskatchewan. Sam was part of the family so taking him with us was the only option. During our time in Saskatchewan, I had the opportunity to work with a great dressage coach who taught both Sam and I the finer points of collection and movement. When we moved back to Alberta a year later, we couldn't bring Sam immediately, so he went to live on my brother-in-laws farm for the winter. Unfortunately (without my knowing), he was left out on a large pasture all winter. In -40 degree temperatures, this is a hardship for a "soft" city horse. When we collected him in the spring, he was skin and bones. I was heartbroken.
Fortunately, friends of ours offered us a place to keep him while we settled in to our new home in town. Their daughter was a pony club rider and had fancied Sam for many years. She showed and jumped him for a year before I reluctantly agreed to sell him to them. I would not have sold him if he wasn't going to a great home. I was both saddened and disappointed to learn two years ago that he had been sold again. By that time, Sam was about 18 years old and went to live with a family whose 8 year old daughter would ride him in pony club.
Since we sold Sam, we became re-involved with horses and now own two. Recently, we also purchased a beautiful acreage where we can keep the horses at home. We have more than enough grass and have been looking or a good jumping prospect or my daughter, who is now almost 16. We have talked many times about Sam, saying he would have been the ideal jumper for her. He is full of heart, honest, trustworthy and loves to jump!
Yesterday, I found a recently posted ad online offering Sam for sale again. He is now 20 years old, but still in good health. I hadn't considered an older horse as I was looking for an un-broke project to train, but now that Sam is again looking for a home and I cannot stop thinking about him. I owned and loved him for over 10 years. He was a great horse with attitude that I trusted like no other with my kids. I know his training and experience better than anyone else, as I trained him. Although he is old, I hope he will have quite a few more good years let in him. He is a dear and trusted friend and I want him to live out the rest of his life well and cannot think of a better place than with me again.
So, what would you do? Would you buy a 20 year old horse that you have already owned once? I am patiently waiting for a reply from his current owner.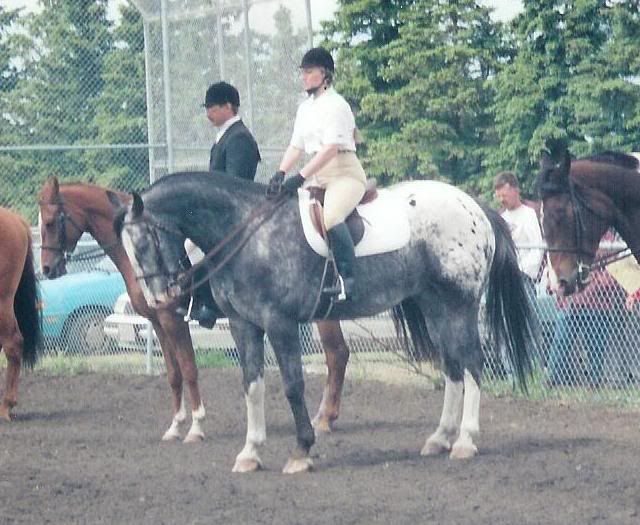 Sam at a training show about 12 years ago.
Personally, I would buy him and bring him home. He's an old and dear friend and it just wouldn't be right to leave it to chance. The way I see it, he's an older guy. He might get lucky and find himself a great retirement home, or he might find someone who is only interested in him for dog food. He deserves a good retirement home with someone who knows him and loves him.
No question about it. I would consider it a gift that you found him again, and go get him ASAP!
Agreed with the last two posters. This gave me chills and made me tear up reading. The fact you can give him a loving and FOREVER home is awesome. What I wouldn't give to find the horse I fell in love with about 12 years ago. She'd be about 23 now though
---
-Kelsey
Horseless currently. Hoping someday that will change.
Couldn't agree more with all above!! I wish I could have found/bought back my girl again, but she is long gone. (31 years ago). It is a gift to have found him, and to treasure him again once and for all. A heartbreaking and hopefully heartwarming story! Please follow up and tell us all what happens.
---
"If you talk to the animals they will talk with you and you will know each other. If you do not talk to them you will not know them and what you do not know, you will fear. What one fears, one destroys." - Chief Dan George
I am planning on picking Sam up tomorrow evening! Woo hoo!!!!
Very awesome story! Did you get the beloved Sam back!?
---
Chad Barnes 6-16-85~7-22-13
Hero Act - Thoroughbred Gelding ~ Gunner - Quarter Horse Gelding ~ John Deere - Mini Gelding
Sam's home!!
---
After a long day, Sam is finally home. Although we just got home late this evening, he has settled in already. There was very little fanfare with the other two horses, Koolio and Sally. The three of them are now out in the pasture grazing contently. I will try to take pictures tomorrow. He is still the beautiful horse I remember, with loads of personality. More tomorrow... must sleep now...