I was practicing barrel racing with Molly two months ago, and since we don't have a sand arena I set up buckets and we walked, trotted, and cantered around them. I don't want her to become a nut case about gymkhana, so my friend and I had been taking things slowly over the previous few weeks and hadn't let her go full out yet.
My mom was photographing us trotting and loping the pattern, and I pushed her into a faster canter a few times. After two times, after rounding the third barrel, we cantered the home stretch (again, not full out, just a brisk extended canter) and she just suddenly fell down. My mom said she went down forward and to the side and that I got thrown out of the saddle, but I wouldn't know because I passed out before I hit the ground! I was wearing a helmet but I had amnesia and my head hurt. I sat up after two minutes of being out cold and told my mom that I'd dreamt this before, that I was sitting on the ground and Molly was running the fence....number one sign of a concussion, the doc later said. There's long periods I don't remember. After saying that to my mom, I don't remember anything up until when we'd walked halfway to the barn from the arena and my sister asked what the heck was wrong. We put Molly away and we drove to the E.R, the doctor said I had a mild concussion, the end.
My scariest fall, even if I wasn't concious for most of it!
I think scarier than my above fall was the one where I didn't fall off. It was horrible.

A few days before Christmas my friend Sam (Lovehorsesandrunning) and I rode Molly and Artie in the back fields with my mom, who always walks with us, as is her rule. My mom videoed us so I could see how Molly looked on tape these days, and after we were done I decided to practice half-passes a couple times on Molly. After a few times, I took my leg off her and she completely bolted. I don't even remember what happened, but suddenly my feet were out of the stirrups and I was gripping with my thighs super hard, and she was running racehorse speed across this huge field. I tried to grab the reins because my balance was off, Molly jumped sideways at a flat-out gallop, and I fell on her neck. So now we were running at a breakneck gallop across this huge field with me riding on her neck, gripping with my thighs and praying to God I didn't land a way that would hurt too bad. I was gripping a hunk of her mane and the reins, and I wrapped my arms around her neck to stay on, so I wasn't able to do a one-rein stop. Instead I tried to shorten the grip on my inside rein, so now at least I had her running in a circle. A very large circle, still racehorse speed, but at least it was a circle and she couldn't take us anywhere that might lead to trouble. A few times around she galloped, me still on her neck gripping with everything I had for dear life, and I remember thinking she was going to do a face-dive because of how close the ground seemed with me on her neck. I gave everything I had and turned her tighter and tighter in a circle until she was forced to slow her mad gallop down to a slow gallop, then a canter, then a trot, and then a walk. During which I jumped back in the saddle (man it felt weird, I was so used to riding her neck! :P ) and calmed Molly down. Sam rushed Artie over to help, she held Molly's reins while I settled her down.

I can not believe I stayed on, let alone controlled her and got her to circle while on her neck gripping nothing but a wad of mane and rein. She's got one strong neck to have kept it level while she had 110 lbs on it!! My mom was in shock, she said 99% of riders would have fallen off, and I believe it. I have no clue how I stayed on, but I'll tell ya one thing, I was NOT going to bail!!
Green Broke
Join Date: Dec 2010
Location: At The End Of That Rainbow To Yer Left
Posts: 3,171
• Horses:
4
i was on my haffie mare who had not been warmed up, 4 years old, and in a brand new place. there were poles in the arena and i decided to walk her through em',so i walked her through em' a first time and she cantered at the end, i didn't fall off that time, then i took her through a second time and at the end she went into a full speed gallop straight toward the other horses. she bucked 3 times (i stayed on for that) but she was about 4 feet in front of the fence and i decided to bail.


fortunately, there was no permanent damage but it was sore to walk for two days, so i sat in a chair watchin' tv all day.
---
If you want a stable friendship, get a horse.
---
Last edited by lildonkey8; 01-15-2011 at

12:34 PM

. Reason: slash thing
I was at an organized trail ride on Sep 18th, 2010, while mounting my gelding he dropped his head and proceeded to buck hard and fast. So being I hadn't even gotten into the saddle I dropped my left stirrup and pushed away and jumped clear of him landing on my feet. Well by doing so I landed too hard and broke my right tib/fib in 9 places completly shattering my distal tibia. My tibia also decided to break thru the skin and snag my sock, not a pretty sight!
I had 3 major surgeries within the first 8 weeks. I have 3 plates & 20 screws as a reward for landing on my feet. It was 17 weeks ago yesterday and I am still on crutches. I will be full weight bearing by Feb luckily and can finally get back in the saddle!
I have decided that next time I will land on my butt, a broken tailbone heals much faster!
My Xray after the 3rd sugery. A couple of the screws on top were cut off in the pic.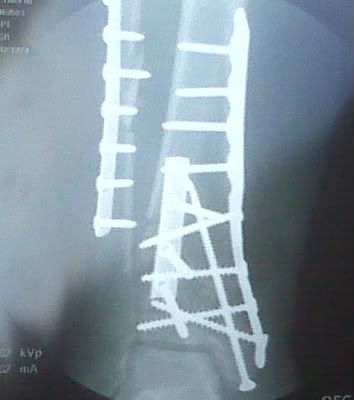 Ok... not as scary as some of them, but once I was jumping and the horse I was riding just stopped dead and side-stepped. Course, I fell off and broke my arm. (Ow.)
My own falls have been thankfully pretty routine, but I was riding with a friend when she came off in a very bad way.

I was exercising/training a goofy, clumsy 5 yr old gelding and my friend was on a hot little mare with a temper. We were in the arena together. While Tut and I were busy trying not to trip over his own feet Cindy was struggling with Taffy. She was being very defiant and giving Cindy a run for her money. She is the type of horse that is easy to get into a fight with and once the fight starts she doesn't quit. I was on the far side of the arena and got a perfect view of what happened next.
Taffy decided she wasn't going another step forward, in fact she was going to go backward, and back she went at full speed. I was honestly shocked she could kick it in reverse so quickly. This isn't the first time shes pulled this particular stunt but never to this extent. They went a good 10 strides in full reverse, and then Cindy made a big mistake. She tried to one rein her. Let me tell everyone that doesn't know, DO NOT I repeat DO NOT attempt a one rein stop when a horse is moving backward quickly.
Taffy lost her balance and I watched in slow motion as Taffy tipped back, Cindy fell straight back and landed on her back. I saw the "Oh my God this is bad and it's really going to hurt" look on her face as Taffy fell back on top of her, but at the last moment Taffy threw her weight to the right and landed on Cindys leg instead of her entire body. Tut, the gelding I was on, was completely freaked out. It was all I could do to get him to stand still enough for me to dismount and run to Cindy. Cindys mother is the owner of both of the horses we were riding, and to say she was furious is an understatement. She didn't want Taffy to think she could get away with that behavior so she asked me to get on her. I have nowhere near the experience Cindy has but I got on Taffy and rode her through the remainder of her tantrum, about 10-15 min.
She didn't break the bone, but she crushed the muscle in Cindys right lower leg. Almost a year after the incident(after hobbling and dealing with pain the entire time) she had to have surgery because she wasn't getting circulation to her lower leg and they had to remove a mass of scar tissue from her calf. She has only ridden a handful of times since then and it was almost 4 years ago.
One of my scary falls happened to be my first ever fall. I was bareback on a mare I did ride-leases on a couple years ago, my sister on the horse she rode, and my bestie on another horse. Bestie's horse got between me and my sister and took a kick at my mare, trying to keep her away from my sisters horse. My mare spun around, and I went off the opposite direction, narrowly missing some wooden rabbit hutches. I luckily only sprained my pinky finger!

My second most recent fall was on Jake. I asked him to lope around a corner, and he did, but the ground was slick, and he slipped and went down on his right. I managed to pull myself away from the saddle, so only my right leg was caught, and not for long as I was able to pull it out when Jake rocked up. I did do something to it that time. It hasn't been the same and hurts if I ride in stirrups too long for me. I think I pinched a nerve or something. :/

I've had a lot of close calls of almost being thrown over Jake's shoulder, but luckily I've stayed in the saddle!

I got pitched out of an English saddle at the canter, and was hanging onto Jake's neck. He slowed down after a bit, and I was able to swing over. It was quite funny.

Emily
theres actually two that i can think of at this moment.

I had a 4 year old quarter horse fresh off of the racetrack in portland and i and my mother broke him to western tack and we were just going out there 5 times a week to keep him and ourselves busy - there was a quarter mile barkmalch race track on the farm and we decided to use it to teach me how to pony a horse - so i was on Mooch and i had the ponier in my right hand and we were in a gallop, Mooch got to bucking like full out then he reared i ended up letting go of the ponier and trying to control my horse ( it was all closed off so it was safer then it sounds for a loose one) get him calm and walk up to my mom to get told what to do next time that happens and he bolted on me from a stand still i held on but i got caught up in the stirrup when he bucked lost both my shoes and got drug about 15 feet before he stepped on my hip. i remember getting up and chasing him to catch him worried that the tack has slipped sideways. that was scary.

another time me and mooch were in the indoor arena working on my posting a little bit i felt a little rusty, so were going along in figure 8's as i do this and the people who owned this property never filled in a big hole after using the arena as a turn out, i didn't see it but mooch crossed his front legs into it and we did a front flip and he landed on me, completely. thankfully no broken bones in either accident. but i got right back on every time !!!
My trainer is all about "if I know I'm ready your doing it". So she sets up a barrel at the end of the arena. She told me to go around it and on the other side kick with my outside leg. I knew she wanted me to canter. I have never cantered before. So I barely kicked. Then finally my mares like "OK, I know what Dana (My trainer) wants you to do and I don't want to keep going around this annoying barrel". So, she canters I lean forwards look down to grab a strap on the saddle and I fall down. I couldn't breath because I got the wind knocked out of me.
Brookside, that is really nasty!!
---
Life seems mighty precious, when there's less of it to waste.