wowww ; never thought of a bond this quick .
---
I had just recently, on August 9th adoopted my thorougbred Bayberry from a rescue. And the lady who i got him from said she had never seen him get along with someone as well as me; which to me means alot ;
but this past monday proved it . . .
we were cantering down the straight away in our arena and my friend was watching us, and he must have crossed his front feet and fell, i fell underneith him and instantly i was knocked out, THANKGOD i had a helmet on ; but my head broke my fall and i was laying there, i woke up about a minute later and the first thing i thought was Bay wrecked the saddle and bridle, and hes running somewhere in the ring, i woke up with his tounge licking my face and him nudging my shoulder !
i tried to stand up and i sat down on a chair and Bay was following me the whole time , and he was nudging me the whole time and rubbing me;
you would never beleive that horse and i had a bond like that, even after knowing eachother for not that long ;
! i just thought id like to share with everyone !
thankfully Bayberry is okay , i just have a sprained ankle and a fractured rib.
That's so sweet of him! I love when horses are cute like that. Sounds like you two are going to make a great team.
im glad we were both okay! Hes definitly a special horse to me; we've already gone through ALOT. i wish his owner who abused him could see how he is now. . . its a shame how people judge too quickly and throw soemthing away like that.
wow glad you're ok!! that's a scary situation, he could have trampled you! what a wonderful horse :) you should post a pic!
i have a few good new pictures of him at home that i will load up in a little while !
---
--casanova;<3
`95 adopted thoroughbred gelding
my entire worrrld;
Okay! But yeah, its definately good that you're okay. Cause then there wouldn't be another Chelsea from the same state as me!
That's awesome. Neither of my horses would do that for me. If I'm off, they're off too -- right for home! You must have given Bayberry a real sense of security very quickly. Congratulations.
here is a picture from monday ; a week after the fall .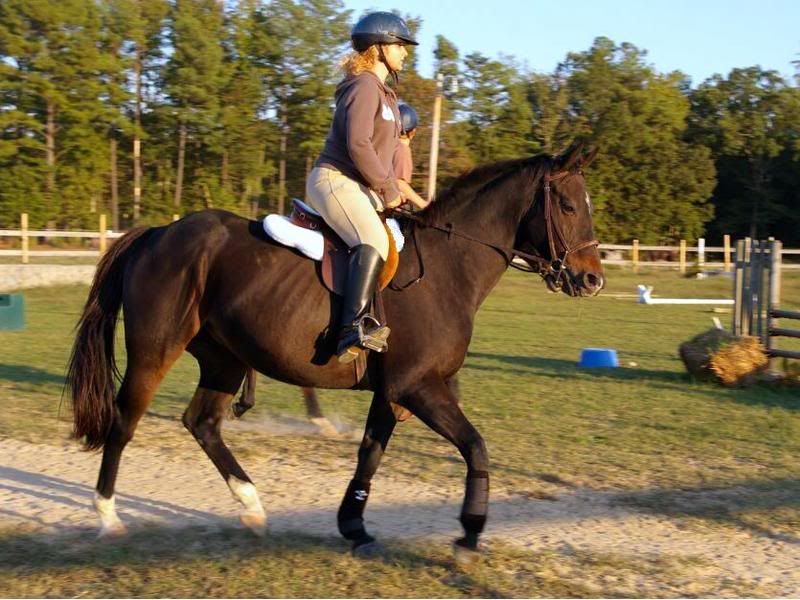 dont pay attention to me ha ha ; i dont look my best in this one lol
it was amazing that when i first met Bay, the rescue owner saw us riding and she told my dad he has NEVER EVERRRR EVER listened to anyone like he listened to me ever before . and i talk to him. I make him know that someone cares about him . thats all you gota do; just let them know .
and he knows ; so we trust eachother 110% !
&& gotxhorses: haha thanksss im glad im alright too ! there wouldnt be another chelsea in md ! (:
---
--casanova;<3
`95 adopted thoroughbred gelding
my entire worrrld;
That would be just awful! And he's so cute!
thanks gotxhorses (:
hes a handsome fella ! (:

youre horsey looks like a delightful jumperrr !
---
--casanova;<3
`95 adopted thoroughbred gelding
my entire worrrld;