Dear Moonie,
When I first rode you in your old owner's arena for a test ride, I knew you were perfect. You were out of shape, lazy, and, not to mention, hadn't been ridden in 6 months. But I like a challenge. And, as far as I'm concerned, you were mine ever since. And you were the most beautiful horse I had actually ever seen in person. I know you didn't like the first show we went to. But now, a month later, you already are doing so much better. Slowly, but surely you are getting more excited to see me, and are good at horse hugs and kisses. Every show and practice we go to, we are improving. And I am having so much fun. You are truly a Godsend, and I love you.

Love,
Your Human Mommy and Owner, Morgan
---
Shoot for the Moon. Even if you miss, you'll land among the stars.
- Brian Littrell
Romeo,

You already know everything I would ever have to say. I've said it all before.

It's been a long year and a half, buddy, but we've come so far and every moment has been worth it.

I love you, you crazy horse. Just know that no matter where we go, that will ALWAYS be true.

Rashel
---
Riding: The art of keeping a horse between you and the ground.
Hey Sky,

I never would have thought that I would ever care for someone this much. My heart aches and smiles and cries and leaps every time I look at pictures of you or videos of us riding together. You have changed me so much for the better, and you have grown so much since I've known you.

Do you remember when we first met? Somehow all the horses had gotten out and were snacking on hay. I was new to the center and grabbed a random dirty blue halter and set out to catch you. You just stood there happily looking over my way. I didn't know how skinny you were or how scared you were of people. I just wandered over there and you almost let me catch you, until another girl yanked the halter out of my hands and told me you were too dangerous to be around.

You taught me that riding is something you need to work at. That it's okay to be far from perfect, though you expected perfection when you first wanted me to ride you! You accepted my silly goofy nature and me; you let me show you that all people aren't so bad.

All those times I fell from you, I know you were trying so hard not to run and I appreciate you holding out for as long as you did. I saw what you did to everyone else and I'm grateful that you took such good care of me. You swallowed your fears and trusted me.. and I trusted you.

Gosh you must have thought I was a complete loonie when I was asked to work you on the ground. I remember you always tried to turn in those **** corners and it always made me so mad but we figured it out! I remember the first time I skipped along side of you, and the first time you came running to me when I called your name after not seeing you for over a week. And I remember crying with your head in my arms when you were being stitched up. I was so scared of you being in pain for the rest of your life, even if it wasn't my fault I felt like the worst person in the world. But you looked at me with your big brown eyes and forgave me and trusted the scary ol' vet for me.

You've done so much for me, Sky. I would be a completely different person without you.. someone not nearly as happy or blessed.

I'm planning a life for us, just you and I on our own piece of land. You just need to be patient and enjoy spending time and learning with Amanda, while I figure out how to make that happen. I'm studying so hard and planning to work my butt off so we can be together again. Almost 19 more months to go, buddy. We can do this. I miss you more than words can express.

Love always,

Maggie
---
"Strength is the ability to use a muscle without tension"

Teen Forum Moderator
Join Date: Dec 2010
Location: South East Texas
Posts: 7,157
• Horses:
2
Beautiful Sour,

I still remember the first time that I laid eyes on you. I was just a naiive twelve year old who had only book knowledge on horses, and you were a tiny, 17 pound newborn baby. You were still all wet and wobbly, but the moment that your fiery brown eyes met mine, I knew that you were special. When you left only a few weeks later to a new home, I figured that I'd never see you again. Little did I know that fate had quite the adventure for both of us, and that I'd meet you again as a terrified, exhausted, skinny eight month old.

Do you remember that day? You exploded out of the SUV like a bull, shaking in fear. At the same time though...you still had that fiery, courageous look to your eyes. The look that told me that you were special months before. The same one that I treasure today. And your fear turned to hate when a man misused you. That hate consumed you.

I remember looking at you, as you stood alone in your pen, pure rage flaming in your eyes. And I remember seeing, beyond that, buried deep within you- a hunger. For companionship. For love.

I think that I recognized that far away look because I knew it well. As a young child with no friends, still in what I consider to be my 'gangly yearling' stage...we were alike in many ways. Somehow I knew as I watched you glare warily at me, nostrils blowing- that you and I were meant to be friends.

I remember that it took a long time to convince you of that though. After so much misuse, you had no trust in humans even as a yearling. We were monsters to you. But as I persevered and continued to show up with treats and a soft voice, you began to respond.

Everyone thought that I was crazy. You were ugly and mean. Grown men were afraid of your lashing hooves and bloodthirsty screams. I was a little girl with hardly any horse experience. But somehow...it worked. We had times when it seemed as though all we were doing was running backwards, but we struggled on. Often I made mistakes, but you were slowly learning unconditional love. You were slowly learning what it was like to have a little girl's love, and you finally began to really respond to me.

Its been four years now since I first met you. It doesn't seem like it's been so long. And look at all of the milestones we've crossed. It has cost us buckets of blood, sweat, and tears, but we are finally a team. We can look back now and say that we have CONQUERED the odds. You are not only reformed from the bloodthirsty filly that you once were, you've learned to dance with me. You are a wonderful cart horse and I know that we have even more years of fun ahead of us. Along this winding road of troubles and growth, you have tranformed into a beautiful, loyal mare, and I have grown into the young woman that I am now. Confident, able to love, and to be loved. And I have you to thank for that. I honestly do not know where either of us would be without eachother.

I love you Sour. Thank you for letting me heal you, and in turn- healing me. I will never, ever forget you.

Your partner and loving girl,
Allyson
---
Everyone in your life is meant to
be in your journey, but not all of
them are meant to stay till the end.
Dear Rowdy,
I love you! Your crazy, stubborn, wild, energetic and more, but i love you because you love me and we wont give up:)
Love,
Your Redhead girl with Cookies
---
Dear Flash,
You really are the greatest thing that has ever come into my life. When I found you, I was in a sad spot of my life. Then I found you, and you turned it around. Everyone thought I was dumb for getting a horse I'd have to train from scratch. But it was a challenge I was up for. People thought you were too hot for eventing. But I believed in you, in us. I took you home. You had been mistreated, something you never deserved. But I showed you that not all people are idiots and mean.
I trained you. It was a challenge in the beginning, when you wanted to run more than anything. But once you learned that you don't have to run anymore, you listened. You caught on to everything so fast. I never had to teach you something twice. You were so smart, and you understood what you were doing right away, because you loved it.
When we started jumping, I felt like I was flying. Jumping with school horses was fun enough and it taught me, but nothing could compare to this.
We moved up so fast, you obviously love every minute of it.
We are so alike. You've been a loner your whole life, you stayed away from the crowd and did your own thing and you didn't care. You weren't treated right by others. We never put up with each other's crap, either. :) You're stubborn, and so am I. But you'd also never do anything to hurt anyone, you're extremely friendly and sweet. You can be hotheaded at times, but it's okay because I'm the same way. You love to run. I can tell you feel free when you run. And when I run with you, I finally feel at peace. We were practically made for each other.
This past summer when I developed a suicidal depression, and lost all the people I trusted, you were there. You literally saved my life. Without you, I never would have had the strength to overcome that dark time, which I'm still doing. But now I know that no matter how hard it gets, you're always going to be there.
You are, by far, the best friend I've ever had. You are my other half. I don't deserve a horse like you. But I'm so glad I was lucky enough to get you.
Not only have I taught you, but you have taught me so much. You taught me to trust, to love, to live in the moment and not worry about the past or the future, but to only think of what is happening now. You've taught me to be kind no matter how hard my past was. You've truly made me a better person.
Flash, I promise I will NEVER sell you. You will never be mistreated again. You will be with me until our days are done.
I love you, Flashy Trend. Don't ever forget it.
Love,
Maddi<3
Drifter,
Thank you for finding your way into my life. I had lost my faith and my joy due to a death in my family, an I threw myself into rehabbing you as something to keep my mind off of things. Thank you for showing me that it's ok to grieve. I tracked down your breeder, and I know what happened to your first owner. I am sorry. What you know, or don't know, is beyond me.. But I do know that whenever you see a man in a cowboy hat, you will whinny and stretch your neck out to them. Once they get closer, you go quiet and lose Interest. Do they remind you of him?

Thank you for finally allowing me to see your amazing personality. I feel like every day a little more of the wall you've put up falls down. Thank you for the night you stood in your paddock and let me hug you. I needed that. I know how much you hate standing still or being rubbed on, so I know that was a big deal to you. Thank you for being wise beyond your years on those days when I need a little extra confidence. Thank you for taking care of me.

Thanks for reminding me to feed you every time I come to the barn by throwing your bucket around. I might forget otherwise... (sarcasm horse, learn it). Thank you for teaching me that good relationships take work. Thank you, for fixing me.

It's funny to see how our months together have led to us slowly figuring one another out. You can still frustrate the heck out of me, and judging by some of your fits I think I do the same, but at the end of the day We know we will always have a buddy to goof off and graze with. Er, well...you can graze. I'm fine just sitting to watch. Thanks for letting me test my lesson plans out on you. The looks you give me as I practice explaining word problems are equivalent to the same ones my kids give me in the classroom. I am gonna survive student teaching, and I have you to thank for it :)

Thank you drifter, for making your way to my life and home. It's funny the gifts I get in my life when I am not even looking :)
Well, I'm going to do four of them because even though I have more horses then that these are my mains :)

Ed,
When I look back at pictures of us in our barrel racing days, I don't know wether to smile or cry. Our time together barrel racing went by so fast, and seems so long ago. Remember the first time we met? You stuck your head out of the window of that stall at Lindsay (our trainers) barn, and I knew in my heart you were special. We had a connection. After 2 and a half years of glorious barrel racing, you were lame at the beggining of this 2012 summer. We tried everything, then for the MRI, it showed you had Navicular. NAVICULAR. NAVICULAR? My worst nightmare. A severe case at a young age. That ment no more barrel racing. AT ALL! Not even walking or trotting. No small circles! Thats okay though... I'm enjoying you the same all! I cannot wait to trail ride next week at Biltmore :)
Love,
Your little person <3

Amigo,
During the days of the summer when Ed was on 'rehab', we spent our days trail riding and galloping through the fields (When mom wasn't looking, of course!) You mended my heart. I thank you for that :) Even though our days of showing are over, I still miss it to this day. Remember the first time we met? I don't, it was so long ago! And I know this is short, but I love you :)
Love,
Your lil girl :)

G-man,
You carry me to victory in the show ring so many times, and still are. We have Congress coming up, and the Novice Championships. Even though your technically moms horse, I still love you the same :) Remember the first time we met? I didn't really have a feeling for you, I liked a different horse we looked at that day. Sure am happen we chose you over that mare, because she had a nerve reaction the day after and died... Besides the point, I love you better anyways :) Your my goober, my cookie monster, and my boi. :)
Love,
Your cookie-despenser and little person :)

Shotzy,
Last, but defiantly not least. 38 and still kickin'! Again, I don't remember the first time we met, it was SO long ago. I do remember moments of that Christmas day, the first time I cried with happiness, to get you :) I love ya buddy, keep tickin!
Love,
Chur lil person :)
Dear Dollar,

You have taught me almost everything I know about horses. You have taught me that something definitely doesn't need to be pretty in order to be valuable. You've saved me from depression, suicide, anxiety problems and soo many more that I really have no idea what I would have done if your velvet muzzle and big brown eyes hadn't been there for me to fall back on. You have done your best and try your little heart out everytime I've ridden you and I will always be greatful! Although now I've moved on to bigger, better competition horses, and you've grown older and age hasn't treated you the best, I will take care of you. You took care of me in my bad years, and I'll take care of you in yours.
Love, Ethan.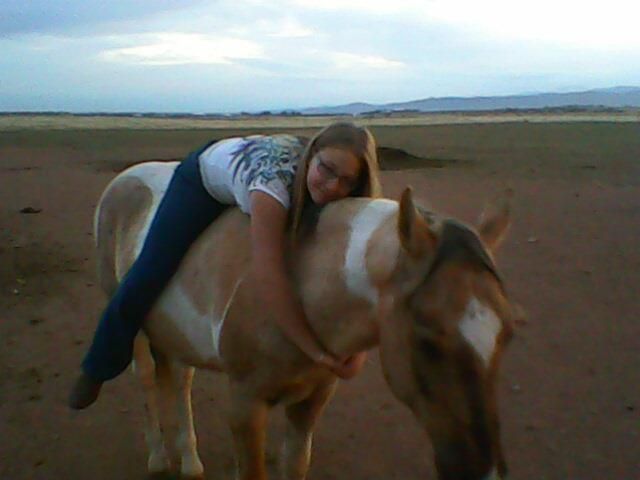 Dear Cowboy,
I love you so much.
It's been rough, these past months. But you are finally coming home, finally. I miss you and soon we will see eachother every day, work, train, and just enjoy each other. Like it use to be when we first started out our road together.
Hell, I remember when I first saw you the first day at the Stockwells. You where lazy about coming up to the visitors at your pen. All I could think about was how beautiful you are. And how cute you looked with your fuzzy winter fur.
From that day on I found out how you where agressive about food, we moved past that. And the first fall, was the first of many.
Even though your green and so am I and many people doubt our future together, we can prove them wrong.
We are going to be a team, and reach our goals.
---
That girl is a Cowboy.
Sometimes the best cowboys, arnt cowboys at all.