Advice On Building My Own Tack Box?
---
Hey everyone,
I've been looking around for a tack box, or trunk for quite some time now. However, they seem to be really pricey and none of them seem as though they would fit my needs ideally. Instead, I've decided to try my hand at making my own. I've seen a couple of cute ones out there, but was wondering if anyone knew of someone or a business selling gently used, or new, inexpensive tack boxes/trunks?

If not, has anyone ever made one themselves? Do you have directions and pictures? About how much should it cost and do you know any website that has plans on making them? Thank you so much!

Lauren
I bought a blank one and painted it with zebra stripes when I was like, 10... lol but that's as far as I've gone toward "making" one.
---
Proud owner of 13yr old Paint Gelding, Bali! <3

That's actually a really cute idea, and ads a personal touch for something that doesn't really stand out in a professional barn type setting. I'll have to check with my boss to see if there are regulations or not, but I do not think so!
Yeah, no one can mistake mine for theirs! At the time I was in love with zebras, still like them very much :) Painting your own box is very fun!
---
Proud owner of 13yr old Paint Gelding, Bali! <3

What exactly are you looking for? My husband makes gorgeous oak ones but he could do cheaper ones. I am trying to get a bunch of his sold to people that are going to hits so that I can bring them to Florida with me.
Sheri
Here is my tack box that my boyfriend, Rich, built me: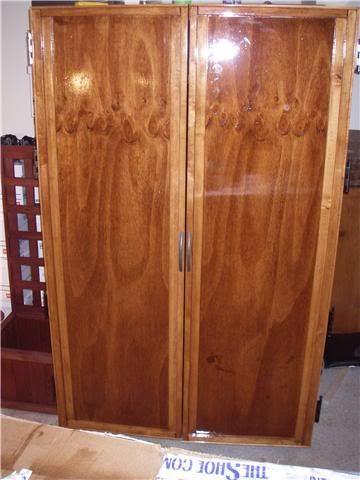 It took a lot of time and effort. The material costs alone were about $800, then it literally took months (he is a student and works too) to finish it - there is good reason these things are *&%$ expensive!
I drew up an image with specs about how I wanted it to look, and how big I wanted it to be.
As things progressed, my "wants" changed - I no longer wanted shelving in the doors, etc.
Here it is with its original "doghouse" saddle stand:
That was taken out, and replaced with what you see here: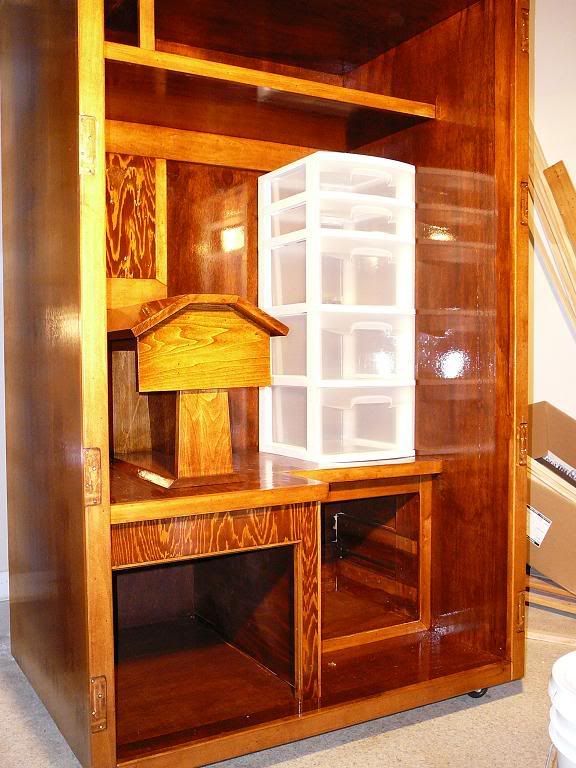 The box is a birch base with maple trim, stained "Teak" and then has about 5 coats of laquer on it (this thing could be dropped in the ocean and it wouldn't warp!)
If there is a finishing carpenter (Rich is) your or your family or friends know of, ask them if they might be intersted in doing a little project. They usually have scraps of wood available to them all the time, and for someone that has time on their hands, a simple one could be done fairly quickly.
---
The lovely images above provided by CVLC Photography cvlphotography.com
WOW O.O I want it...
---
Proud owner of 13yr old Paint Gelding, Bali! <3

WOW, that is very impressive!!!!
OMG!
JustDressageIt, that looks like a fine piece of furniture that many of us would like in our homes, much less a barn!
Really fabulous. Good job, Rich. Lucky gal, JustDressageIt!
That is a beautiful tack box, but a little bit out of my price range...I'm not picky in what I'm looking for...but this is what I would like.

It doesn't have to hold my saddle, as I board and we have a tack room where we keep bridles and saddles. I want a seperate *box* in the box for grooming supplies, if that makes any sense. I also want places to store medications, crops, helmets, lunge lines, just little things. Extra show clothes, all my barn stuff minus the saddle and bridle basically. Looking to spend $100 max. :$ It's all I can afford...really.