Another Saddle Fitting Thread
---
I know there are an abundance of these types of threads, but I cannot seem to find the answers to my questions so I decided to post them.
I have a 15.3hh 15 year old quarter horse/paint/tb gelding that I want to start riding again this spring. Shortly after I purchased him, my trainer recommended a semi-qh bar saddle. I purchased a Wintec western saddle and used it, mainly because my trainer thought it would fit him and I didn't know anything about saddle fitting.
I recently got a western saddle fitting dvd from my library, and it got me thinking about saddle fitting. So today I hauled my saddle out to him to check the fit. Here's where my questions come in.
I placed just the saddle on his back in the correct position, with the tree behind his sholder blade (I always put it too far forward, I think). My horse has high-ish withers, and could not fit 2 fingers between the pommel and his withers. This usually means the tree is too wide, right? I ran my hand between his back and the bars of the saddle. The pressure was pretty consistant in the front of the tree (I'm not sure how tight it is supposed to feel though, but near the back of the bars I couldn't feel much pressure at all. I forgot to check how level the saddle was, but when it is cinched up, it is visably slanting toward the withers--a lot. All of this lead me to believe the saddle was too wide for him.
I put my 3/4" thick saddle pad on under the saddle, and it changed a ton. The pommel had maybe 4-5 fingers between it and the withers (estimated, as the saddle pad was shoved up in the pommel), and the bar area near the front of the tree felt tighter (again, I'm not quite certain how tight it is supposed to feel). It looked like my saddle might be to narrow with the pad--maybe my pad is too thick?
To sum it all up, I'd love to make sure my guy is comfortable in his saddle. I'm not sure if that means a different pad or even a different saddle. I have been considering starting a bit of english riding with him eventually, so maybe a wintec english with the convertable gullet might be a good option?
I don't know if pictures would help, but I could take some tomorrow if needed.
Idk if this will help or not, but the saddle I just bought for my TB with monster withers doesn't fit him at all without a pad on. It tips directly forward and sits right on his withers without a pad, but then when I put the pad on (it has extra padding behind the shoulders where the dished out withers are) and other than that its only a 1/2" to 3/4" thick, it fits him fine. Even without the girth tightened it does not rock across his back and there is 2-3 fingers of space between the pad and the pommel.

Pictures definitely would help, but the best thing to do is to lunge your horse in the saddle. Is he reluctant to move, does he buck, rear, etc? Then if you don't want to get on, put all of your weight in the saddle, or most of it, maybe even step in a stirrup and see how your horse reacts. Does he pin his ears, stomp, swish his tail, something like that? Acting out would be the first indication to me that a saddle does not fit.
Charli,

The estimates of needing 2-3 fingers clearance is an estimate, you might have two Horse with the same exact build, width and size, then use the same Saddle on both, one Horse may have 1-2 finger clearance and one Horse may have 3-4 fingers Clearance, this if because one Horse has higher withers than the other.

As far as pressure, there is no magic lbs. of pressure, you should have equal pressure all along the bars with no air gaps.

Pictures with and without the pad would be a great help.


.
---
May all your Trails be happy and safe ones
Kevin
Thanks for the information! My gelding, Scotch, doesn't act like he is in pain or anything with his saddle on or when I lunge him. He can be a sweat machine when he gets working, so I usually cannot tell if there are even sweat spots or not, as he is a bit sweaty all over.
I finally got around to taking some pictures of him with his saddle. I took a bunch, maybe too many.
Without a saddle:
(We were standing on a bit of a hill)
Saddle without a pad: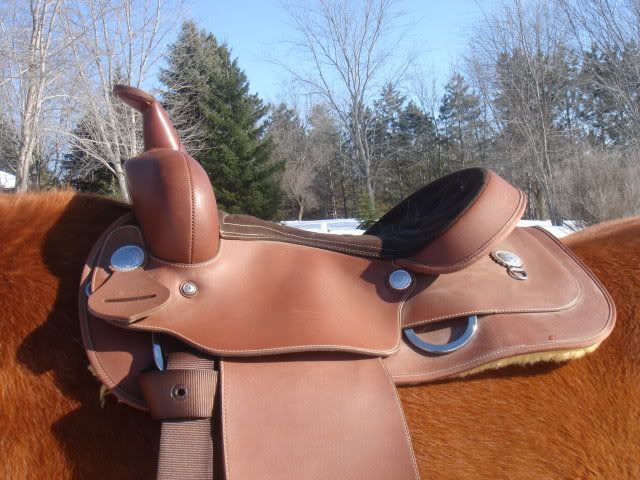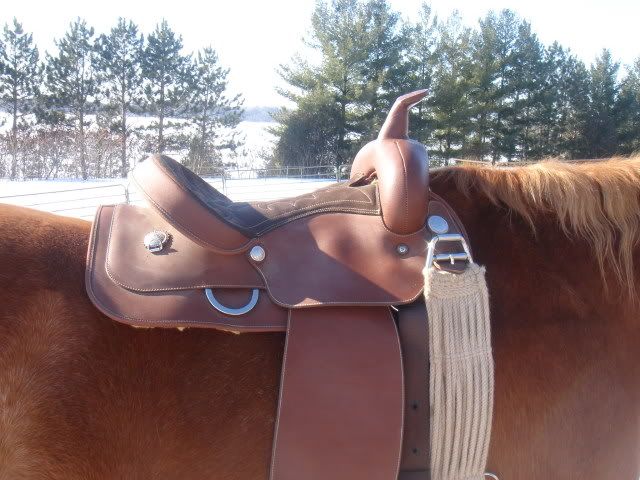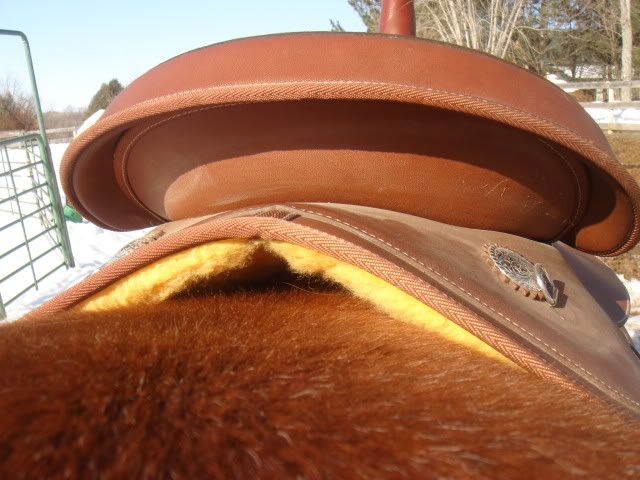 Saddle with the Pad: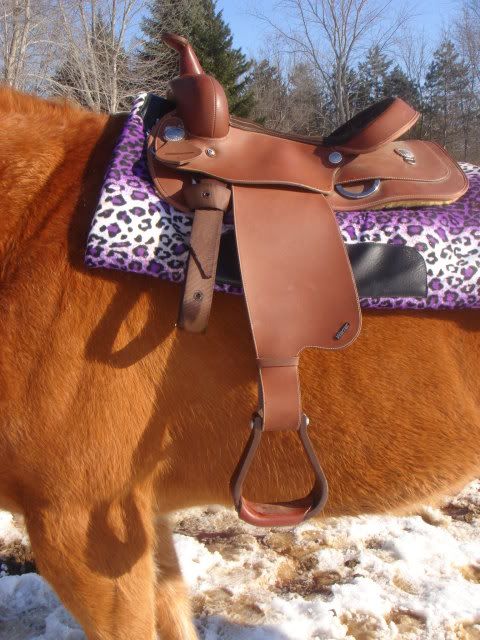 Cinched Up: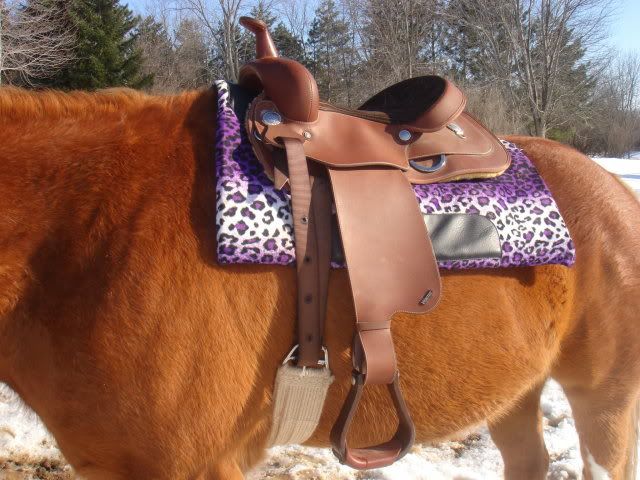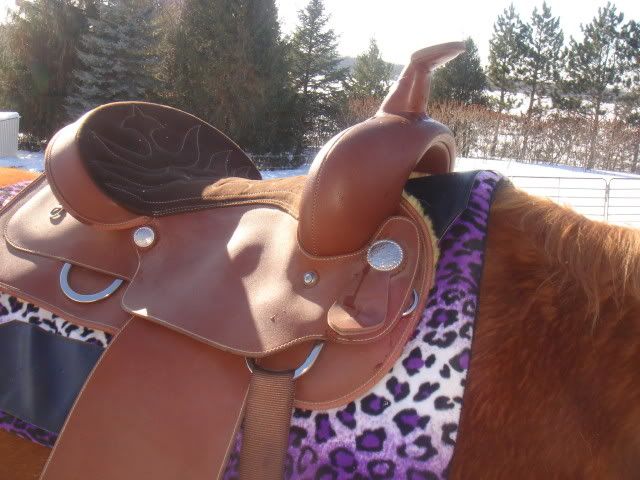 I hope these pictures help!
I see nothing wrong with the way that Saddle fits your Horse, as long as you checked for Bridging and Unusual Pressure points as mentioned before, I think you are good to go.
.
---
May all your Trails be happy and safe ones
Kevin
Okay! Thank you so much for your help!
One thing to consider is that your saddle was designed to be used with a rear cinch so you may want to put one on.
---
There's nothing like the Rockies in the springtime... Nothing like the freedom in the air... And there ain't nothing better than draggin calves to the fire and there's nothing like the smell of burning hair. -Brenn Hill