Another saddle fitting thread :) pic heavy
---
I'm having a really tough time getting my saddle to fit properly...She has pretty high and narrow withers. Right now I'm using a western saddle on her that has semi quarter horse bars. I have been messing around with extra padding but I always end up having a dry spot after riding. I'm just not sure if its from too much pressure or if there is a hollow area where there's no contact. Please take a look at the pics and throw out any ideas that you may have. This has been the same problem for multiple saddles that I have tried on her. My next move is to just get a treeless saddle. So any Ideas/Suggestions would be really awesome.
Here are some confo type shots so you can see what her back looks like.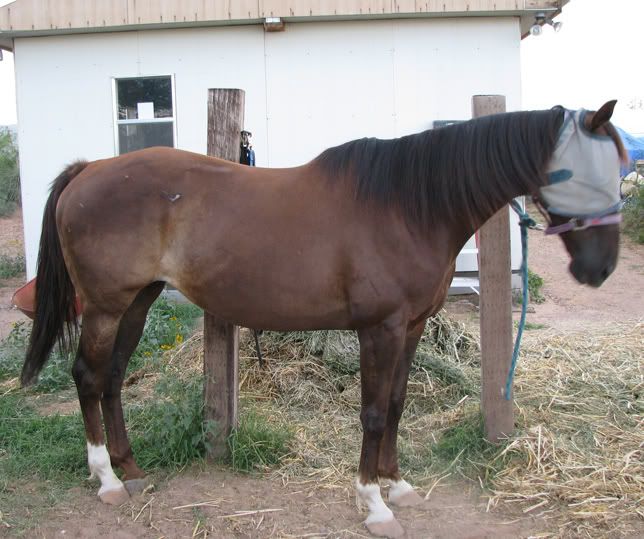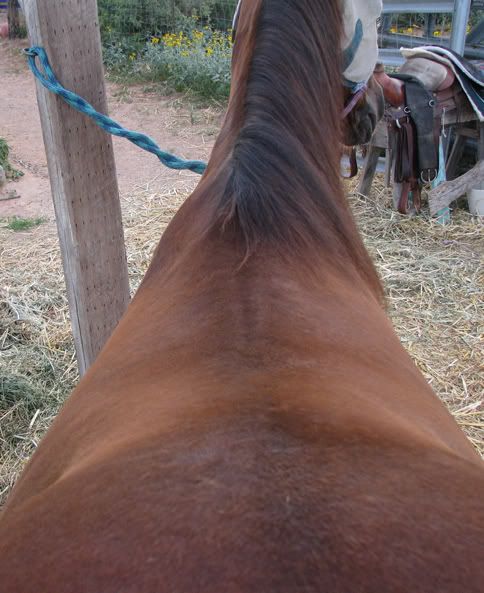 With the Saddle No Pad.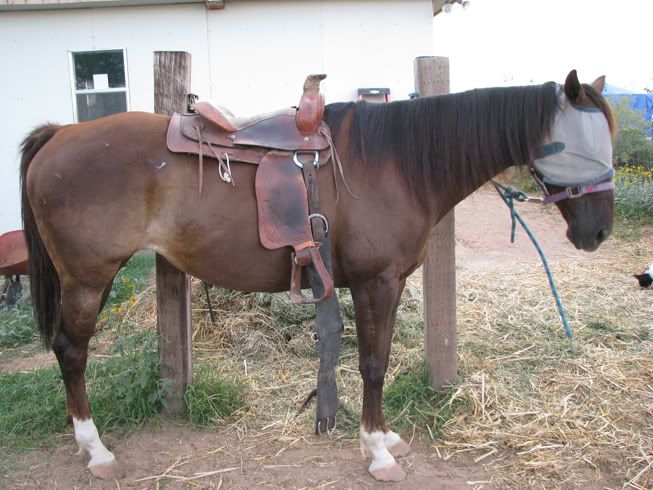 Saddle with one pad that has extra padding in the withers area.
example pad.
Heres what the pad looks like.
http://www.horse.com/Horse.com-Exclu...Pad-WIP13.html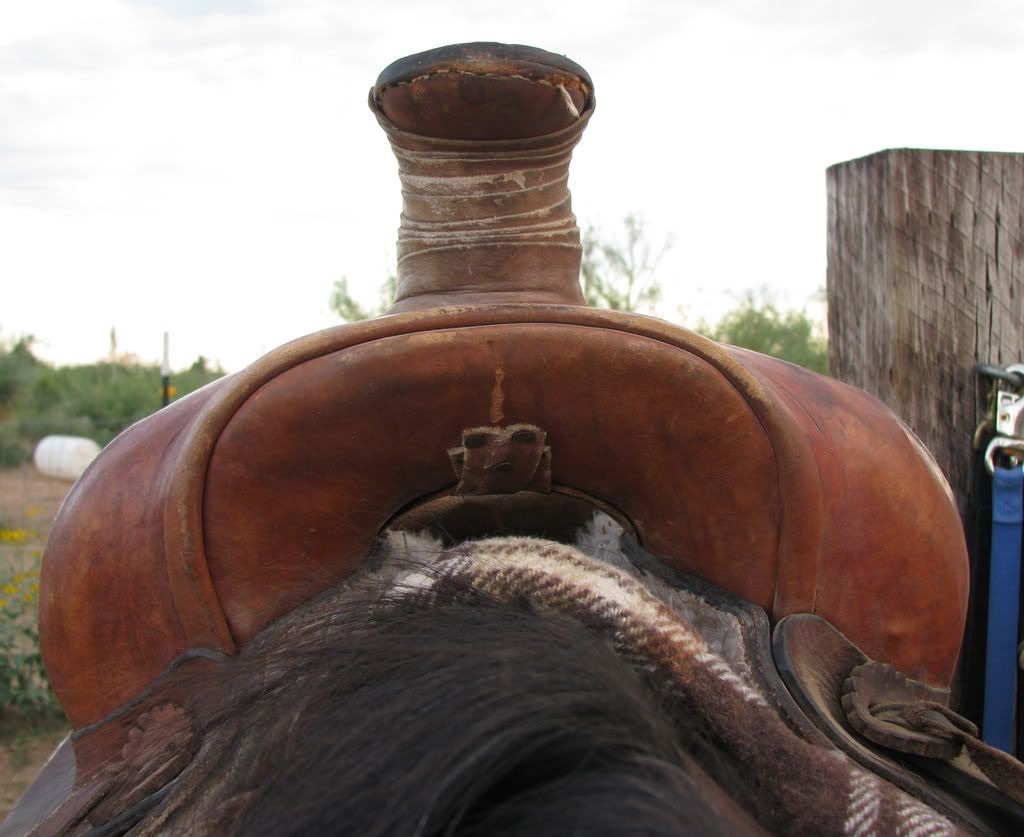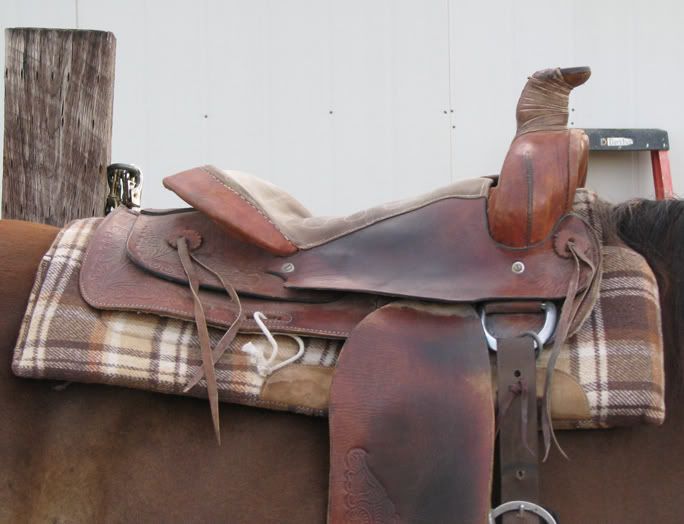 Finally with two pads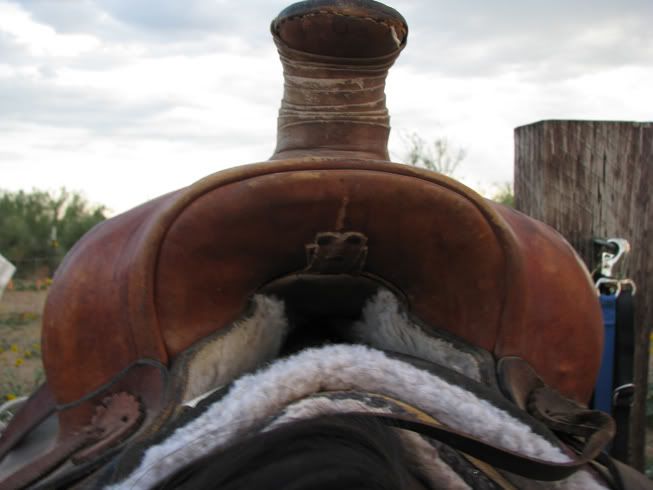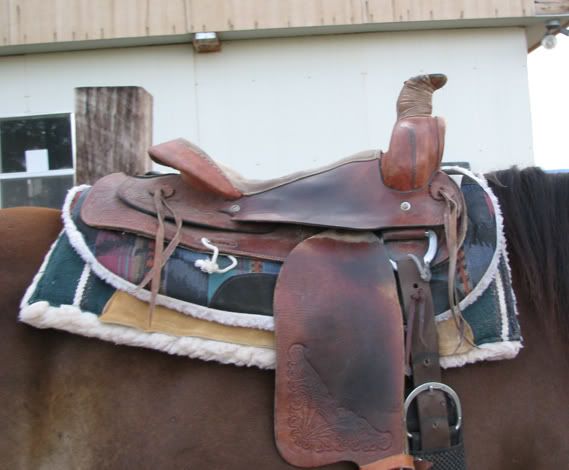 Now for the sweat marks. The first one is her right side, you can clearly see the dry spot.
This is the left side. It had dried a little by the time I took the pic. It looked just like the right side though.;)
Ok thats it I think If you need any other pics for reference let me know. ;)
It does look like it sits very low on withers without the pad and with one pad. With 2 pads it looks somewhat better.
I have a similar problem with a QH gelding that I bought 2 months ago. I've tried several saddles and several different pads but all have the same effect
The picture shows the area behind his withers that is dry (after I worked him I let him roll to get him dirty so that the pics would show better - I washed him off after the pics.)
Any saddle I tried on him left the same dry spots. Those pics were taken after using a 7" gullet and FQH bars. I have since gone to a 6 1/2" gullet and semi QH bars and still have to use a build up pad behind his withers to fill in the hollow that the saddle leaves.
The saddle is not
pinching
him but rather
bridging
him. It has been two months and I still haven't figured out how to handle it. He has high withers and a lot of muscle in his shoulders which is causing the bridge.
My answer has been to use the build up pad just behind his withers. It helps the top of the withers but doesn't cure the bridge.
---
I'm not arguing with you, I'm just explaining why I'm right.

Nothing sucks more than that moment during an argument when you realize you're wrong.

It's not always what you say but what they hear.

YES!! That is exactly what I think is happening here. I to have tried multiple saddles to no avail. I even borrowed a wintec with the gullet changing system and sure as anything. That same dang spot is still there!!!
At first I was worried that it was a pressure spot, but after looking at the pics I don't think it is. Its just a hollow area that the saddle is bridging. I guess I will keep trying things and see if I can come up with something. As long as she doesn't become sore I can live with it if she can. Until then I will keep researching, racking my brain and trying different things....
If I find anything that helps I will let you know...;)
Afterthought: She has a upside down neck and needs her topline built up. I am working on that right now, I'm wondering if the bridging problem with disappear once we get those muscles built up. Just a random after though....lol
Here is a pic of my gelding, Bobo (Lintons Hangin Judge). The picture is not a good one and was taken the week after I got him but you can see that he is pretty well developed. He is much more so now and the problem still persists.
---
I'm not arguing with you, I'm just explaining why I'm right.

Nothing sucks more than that moment during an argument when you realize you're wrong.

It's not always what you say but what they hear.

Hes very nice, I love his solid build. lol I also really love the name bobo....;)

Well I guess that idea just went out the window. Then I suppose it will be a find the right combo game...Yay so much fun:)
I am getting the same spots on my mare, although I don't think she is narrow. She has a bit of a swayback though, so stuff bridges. Glad to hear the Wintec worked-well, not glad in that way-bc i had considered trying that too, but I think treeless will be my next step instead. I just got an Aussie from Down Under that they made according to my wither tracing. It seems to fit great (my current one is too tight i shoulders) until I am on it, then the saddle sits too far down and the shoulders are tight again. I have to send pics and saddle back and they can adjust it. If it still is a problem it goes back and I try a treeless.

Anyway, maybe try an Aussie with the serge panels, they tend to have less issues with bridging bc the panels can be awled to fit your horses back better. If an Aussie is an option or something you would like. I finally bought a bareback pad so I have something that doesn't torment her.
In your second shot, what is that dark area running along her shoulder? It looks as if something has been rubbing her there for a long time.

Also, that saddle looks as if it's very flat... way too low in the gullet.