Aussie saddle fit critique?
---
My saddle finally got here!
I had been anxiously awaiting its arrival ALL day and then it got here right around 4pm. I even woke up really earliy becuase I thought it'd be here in the morning (usually our UPS guy comes around 9am) but noooo.
Anyway, I am in love with this saddle. I rode in it for maybe 5 minutes and it was so so comfy. I felt so secure the whole time as well. It was really really nice.
So the only thing I see is that it might be a smidge too wide, but I am certainly no saddle fitter. Lacey has been plagued with saddles that are perpetually too narrow so a little wide is great, especially since she's not fat right now (she gets horrifically chunky in the spring/summer).
The one thing that concerned me is that when I rode in it for about 5 minutes, it slid back a ton. maybe I didn't put it far enough forward to begin with, I don't know, but it ended up about 4 inches farther back than where I had placed it by the time I got off. Or maybe I put it on too far forward. I remember hearing that Aussie saddles go farther forward than english or western, but the beginning of the tree was right on top of the edge of Lacey's shoulder when I put it on her to begin with and it ended up behind her shoulder.
I was using a thicker english pad with it so maybe I'll try it with my 1/2in thick western pad to see if that helps at all.
Lacey seemed very happy with it. She stood stock still for mounting (unusual for her) and she was very relaxed as we rode around her field (usually she's a little excited about that).
Also, btw, this is a Kimberly Synthetic Endurance Saddle. So no overgirth for me!
Anyway, picture time!
And I am so sorry for the giant pictures. My Photobucket refuses to believe that I am actually not wanting to use Mobile Photobucket when I'm on my laptop (that'd be too simple, you know?) and apparently Mobile PB has no way to change the photo size. :/
Before riding:
(the cut in the back on the saddle in this next picture is how I got it for $50 off!
)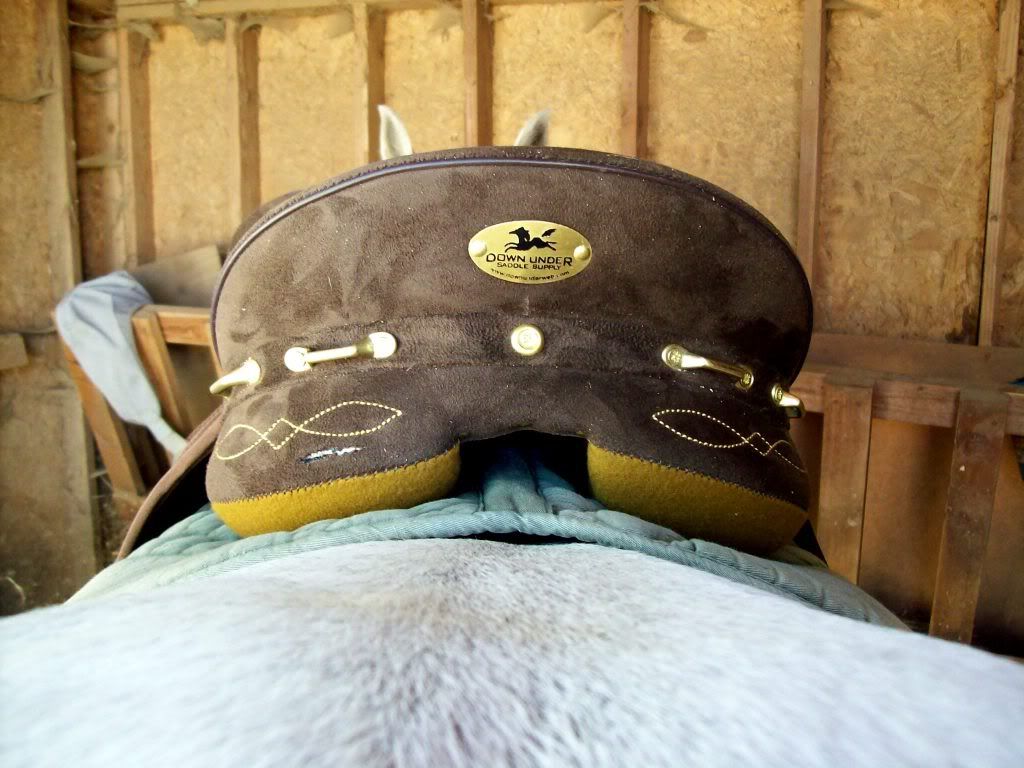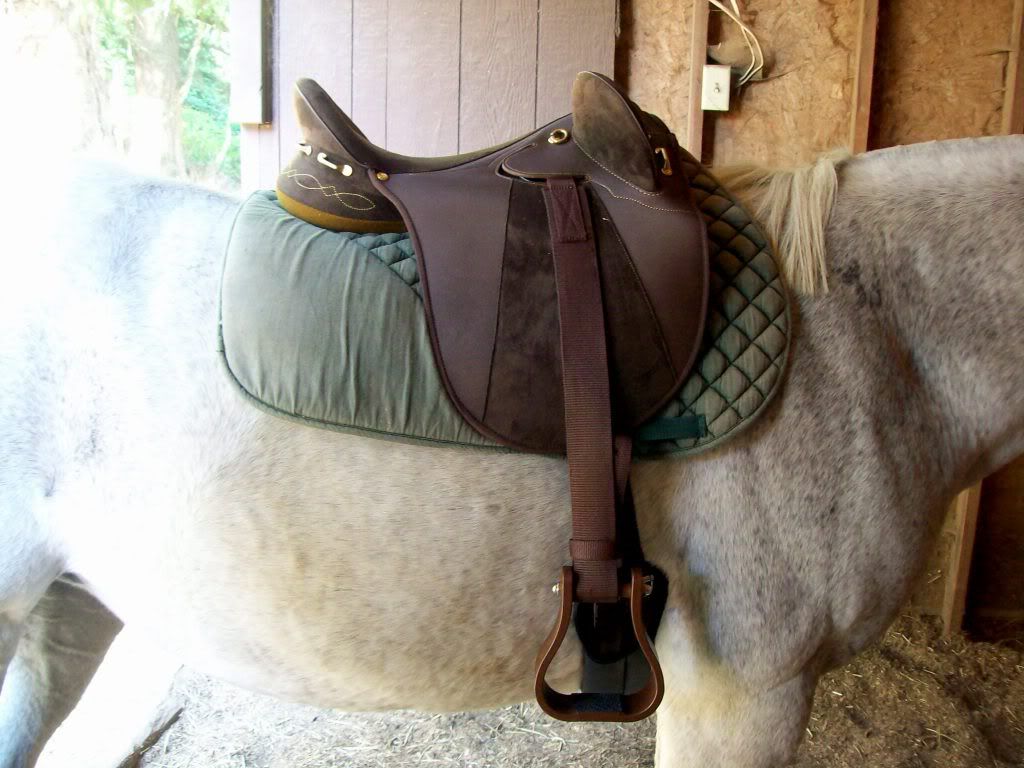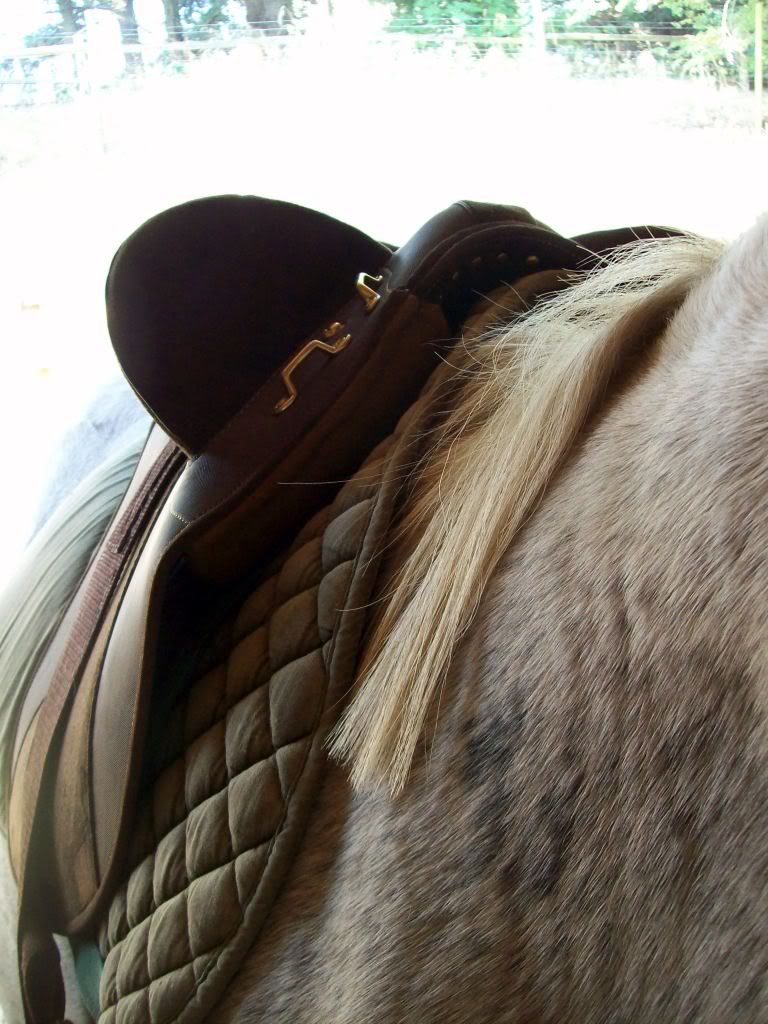 After riding: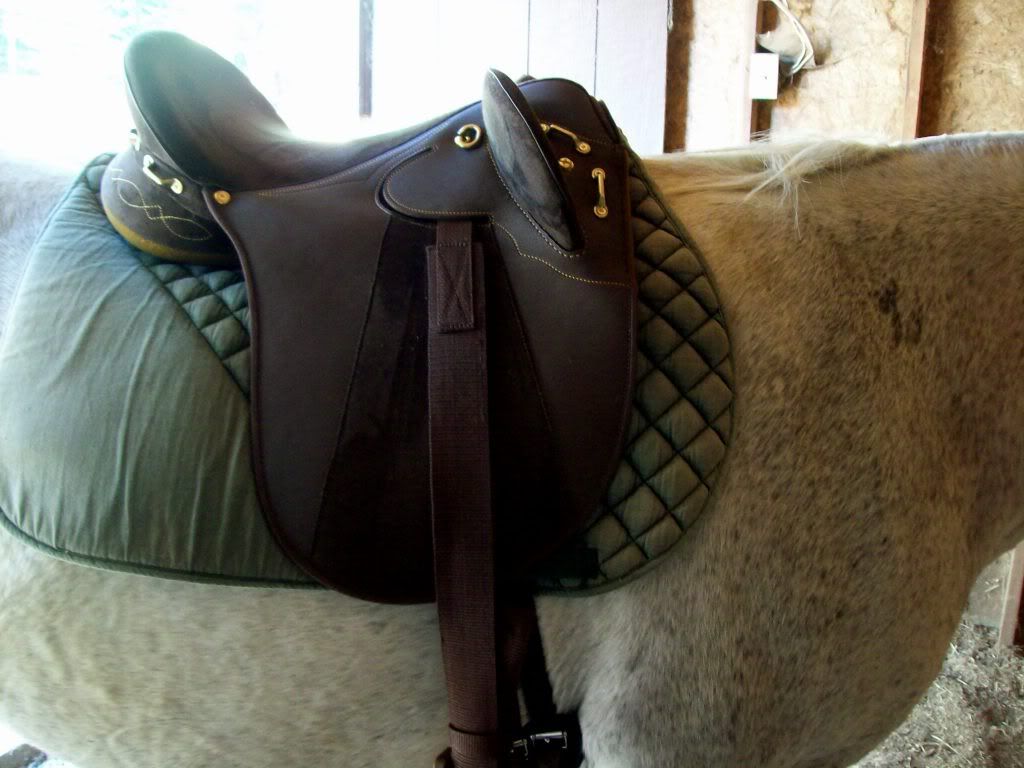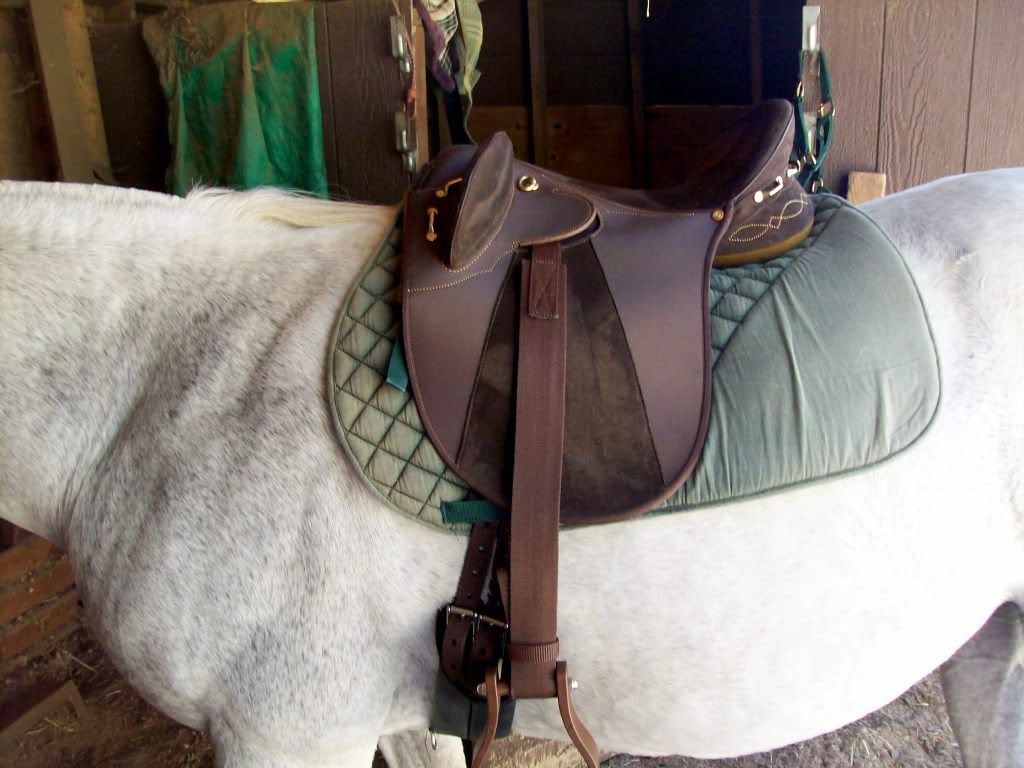 Thanks for your input! :)
---
Fabio - 13 year old Arabian/Lipizzan gelding

~
Rest peacefully, Lacey.

Bump?

And, I rode in it today with my western pad and it seemed to be better slippage-wise. I think that the main thing is that their info about where to place the saddle is different than the way Lacey is actually built. Like, the end of her shoulder blade is about 2 inches farther back than her elbow/armpit, so when I place the saddle right behind her shoulder blade the whole saddle ends up unexpectedly far back.

I think I'm going to try using a breastcollar tomorrow (I have a western Y-style one, I'm hoping that will work) and hopefully that'll help it not slip back anymore once it's correctly placed.


As a whole though, I love how she's responding to this saddle and I love how I fit in it. Today, an "OMG! There are scary things everywhere!!" sorta day, we successfully rode through my neighborhood and she had her head down nearly the whole time! She was also much more willing to do things which makes me wonder if she was getting pinched/smooshed by that other saddle (quite likely) more than I realized.
She seems like she's finally really comfortable. She's basically being as laid back as she is when I ride bareback, which has never happened with a saddle on her back.
---
Fabio - 13 year old Arabian/Lipizzan gelding

~
Rest peacefully, Lacey.

A stock saddle shouldn't sit any further forward than any other saddle. You want the tree behind her shoulder blade, not on top of it. I always feel a bit funny in my saddle on Latte because she is the same, a sloping shoulder that goes quite far back - add a short back, dainty body and big saddle and it feels very weird! But that's where it needs to sit to give her that freedom in the shoulder so I leave it alone. You saddle doesn't look too far back after your ride to me, looks about right.

Fit looks pretty good from what I can see! Panels sit mice and flat and flush with her back. I find it really hard to see the balance from front to back on these saddles because they are built so differently to the stock saddles I'm used to - the front is so built up. So I'm no help there.

But honestly - Lacey is going to be the biggest tip off wether it fits or not, and it sounds like she approved!
Posted via Mobile Device
I once got this in an email from DownUnder:
"Ideally, the Australian saddles are positioned over the highest point of the wither, and when adjusted properly, the scapula moves freely under the front of the saddle tree. It is not uncommon to have Australian saddles positioned behind the scapula."
I consider that to be an absolute pile of steaming dog poo!
No way should the scapula (shoulder blade) be UNDER the tree. That would be very painful for the horse.
I shipped it back for adjustment, and it helped some. I have since used it with a wither pad to raise the front end a bit and fill in the gap. The problem for me isn't the angle of the tree, but its horizontal width. I run into the same problem with most English & western saddles - comes with having a horse that is 15.3 & <900 lbs, I guess.
Something you MIGHT try instead of a breastcollar is a bit of padding to the rear of the saddle. I needed to raise/fill in the front end of mine, and cut an old Wintec foam pad in half & used the front half. Worked, but I eventually changed to a a small (9" x 12") fleece pad instead. It could be there is a small slope to the saddle & her back, so you weight tends to shove it down & back.
It looks like it fits but I would need to see it from straight on the front to see how much clearance there is. It looks level on her though and her moving out without issue is a good sign.

I used their breast strap on my horse and I liked it as his saddle would slip back too!!!
Showing
Join Date: Jun 2011
Location: Cariboo, British Columbia
Posts: 11,777
• Horses:
3
So how did it feel riding in it?
I have not a clue if it fits or not but she looks great in it
.
---
Always remember that feeling of looking at a big, open country over the ears of a good horse, seeing a new trail unwind ahead of you, and that ever-spectacular view from the top of the ridge!!! Follow my training blog:
http://robertsontraining.blogspot.com/
:) Wallaby. You might want to use a breast collar and possibly a crouper.It looks like a good fit to me.If she is mutton withered this will cause the saddle to slip back.
Thank you wild_spot! I was hoping you'd see this thread. :)
That's good to know about the saddle placement. It feels SO weird to be able to see the highest point of her withers from the saddle. I guess I'm finally used to riding western.
It's good to know that it's actually in the correct place!
Thanks bsms! That's what I felt about their scapula comments too. I was like "really? but ok, you're supposed to know what you're doing..." I'm glad to hear that my initial skepticism was right.
I'm crossing my fingers that once it "conforms" to her back, it'll be better. I also noticed it slipping forward as we went downhill so maybe it is my weight pushing it around. My western pad happens to be one that I can add shims to so I'll probably try shimming up her back just to see what happens with my next ride. Good idea!
Having a horse that's 14.1, 1000lbs, and wider than a bus is a challenge too! I can relate!
Thanks QOS! There's about 4 fingers of clearance between her withers and the saddle from the ground and about 2.5/3-ish from the saddle. I checked it at the end of the ride and it hadn't sunk more than that, so I figure that's good?
Quote:
So how did it feel riding in it?
It's wonderful! I have never felt more secure in the saddle, ever. I'm generally terrified of Lacey tripping or slipping because I always feel like I could slip out of the saddle at any point but both times I've ridden in this saddle so far, I haven't had a feeling like I could go anywhere other than just staying in the saddle. Lacey was putting up a bit of a fight today about going for a ride ("why does Mr. UPS man get to go back past my house? I wanna go toooo!" *insert temper tantrum*) and I had a secure seat the entire time. It was so so great.
The one thing I need to figure out is posting. Or I need to figure out how to sit Lacey's trot. She's a relatively big mover and those poley's were making posting interesting. It wasn't painful or anything, they were just messing with my rhythm a smidge since they make the up part of posting a little quicker. Cantering was great. I was nervous at first since apparently I've taken to holding the horn while cantering (I had no idea, the things you learn, hahaha) but once I got over that it was really nice.
Anyway, sorry for the novel!
Basically, riding in it was absolutely fantastic.
Quote:
I have not a clue if it fits or not but she looks great in it
.
Thanks!
I think an Australian saddle really suits her "style" since she's not really "prissy" (stereotype, yes) - English, and she's not really "all work, chase those cows, hot weather" (more stereotyping, haha) - Western. She's just kinda in between like an Australian saddle! Prissy some days, getting the job done on others, all while being as pretty and ladylike as possible. LOL!
And, since I have a birthmark that is shaped like Australia, my camp and forum name is Wallaby, and my favorite country is Australia, well, I think it was destined to be.
And thanks Gidget! I actually have both of those. I plan on giving them a try if shimming the pad doesn't help. :)
---
Fabio - 13 year old Arabian/Lipizzan gelding

~
Rest peacefully, Lacey.

---
Last edited by Wallaby; 09-14-2011 at

01:05 AM

.
Posting - It takes time getting used to it. It took me about a month when I got my saddle, and I had ridden in lots of stock saddles before. Once your used to it, it shouldn't bother you anymore.

In regards to shimming - I personally would maybe shim the front a little, but I wouldn't shim the back. When it has settled where it wants to be, the balance looks to be tipping a little forward, so I would raise that front a smidge. However the panels at the back look a really good fit both before and after, and I wouldn't want to tip the saddle any further forward - That will put a lot of pressure just in behind her scapula.
---