Barrel tack help please!
---
Brand new to barrels not riding..
But i have a lot of Questions! Lol
I have my horse in this bit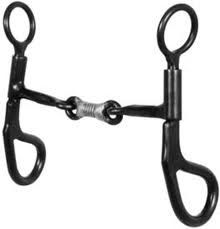 Is that okay? What about for shows? I would like to train in what I show in as well.. I also have an O-ring. Would that be more suitable?
Also, what is the difference between the western saddle & a barrel saddle?
Thanks so much!
Posted via Mobile Device
Barrel saddles are a style of western saddle, but the cantle is higher and the seat deeper to keep your butt in the saddle when going around turns. A lot of the time they have roughout jockeys and seats for extra grip. Many also have very small skirts as to not get in the way of the horse's movement.
Thanks so much.
Posted via Mobile Device
What ever bit your horse does good in is the one you should use. Some horses do better in bits with leverage (for some it helps lift their shoulder, some it gives extra whoa for a horse that gets excited). As for barrel saddles there a bunch of different factors. Most important is the horn, you need something you can really get your hand around for a good grip when anchoring yourself around a barrel. A barrel saddle horn should be a little slimmer and be a little taller than your average pleasure or trail saddle.
The style of seat will all depend on your preference! Some are made deeper to help keep your butt in the saddle and some are made with a flat "cutter" type seat with a high cantle. I feel a little trapped sometimes in a deeper seated saddle, I feel like I can't really roll back on my pants pockets when I need my horse to rate or collect up. Plus in a flater saddle seat I feel like I can get up out of the saddle faster to help my horse if I need to. Try out a few different kinds to see what type you prefer.
I've added some links to help you see the difference
Deep Seat- seat drops down behind cantle and the cantles are usually higher.
http://www.scruggsfarm.com/productinfo.aspx?productid=1195-XXXX-XX
Cutter/Flat seat- no pocket behind pommel
Billy Cook Black Dolly Diamonds Barrel Saddle: Saddles Tack Horse Supplies - ChickSaddlery.com
Thank you!! This all is extremely helpful!
Posted via Mobile Device
If you're looking for a barrel saddle I have one I'm trying to get rid of!
amp23: Thanks, but i have to set aside some money first & sell one of my trail saddles.
I'm interested in a trail saddle if you would want to look into trading?
I'm sorry but I'd have to say no.. I just don't like trading or purchasing over the Internet.. Sorry :/
Posted via Mobile Device
It's fine I completely understand. :) I don't like doing it but I need a new saddle badly! Mine doesn't fit my horse :(