The best western saddle for a wide flat-backed horse?
---
So I'm in the market for a new saddle for Miss Lacey since it has become apparent that she decided that this would be a great time for her to get even wider than she already was... >.<
I've put ads in different places trying to find a saddle that'll fit her and I like some knowledge before I begin, you know? Especially since I may not be able to try this "new" saddle on her before I commit to it.
On the plus side, even if I end up trading my current saddle (that I desperately don't want to get rid of, but it's looking like I might have to use it as a bargaining tool) for a saddle that ends up not fitting, in about a month Lacey and I will be at camp where we will have access to 13 saddles that we can try and if one fits her, the owners will trade us our saddle for the one that fits.
But I'd still like to know what brands/styles to look for.
Basically we need a 7 inch gullet, QH bars (semiQH is a little narrow and QH is a little too angled..), and it needs to be pretty flat side to side in the back.
Her current saddle fits her perfectly, except for side to side over her back, it's too narrow and not flat enough there. I've found saddles that fit her through the back but usually they seem to expect her to be wither-less, however she has some lovely withers that make those saddles a no go and it seems like the ones that fit her in front, don't fit in back...
So are there any styles of saddle/brands that are pretty sure to fit my qualifications? We appreciate it!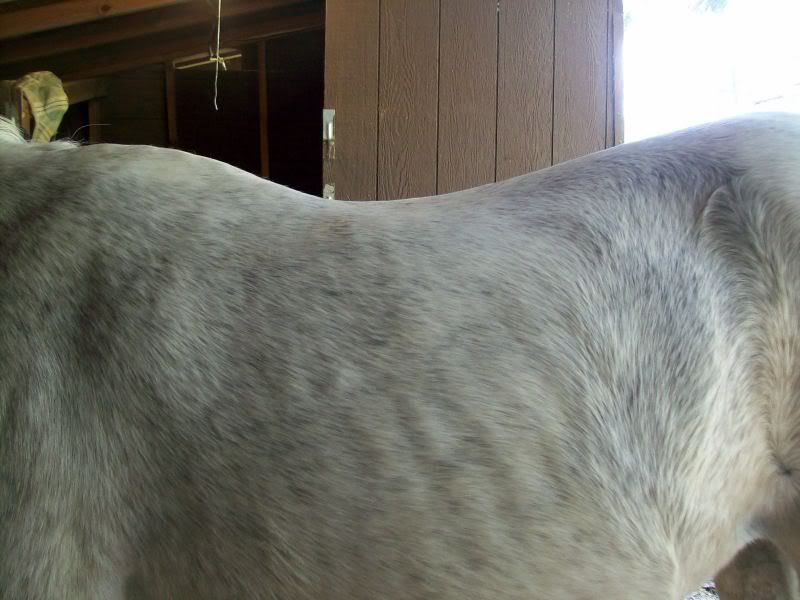 ---
Fabio - 13 year old Arabian/Lipizzan gelding

~
Rest peacefully, Lacey.

Wallaby, you may look into flex-tree saddles. While I know some people don't like them I found them to be a good fit for wide horses. TexTan would be one of the brands I can think of.
---
"Life isn't about waiting for the storm to pass: it's about learning to dance in the rain..."

"When we are no longer able to change a situation - we are challenged to change ourselves."

"How people treat you is their karma; how you react is yours."

You most likely won't find one, you would have to order it. But Rocking T Saddlery makes some really nice saddles with extra wide trees. I have one in the tack shed that I got on a trade a few years ago and love riding in it. I have looked into buying another one, they are really reasonably priced in my opinion.
---
When you are sitting a top a horse, you are that much closer to God.
If you were able to find a reasonable Arab saddle, they are made in just that way. Sometimes you can get lucky and find a good deal from someone that is hurting for money or something like that. Other than the new saddle I just got for Deja (with a very similar back shape to Lacey) which is a barrel saddle, her old one was some no name saddle that weighed a ton, but was well made. Otherwise, I think waiting and seeing what the camp saddles turn out like is your best bet.
---
Proud owner of ~Mana: 6yo Arabian gelding~Pearl 13yo Arabian~Danzer 14yo Arabian mare~ Tiny mini filly
I've had good luck with Circle Y's Arab bar saddles.