I completely agree and hope to get to that level some day, but i think a relationship has to be built before they can trust you and you them. I am all about as little pressure or discomfort as possible, but when you're out there in the open and vounerable it's nice to have some leverage. Maybe that's just me being green!
LOL, it's all good. It's times like that that knowing things like the pulley rein and how to spiral a horse to control their speed come in really handy.
---
Always remember that feeling of looking at a big, open country over the ears of a good horse, seeing a new trail unwind ahead of you, and that ever-spectacular view from the top of the ridge!!! Follow my training blog:
http://robertsontraining.blogspot.com/
Subbing!
---
I am Sparkly Meanie Doodie Head and I approve this message!
Lots of pictures in this thread don't show up for me. Either they are black boxes with and x in them or "image not available" appears. Any idea how I can see at least the ones with the black boxes?
.

Updated a few of the missing photos in the 1st set of posts in thread......


.
hi all....looking for some help with a bit for my horse...kinda late since I have been riding him with the same one for 8 yrs now ...I had this bit made fr a friend so not sure of the name,,see back then I found it hard to find a 6" mouth bit...after reading smorbs posts I have learned a lot...I grew up ,just jump on and ride..only been 8 yrs since I have been riding with a saddle,,,and even know I would rather ride bare back...I have no choice but to ride in and around traffic..I have to cross a highway to ride with my friends...I have no prob. with leaving my barn ..its on the way home ,it could be 5 hrs ride or just 20 mins as soon as he turns for home he want to get there fast..I think my bit is pretty harsh >>it has long shanks ,med port ,all solid...the shanks r pretty straight...not sure should I change it up and get a swivel shank bit or keep with the grazing solid one...did all this typing and not even sure if I know how to post this...lol...sooo not good with computers..
Oh my gosh love it. And I love how you didn't bash any of the bits, just explained the pros and cons of each. Very good information!
---
American by birth. Cowgirl by the grace of God. And I wouldn't have it any other way.
This is so informative and very well written and explained. Thank you so much for the wonderful info!
Need Help!!!
---
Looking at these two Hackamores. Any opinions on them? I have a 3 1/2 year old Appaloosa gelding that is very easy going. Still learning to neck rein. Stops decent. Very good natured. Does not like a bit in his mouth. Thanks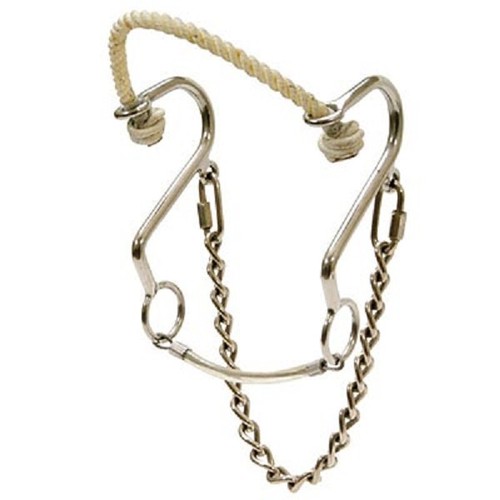 Any thoughts on these two?