I can't really ask anyone about anything at the moment because the whole stable is against me. I made an honest mistake and used another person's saddle because it looked like mine and I apologized but now they have the whole stable against me. Quinn and I are going to be moving to a different stable. I hope soon. I had no idea that this wasn't the right bit. I can't believe this! Will Quinn still listen to me if I ride bitless? If so then I'll surely consider it!
---
Last edited by AppyLuva; 10-27-2010 at

06:07 PM

.
Most horses will, but you want to be sure he has a solid stop on him, and will give to pressure on his halter in any direction (left, right, lower his head, back up). I also suggest getting a good emergency break on him as well (meaning the one rein stop).
He's very cute btw, assuming that's him in your pic :)
Quote:
He's very cute btw, assuming that's him in your pic :)
It is him. =)
Is there someone in your area where you can get some lessons?
I'm just thinking you may be at a point where a bit or bitless is not an issue to worry about but instead your own balance, safety and communication with your horse.
Bitless is no kinder than a bit; it's all in how you use it.
Ktibb
has a very interesting bitless design; it's the only design I've seen that I like in a bitless- most others apply too much pressure to the entire face, and don't release immediately. Anyways, riding in a bit is no more harsh than riding bitless, but I do recommend you get the right bit for your horse. A nice simple eggbutt oval link is one of my favorite bits.
It's okay, you didn't know and now you do. Some people are successful using the bit that you are. That is what is commonly referred to as a Tom Thumb, but in my opinion, it isn't the greatest of choices for anyone. I seriously doubt you hurt him in any way, it's just a generally confusing bit.

If it was me, I would get a nice simple snaffle like one of those that snookey posted. They are pretty inexpensive and much simpler to use. If you are interested in trying bitless, you might want to make sure to try it the first few times in a secure environment like a roundpen or arena as some horses don't respond to a bitless and will sometimes ignore them if they haven't been taught to accept them.
---
Always remember that feeling of looking at a big, open country over the ears of a good horse, seeing a new trail unwind ahead of you, and that ever-spectacular view from the top of the ridge!!! Follow my training blog:
http://robertsontraining.blogspot.com/
Thank you all so much! Quinn will be overjoyed to find out that I'm not going to use this bit on him again! At the new stable I'm headed to I'll be able to get some lessons. So to ride bitless do you just use a halter or what?
Sorry to hear about the saddle mix up. The best thing you can do when you make a mistake is own up to it and apologize (so long as it's a genuine apology) and then let time take care of the rest. People make mistakes, especially when starting something new.

I will say though that many horse owners spend quite a bit of money on their tack, especially saddles and can become quite protective over them. And when it comes to horses and what to do you will get many differing opinions. I suggest you give them all a fair listen and learn what you can from everyone, even those that you don't agree with and find out what works best for you.

Every horse is different as are their riders. Good luck!
You can use a halter. There are also other options like the Dr. Cook style bitless bridle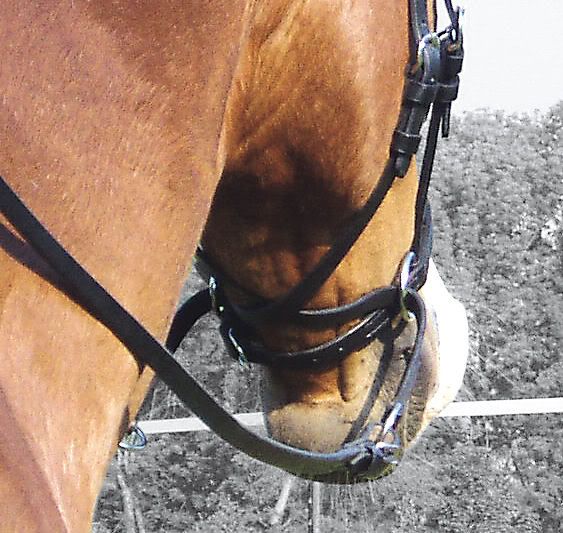 but some horses don't like the full head hug that it does.
IMHO, a much better choice would be a simple sidepull like one of these.
Typical english sidepull
Typical western sidepull
---
Always remember that feeling of looking at a big, open country over the ears of a good horse, seeing a new trail unwind ahead of you, and that ever-spectacular view from the top of the ridge!!! Follow my training blog:
http://robertsontraining.blogspot.com/