bits?
---
my horse is an ex race horse and right now i have him in a snaffle bit..he would always train in a egg butt and raced in a ring bit no nose band.

but im just looking for other bits for western riding - i know how to ride western, but the only bits i know are for standard bred racing and thoroughbred racing..any ideas of what else i could try thats gentle as a egg butt and has the control like a ring bit? i want to get him away from those two things cuz when he sees them he gets stupid! silly race horse :P
Are you just trail riding your horse or showing him?
For trail riding many people do use snaffles where others may use grazing bits or even hackamores. Just depends on what you and your horse like.
If you show, I cant help you there because I have never shown. Maybe someone else will help you on that one.
---
Come on spring!!!!!
What exactly do you mean by a "ring bit"? Are you talking about a loose ring snaffle or something else?

Generally in western riding, a snaffle is used until the horse has adequate training and preparation to be moved up into a curb. I suspect that your horse is nowhere ready for a curb so a snaffle is the only option unless you want to try a bitless of some kind.

If he has such a problem with just seeing a bit, you might want to work on getting him to relax instead of just switching bits and hoping for the best. Unless you fix the root problem, no amount of tack changes will help.
---
Always remember that feeling of looking at a big, open country over the ears of a good horse, seeing a new trail unwind ahead of you, and that ever-spectacular view from the top of the ridge!!! Follow my training blog:
http://robertsontraining.blogspot.com/
a ring bit is ...well a ring bit LOL thoroughbred industry talk i guess - i will NOT be showing with him myself and him are not into that. Just curious as to what types of bits are out there other then the stuff he used to wear and run in. (again only know thorughbred bits) eg; cage bit, dbits, ring, eggbutt, gag bit is all that i've ever used. and some bits that we've made specially for certian horses .
I like my tom thumb :)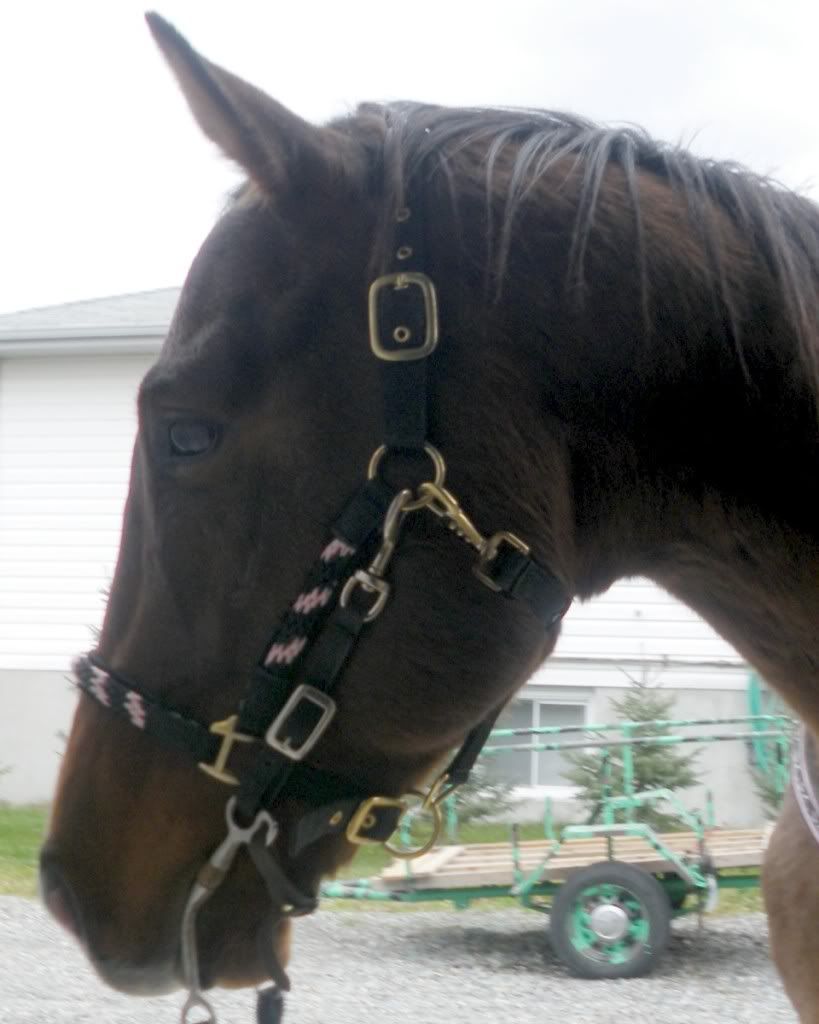 It's as gentle as the rider's hands, but offers a little more in the way of breaks if my OTTB starts thinking he's on the track. It also seems to be the most effective (for me anyway) when it comes to teaching my gelding to get off the bit... he tends to lean into anything else - except the rope halter lol.
---
A canter is a cure for every evil. ~Benjamin Disraeli
IMHO, I would stay away from (American) Tom Thumbs. It isn't a matter of harshness in this case so much as of poor balance and construction. Even excellent hands can confuse the horse with the ATT, because of the short shank/broken mouth construction. Too often they are mis-marketed as a transition bit or a "baby" curb - totally false. I won't say all horses hate them or are confused by them, as there's always the odd exception to any rule, but by and large an ATT isn't going to offer much in the way of clear communication.

In terms of what to do about bits, I'm with smrobs on this one - focus on getting him relaxed with his normal bit. If he's that nervous about the bit, changing the type, especially to a curb, isn't going to cure the problem. You might start with trying to rig him in a snaffle headstall (NO REINS) and turning him loose in a sand lot, roundpen, arena, etc. to just get used to wearing the bit without any "stress." Might be a good starting point.
---
A stubborn horse walks behind you, an impatient one in front of you, but a noble companion walks beside you ~ Unknown
A ring bit is generally used in TB racing. There's an actual ring that goes inside the horse's mouth.

Keep him in a snaffle; adding harshness will only add on to what you need to undo later in his training. If it's a matter of him not liking the bit, try some different mouthpieces--Dr. Bristols, jointed, mullen, french link/dog bone.
I agree that you should always start light and work up as the horse is ready to move on and is giving nicely to the last method. halter - O or D ring bits - and then tom thumb.

If you ever get a chance check out Jason Patrick, who has a DVD out called Free Horse Clinic. He talks a lot about starting out light and moving up in bits as the horse become ready to turn and move off those very subtle cues that 'harsh' bits like the tom thumb style can offer. A very informative piece that is also enjoyable to watch.
---
A canter is a cure for every evil. ~Benjamin Disraeli