To Bling or not to Bling
---
Wanted to get you opinions on bling bridles, do you have them or not?
we get lots of people wanting the bling bridles but saying there coach wont let them have one, so whats your views should you be able to ride in what you want?
Very attractive - I like them. In my opinion, for fun you should be able to ride in anything you want but for an organized event you should follow the rules. You can think of a bridle as a sort of uniform for your horse. A consistent uniform allows viewers to focus on the more important aspects of a performance.
I love them!! at the moment i dont show but plan to one day....when i actually do ride i use my bling bridle...
It has double rows of crystal in the browband and the noseband.
I bought another bling (figure eight) bridle for my son....but with less crystals and some more beads...still very attractive and not so 'girly' lol
---
Last edited by SpringWolf; 06-09-2009 at

10:28 AM

.
I love them too :) Heck, I make bling beaded browbands :)

I get a lot of compliments on them, and I have sold browbands in the U.S.A and Canada.

I have sold bling browbands to a competator in the Adult Ammy 3'6" Jumpers. Many hunter/jumpers, to an R rated hunter/jumper judge to works beside George Morris, to dressage competitors ranging from Training to 3rd and even western fanatics.

They are popular, well liked and I don't think they'll ever go out of style.

I see them in the GP level jumping ring and even at Olympic level dressage.

~~~

Here's the thing - IF YOU LIKE THEM USE THEM!

JDI will have to show you her lovely Bling Bridle!
---
Last edited by maura; 12-03-2011 at

10:33 AM

.
I think it looks nice in moderation. If you've got a bling browband, it can look pretty. If you've got a bling browband, bling saddlepad, bling spurs, bling crop, & bling stirrup irons, I think it just looks gaudy. I personally don't own any of it (although I wouldn't be against maybe a browband one day), and I don't think I've seen it at the barn, although we do have a lot of metal studded browbands, so I suppose it's along the same lines, just a different material.
I ride western, so bling it on!
Personally I don't find them attractive or cool. I'd rather go with nice leather with some ornament.
Is that a Pink Equine bridle? I am getting a browband made by them.
Here's the bridle I showcased for a while for my store:
---
The lovely images above provided by CVLC Photography cvlphotography.com
Some bling is fine for me, but in moderation. I usually ride in a plain leather hunter bridle with raised nose and browband, with a little sparkly blue ribbon charm on the off side. I'm not a "sparkly gal" myself, and started leaning toward English showing because of the more conservative show attire preferences, but a little can be fun (I do pull the charm off before my show classes!). I also ride a gelding, and I feel a bit sorry for him covered in Swarovski Crystals and glitter. A friend of mine runs barrels with a pink saddle pad and a matching pink and clear crystal bridle and breastcollar. The whole ensemble sat on a palomino gelding. I guess I just have this weird idea that geldings appreciate more conservative tack (sorry for anthropomorphizing) and mares can pull off the more blingy tack.

The bling browbands on the dressage bridles do look cool!
---
A stubborn horse walks behind you, an impatient one in front of you, but a noble companion walks beside you ~ Unknown
I love my browbands!
Nelson's collection: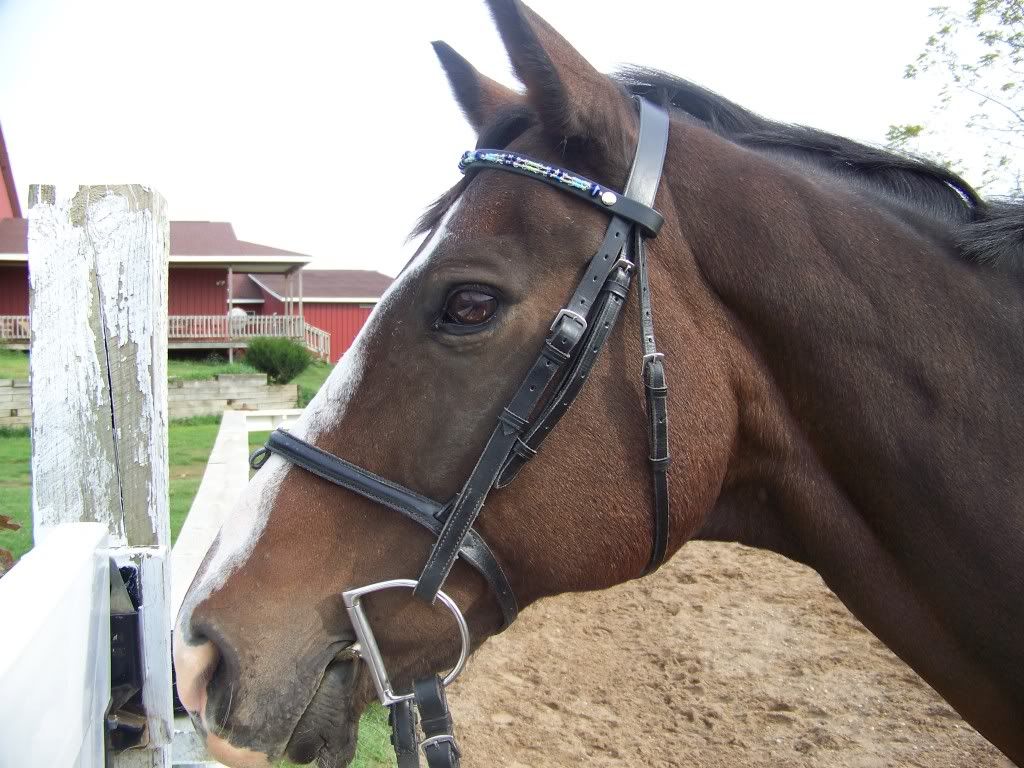 Some others on horses of those who've bought: