Blingy polo wraps! Need feedback!!
---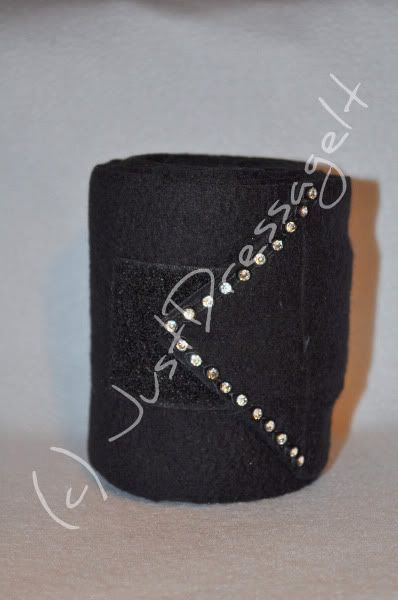 Please respect the fact that this is my project :)
Opinions? If I were to manufacture these, what would you be willing to pay for a pair? 4? Do you like them?
---
The lovely images above provided by CVLC Photography cvlphotography.com
Those are super cute and classy! I dont know how much a new set of polos are, but I would take that price and add $10.
---
Never approach a bull from the front, a horse from the rear or a fool from any direction.
I don't use polos but those are great! Not cheesy, but fun and actually attractive.

$10 over plain polos sounds reasonable to me too.
i like them ! i agree with the others ;)
they are very stylish and classy !
Good job :)
I think they are very cute but I would not pay $10 over regular polos for them. A pair of 2 patterned polos sells here for $12 - $14 (depending on the tackstore) made by a specific company (homemade like yours would be as well I do believe). I think you could fetch that price but I wouldn't try anymore... lots of people have turned to boots these days as well. An idea would be to bejewel fly bonnets along the edges. I would be interested in something like that for sure! Good luck!
I really like them. Agree with everyone else on the prices.
I like them! I'd like to see what they look like on a horse though as sometimes patterned/special polos look kind of wonky to me.
I really like monogram polos.

Did you make the polo yourself as well? my biggest concern is that they would fall off in the wash, or extended wear. Are they sewn on? They look good in black, but Im not sure about other colors. I dont use black polos on my mare because shes white, so you see every single hair stuck to them.
They're sewn on quite well, I think. I got pictures of the white one on Denny today, I will upload it when I have time.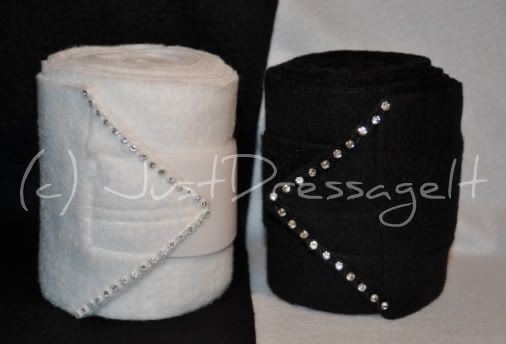 Oh, and yes the polos are handmade too.
---
The lovely images above provided by CVLC Photography cvlphotography.com