THE BRAND NEW SADDLE I GOT!!!!
---
The saddle, girth and, stirrup leathers cost about 600$
here are some of the pictures: My aunt was the one holding the saddle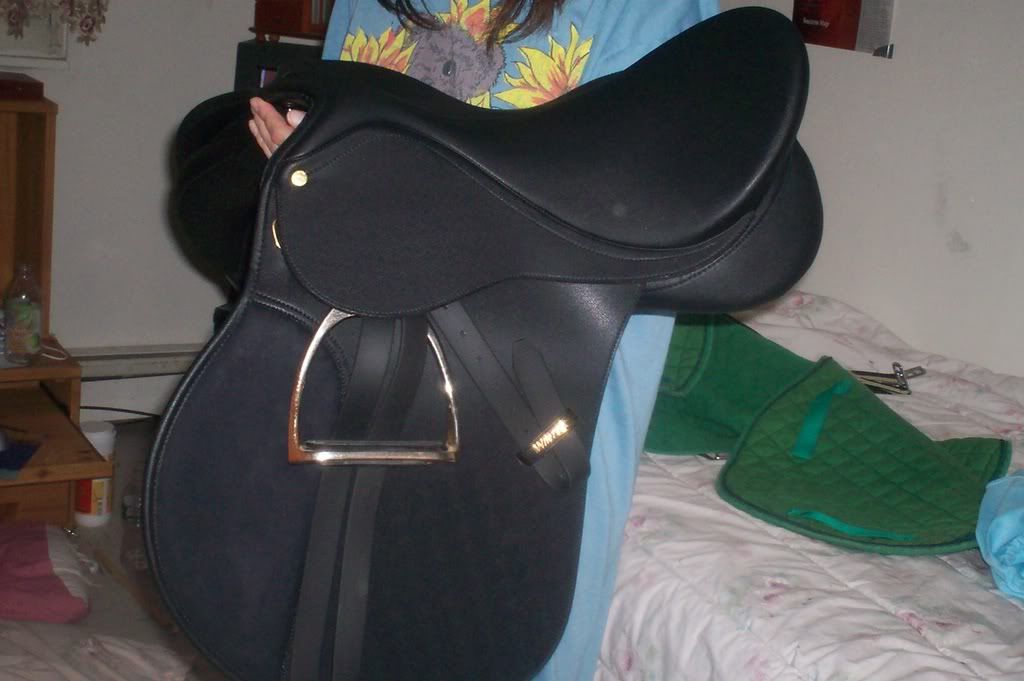 the girth
I seriously need new stirrups or something to get rid of the rust [these are the ones the BO gave me]
Ill have pictures of the bridle when it gets here :)
we traveled 2 hours to go get that saddle and i stupidly forgot to get a bridle so I guess im gonna order one
that look's great!!! did you go to either of the 2 tack store i told you about????? i'm dying to check out double g ranch the next time i'm there!!!!!.kudo's kid...you did well
thanks so much :) i accually got this saddle from double G ranch and its an amazing place!! very helpful and very friendly people they even changed the gullet for me :) They even spent like 20 mins helping me find a good saddle that would fit my seat :) I will deff go back there again! and has sooo many saddle and everything! deff check it out! it took me like almost 2 hours to get there lol we got lost a few times. lol thanks again :)
lol....it's a great store isn't it!!! .......but wow isn't it big!!!!!!! and friendly staff... put's the other tack shop we were talking about to shame!!!.....lol
haha ya! Ya its huge , I couldnt figure out where things were at first lol! I wish it wasnt so far away i would be able to go more often! took up so much gas lol
thanks :) im excited to ride in it!
Re: THE BRAND NEW SADDLE I GOT!!!!
---
Quote:
Originally Posted by HorsesAreForever
I seriously need new stirrups or something to get rid of the rust
Hey, until you buy new ones, try this:
Grab some aluminum foil and some water and start scrubbing! Keep the irons and foil wet the whole time and keep turning/folding the foil so you are using clean parts of it. Unless the rust is REALLY bad & deep, this should remove it. But just a warning, it does kind of dull the metal. They won't be super shiny and new, but they won't have rust anymore!
Aluminum foil and coke
Nice saddle. Ridden in it yet??
o cool thanks for the tip!!

No i havent ridden in it yet, im hoping to this weekend if my bridle gets here