Breast collar question
---
Okay, so I just bought a breast collar off Craigslist for Aires because our saddle slips a bit when we trail ride. Originally, I went to look at a red nylon western breast collar with fleece lining the lady had listed for $15. When I got there, the tabs/top loops/whatever you want to call it...the part that attaches to the saddle D-rings (on a western saddle) were too big to fit my Aussie stock saddle. I expressed that concern and the lady said "Well, I have a brand new, never been used Aussie breast collar in my garage. If you want to wait a second, I'll try to find it." Ummmmm...heck yeah! So, she found it relatively quickly and it's decent quality (never been oiled, but it's still softer leather than my bridle lol). I asked her how much she wanted for it and she said $15. Hellz yeah!!!
So I handed her the cash and walked away with this nice breast collar. But now I'm wondering if it's actually an Aussie breast collar or if it's maybe something like an Englsh hunt breast plate. I don't have a pic yet, but I'll take one once I get back from choir practice tonight. Anyway, it's got the piece that goes over the neck, like an Aussie breast collar does, but it's thinner than most Aussie breast collars I've seen online and it's made from raised leather (as opposed to flat leather...raised leather as in you'd see on a raised leather bridle, if that makes sense).
I'm assuming that whether it's an Aussie breast collar or an English, it'll work with my saddle, yes? From what I can see, the basic design is the same, just the Aussies are more rugged?
Like I said, I'll get pics and try to post them when I get home.
---
Do not tell me I can't...because I will
show
you that I can.
Okay, got pics. They aren't great, but I think you'll be able to see how it's made. I just realized that it isn't adjustable, so here's hoping it'll fit Aires. If it doesn't, I guess I can always resell it. I know it's kind of...kinked, but that was the way it laid out (like I said, it needs to be oiled lol).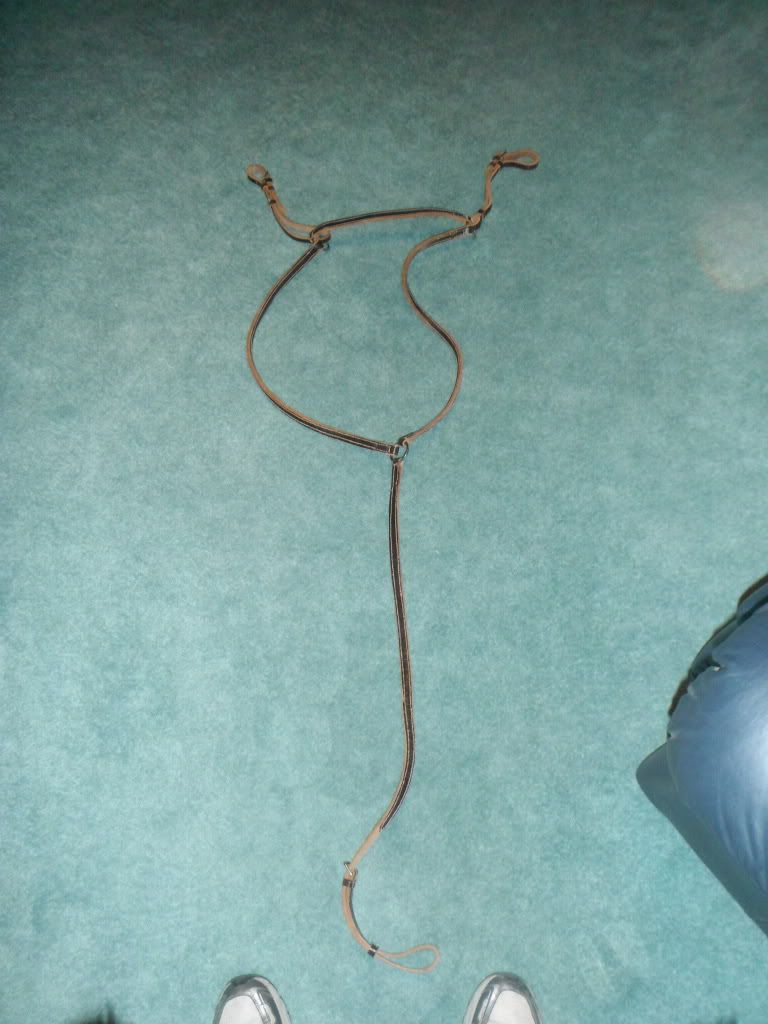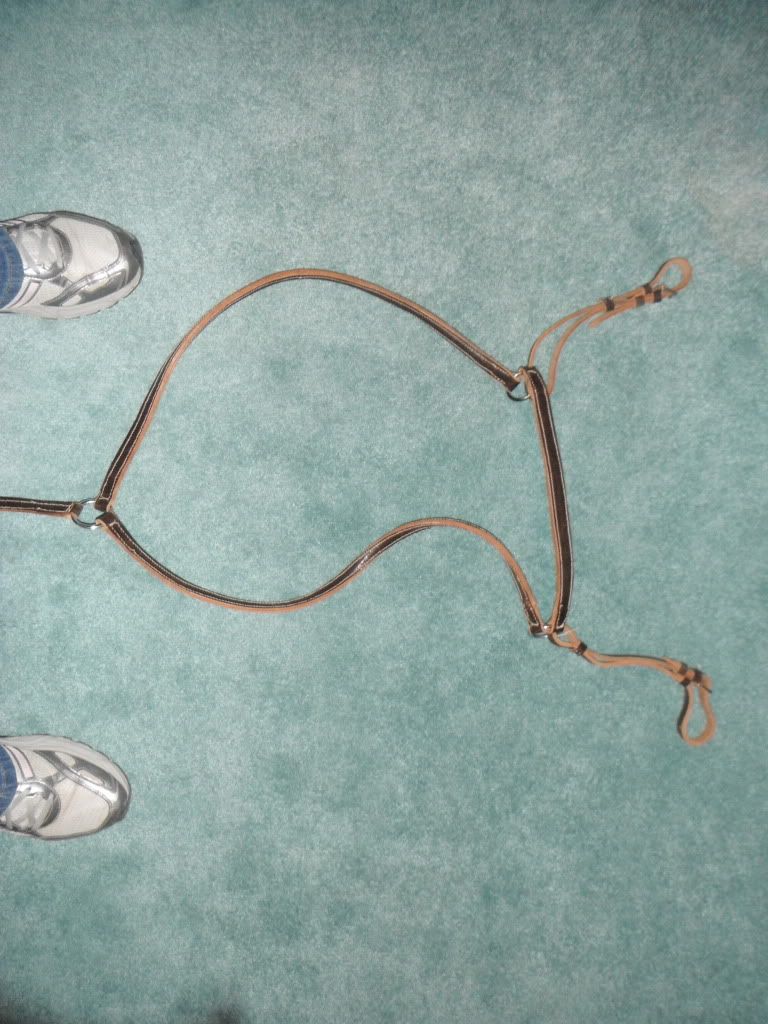 ---
Do not tell me I can't...because I will
show
you that I can.
Weanling
Join Date: Oct 2011
Location: Illinois www.saddleonline.com
Posts: 509
• Horses:
1
Its hard to say what will attach properly or fit without seeing your saddle and horse....but in theory it should more-or-less work.
---
"Riding: the art of keeping the horse between you and the ground."
~Author Unknown
If it fits, use it. I use 3 types of breast collars and interchange them on various saddles. It's ONLY important when you're showing. =D
I've seen breast plates like used with stock saddles in Oz loads of times. Hunt breast plate and a stock breast plate is, to me, Same guy different hair cut. if it fits it fits
---
Do not tell me I can't...because I will
show
you that I can.
My preference is for wider leather. This would be fine for attaching either a running or standing martingale for not really for anchoring a saddle.