To buy or not to buy?
---
Well I've hit a point to consider recently. Hopefully if all goes well next summer I'll be training my mare to drive, as well as restarting my gelding on the ground. With both of them I'm doing free lunging (round penning) and then continuing on with my mare into ground driving and such. My next horse will most likely be trained by me at some point on the ground.

Here's my question. Should I spend the money and start piecing together training equipment (slowly might I add lol)? Where I'm at now my BO let's me use all of her training equipment/harness because it's there and it makes no sense for me to spend thousands of dollars on a harness for my mare when I don't know if she'll take to driving. But in all honesty I won't always be at her place, and such in the case with my next horse I'll be on my own in the equipment department.

Just for reference, here's the equipment that I'm wondering about buying:
--backpad
--snaffle/training headstall (I've already got to buy a TT bit for my mare so I figured why not just buy a snaffle too)
--possibly side reins
I won't buy long lines or anything else until I work my mare and decide if she'll go or not. I just listed priority stuff that I would use this summer.
Most of what you listed are items you should have.
A headstall...pretty basic necessity and not expensive if you don't want it to be.
Same as a snaffle bit...can purchase that for around $20 in many styles, variations and mouthpiece size. You don't need to spend $$$$ for a simple snaffle bit although they are out there.
I'm not a TT lover by what I have read and what I have experienced on some horses I have ridden in the past...what works for some, may not work for others is true for horses and their individual like and dislikes...this bit still doesn't need to cost $$$$.
Side reins... if you are going to buy them, try out the different styles and find what you like and are comfortable using. Then buy not the cheapest but something better quality.

A backpad...as in harness pad or a saddle pad?
If you aren't buying a harness maybe hold off on the back pad since you need it to be the correct size to your harness straps...

I don't know where you live, but do some internet searches for these items.
I would buy new as they aren't that expensive honestly and why buy a possibly half worn out item for almost the same price as new.
Go to tack swap meets and "horsey" yard sales... amazing what people will sell and for what price.

For a headstall, bit and side reins... I could purchase all of them new for less than $60.00 in good quality.

A complete driving harness (not leather) for less than $200.
Leather harness driving reins (long lines) for less than $50., in nice quality.
Yes, I could also spend hundreds for each item but why do that if you are only starting a animal out and it may be destroyed/ruined or not work...makes no sense.

You need to look and search for good products at reasonable prices. Unfortunately, if you buy everything through a tack shop you are going to pay so much more....hence know what you want in style then go look for it online and buy it from reputable dealers who stand behind their products and have been in business for years.
I don't do Ebay myself, as you don't know what someone is unloading on you and if it is as represented or is junk...and you have no recourse from private sellers like you do from a business.
Hands on look-see always if you buy any used leather to make sure it is in usable condition and not cracked or stitches falling out, missing or garbage.

Good luck in your search for equipment.
I appreciate the advice, thanks! I already have a headstall/TT bit for my mare (she's broke to ride in a TT) but I need to replace her bit and get a snaffle that fits her for when I'm doing her ground work. I figured why not pick up a headstall so I don't have to worry about swapping out bits and the like.
Forgive my terminology, I live in a pretty rural area so somethings I'm starting to learn I call by names they went by 60+ years ago or just our lingo.
By back pad I meant surcingle. Even though I've been into horses for most of my life I've yet to begin gathering the training equipment because it was always available for me to use. Now that I'm starting to train my own (well at least train them to do something different) and move away I realized that I needed to gather some stuff! Thanks again! :)
Here is a link below and where I went to for the prices I gave you...
If you live in the USA, shipping is very affordable, if you live overseas...can be expensive but there should be places in your area of the world where you can purchase and ship merchandise without excessive costs.
There are so many places to search out and look for equipment from...
this is one of the more cost friendly places and their equipment is not garbage as many will say it is. I know of
many
barns who purchase a lot of their equipment and supplies from here and other places... you can buy crap and you can also buy top of the line and bottom to top of the cost scale by just doing online searches...also look at Stateline Tack and Dover Saddlery for reasonable prices and good quality...
I also use "terminology/words" that I was brought up with in my area...many times what I describe is the same thing as another uses in different names... the point is you know what you want, how to use it and apply it...names...
my street has 5 different names yet it is all the same street.
..same idea in horse language.
Here is that link...
Saddles Tack Horse Supplies - ChickSaddlery.com: Search
buy stuff!
---
golly, I've collected so much useless stuff
thanks to a minor internet shopping love and being quite the pack rat.
My motto is usually if you can use it, buy it. Because I hate borrowing,
I hate not having what I need when I need it, and generally speaking unless I take terrible care of something and just downright destroy it; I can resell it on ebay or craigslist for very near, or sometimes more than what I bought it for to begin with.
Though, I will admit that long lines have been the most wisely spent money for starting my mare period. Also, probably one of the cheaper things I've bought… A cotton pair can be purchased for very little money… If you wanted to be really budget friendly just buy two used, light-weight lunge lines. They have so many dual purposes honestly, I just cannot stress how useful they are.
Also, you don't need a full harness to drive a horse from the ground… I've done it in a halter with harness reins attached. If you wanted to be more legit you could try a surcingle with long reins.
Harnesses, though they can be expensive; generally, don't cost thousands of dollars… Especially not ones people use to start horses in (from my limited experience)… I know for a fact I purchased a leather smuckers brand harness with brass & patent leather for under 300 including shipping.
heck, my cart cost $250 X-D, though truth be told I'll be spending more to replace a wheel than I purchased the cart for…
I've bought good quality, thick, leather harnesses for under 100 including shipping.
There's me driving my filly in a halter and surcingle…
Here's my harness & cart with my mare… In all, I'd say it was a good deal. I could use a new wheel and I am purchasing new shafts + crossbar to better fit my filly. But, nowhere near thousands! Including all of the things I purchased to get it all to the condition it is in now.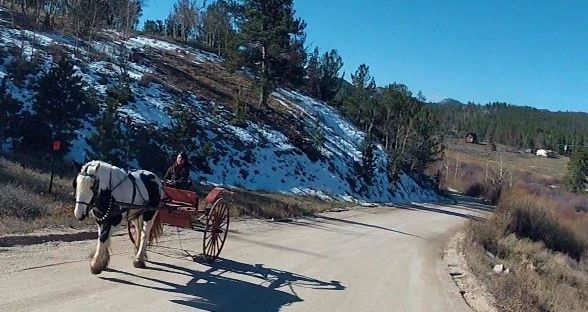 ---
life has no remote control hitch them up and drive them your self
---
Last edited by Ashleysmardigrasgirl; 11-02-2013 at

12:48 PM

.
"I know for a fact I purchased a leather smuckers brand harness with brass & patent leather for under 300 including shipping."

What do you think of your Smuckers harness? I'm looking for a harness for my mare as well and also don't want to spend thousands. Smuckers look good and I was going to pop up to Running Brook Farm in VT to look at them, but I'd love to hear from anyone who owns one. And where did you find one for less than $300 if you don't mind me asking? I've only seen mid-300s which is still pretty good if the harness is decent.

Nice job with your filly, she looks great!