cinch
---
Hey everyone
on a western saddle, should the cinch sit on the horses skin or on the saddle blanket?
I used to be able to pull the cinch up enough so that the ring would sit on the salle blanket, but now it's shorter for some reason and it sits on her skin, and I was wondering if it hurts her, like, it looks like its pinching a bit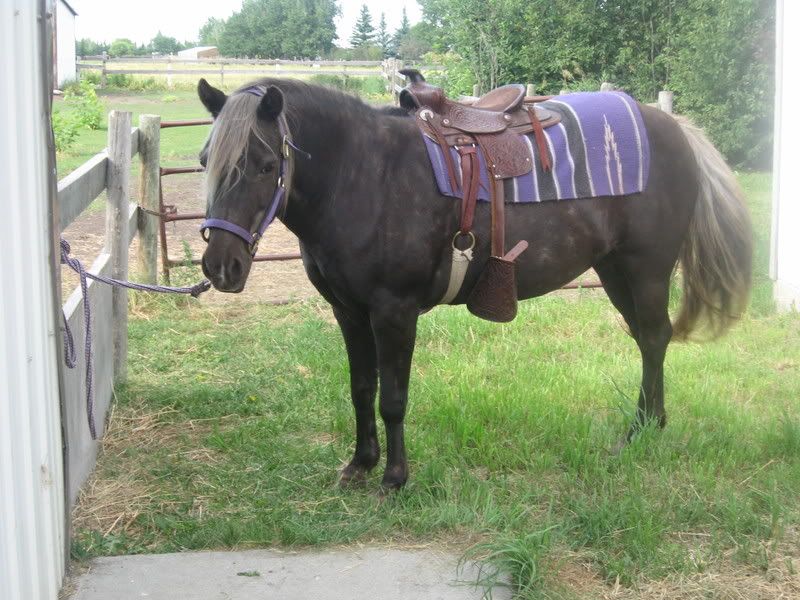 When I was a kid in the 70s, I pretty sure it was on the skin/fur for most of our horses. These days, though, there are lots of cinches available with some padding under the ring, and I'd use one of them if it was available.
The cinch always sits on the horse's skin. Although your saddle is way too small for your pony, the cinch is just right.

You may have it too tight on her being necessary to hold it in place due to it's size.
---
I'm not arguing with you, I'm just explaining why I'm right.

Nothing sucks more than that moment during an argument when you realize you're wrong.

It's not always what you say but what they hear.

Is my saddle really too small?
I didn't know that, it came with her
what size do you think I would need then? and where can you buy pony saddles?
Yeah, the saddle is WAY to small for your pony.

The cinch ring usually sits on the horses skin. I know that if a saddle doesn't fit right that the cinch ring rubs a raw spot on the skin.

The reason that you can't put the cinch ring on the blanket is because the saddle is too small (and most people don't do that).
---
If you want a stable friendship, get a horse.
Foal
Join Date: Jul 2008
Location: 143 E. Shirley Ave, Warrenton, VA 20186
Posts: 126
• Horses: 0
Your poor horse is tolerating that saddle... its way, way too small. She needs a wider tree. There are so many nice used, reasonably priced saddles out there. I have a few for just over $100 on
www.GallopingGrape.com
Feel free to email me, I can help you fit this pony with pictures and measurements.
Foal
Join Date: Jul 2008
Location: 143 E. Shirley Ave, Warrenton, VA 20186
Posts: 126
• Horses: 0
Also, the saddle blanket can be folded in half and placed square under your saddle so there is not so much hanging over her rump.
After looking at EVERY saddle blanket that's available on today's market, I've come to the conclusion that they are made to sell.... not neccessarily to use.
Yours seems to fit into that catagory as well.

If you don't mind a couple of suggestions.....
The saddle you are using is too small.
You need a longer cinch-strap.
And your blanket is too long fore-to-aft. You could possibly fold it to fit but in my experience, folding it will cause it to get bunched-up under the saddle. A better solution might be to buy one of those 32"X62"-sized blankets that looks like a throw-rug and cut it to fit.

Once you get a proper saddle, a longer cinch and a different blanket, you should be able to "tack-up" without having anything iritate your horse.

As far as where the attaching-hardware sits in relation to the blanket, it's true that most folks just let it sit on the horse's hide but I much prefer it to be padded by the blanket. That is perty easy to achieve on a smaller horse.....not so easy on a big horse.

Hope this helps.
DGW
I personally would stay away from the string girths as i've known numerous horses who ended up with girth gauls after longer rides. I like the neoprene girths myself but they also have a few cons(in hotter weather they tend to absob the heat ).
I also agree that your saddle doesn't fit your pony she/he needs a wider tree and from the looks of your stirrups the saddle may also be too small for you.
If you don't want to use thicker pads baby pads work well and tend to sit better under the saddle.(they are also pretty cheap)