Crafty new saddle pad and browband pic
---
I made these for my daughter for Christmas, thought I'd share. Love being able to change up the tack and match for jumping. She's starting Flicka at shows this year, so of course we had to have fun tack. Just a pink pad that I put brown binding on, did the ribbon on and some bling. Thanks for looking.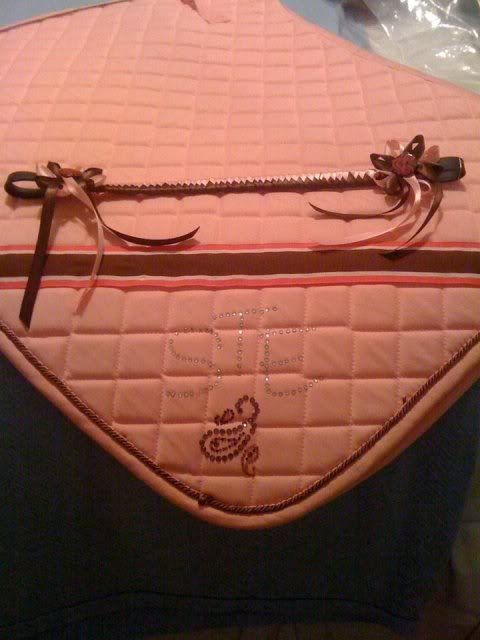 Very nice!
---
"Life isn't about waiting for the storm to pass: it's about learning to dance in the rain..."

"When we are no longer able to change a situation - we are challenged to change ourselves."

"How people treat you is their karma; how you react is yours."

Thanks! I have a saddle pad problem, I may need a 12 step program.
The title made me expect to see the saddle pad being "sly and crafty" and sneaky and such. Now, how that would look, I cannot say.
You silly woman, I shall work on that ok, making a "sly and crafty" one.
Similar Threads
Thread
Thread Starter
Forum
Replies
Last Post
Some horse show crafty things, pics

cakemom

Horse Talk

11

10-23-2011

11:03 PM

Browband help?

Hooves

Horse Tack and Equipment

5

08-23-2011

05:15 PM

Browband help

Marrissa

Horse Tack and Equipment

3

03-18-2010

04:12 PM

browband help

cathrynxox

Horse Tack and Equipment

3

11-22-2009

05:16 PM

Browband

futolympeventer327

Horse Training

4

11-23-2008

10:33 PM