Mine is light blue, accented by pink and white. The majority of my stuff is blue. Even have a light blue velvet dressage pad for competitions. I dont care if it isnt traditional or if people look down on it. It matches my blue diamonte browband.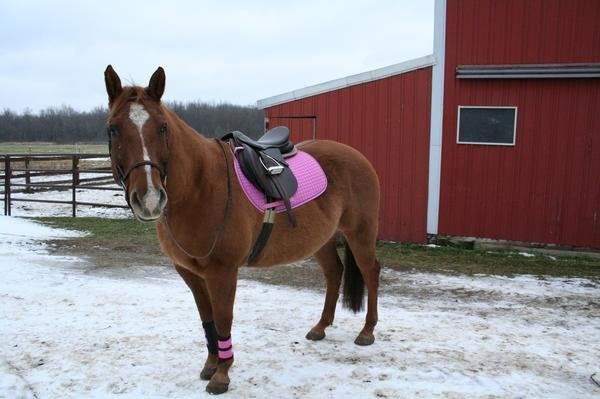 Dunny's color is also pink! Real men do wear pink.
Emma has a pink halter & lead but I just got a saddle for her that is black & red... so I got a red southwestern saddle pad. I JUST got the saddle and have yet to put it on her and take photos.
heres cherokee in pink.......
---
Strength lies within the heart
but the strengh to trust lies between the horse and his rider!!!
My horses colors are...

Joey: Lime Green/Bright Green
Rain: Hot Pink/Baby Pink
Dreamer: Baby Blue
Miakoda: Purple
Charity: Red
Sweetie: Goldenrod (goldish yellow)
Jasmine: Red White and Blue (or Navy Blue when Subdued)
Skippy!: Hunter Green or Burgundy

I have pictures in my horse's tabs =) Joey, Rain, Dreamer, and Miakoda all have nylon halters with halter plates on it =)

Great thread idea!
Beau goes in any kind of green, or burgundy :)
I don't have pics of him in burgundy, but here's his green stuff:
Please excuse how awful we both look here lmao D: This was before we started training at this barn.
I know the saddle looks too far forward here too. It's been fixed since then.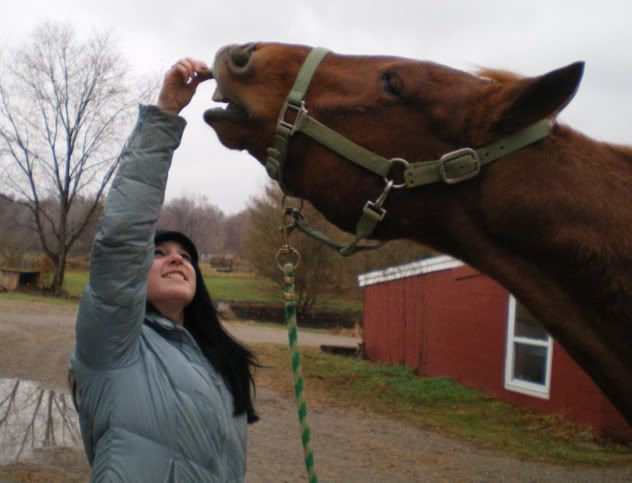 Halter, lead rope, banket :P
He has a dark hunter green saddle pad as well.
---
Fly Without Wings
Cope's stuff is Blue...generally Navy. Even our trailer is Blue, but hubby's truck is red, so I'm pretty sure when I get my next horse his/her color will be red.
---
I've got pictures of all my pink stuff! :]
Pink halter and lead!
If you'd like to know what all that is, it is:
- winter blanket
- saddle pad
- headstall
- brush
- hoofpick
- feed bucket
- feed scoop
Lol. My breast collar was bit dirty, so I didn't put it in - but I have a pink breast collar too. Ha ha.
Here she is:
Aww! Everyone's horses look so cute! And I love that you all put your guys in pink, I think that is adorable! My mom couldn't bring herself to buy our guys pink stuff... Although I do have a pink w/cherrys saddle pad from like, 4 years ago and a matching tailbag that Pyro is currently using xD Its hilarious. The vet came out and called him a "her" the whole time and when he was done he asked, "What's this pretty little ladies name?" xD I told him "Pyro" and he gave me the weirdest look, it was great... he finally put two and "two" together though.
leah: I love all of your pink stuff! I didn't know they made pink leather!
cache: Cobalt looks so dashing in pink! it really stands out(in a good way!)
horseshoersgirl: that would be kinda ironic to see a horse in zebra print xD I know they have zebra print sleazies, but I've never seen anything else...
neon: I love a horse in burgandy! My friend has a grey TB and his colour is red.. It looks awesome, and it suits him too!
Miss kate: I totally saw a blue dressage pad that was velvet when I went to the tack store about 3 weeks ago! I wanted to buy it so bad, but we got distracted with everything else and didn't buy it D:<< I'm kicking myself now, it would go so great, especially since my other one has a huge hole in it -.-
Cisco: I love that blanet, the fact that it is two toned means I can either go in light blue or navy and get away with it ;D
Beu: Rio's colour is hunter green too, I think its a bit too dark for him(he's a dark bay) but it is a classic colour and I think it looks good on any kind of bay, dark or blood (: and plus it's easier to find tack in that colour ;D I have to hunt for good quality "baby blue" tack xD

Thanks for the responses guys! Keep posting, I haven't seen some of your guys' horses yet!
---
Ha ha, yeah, in the western worl, pink ostrich leather is all over the place. :] That's what my headstall/breastcollar is. Lol. I think it stands out on Miss Daisy.