Curb chains - weird story
---
Somebody told me this story about the "history" of curb chains. It sounds really weird to me, but maybe someone can elaborate on it or someone else here has at least heard it before.

He claims that curb chains were used for carriage horses, and there was a chain that the driver carried in his pocket with a 5 pound weight on it. When the driver wanted the horse to stand, he'd throw the weight on the ground and the horse wouldn't want to drag it around, so it would stand still.

I'm not going to bother talking about all the reasons that this story doesn't make sense. I just want to know if anyone else has heard anything similar.
99.9% sure that is not true, having just read a well-researched book on the history and development of bits.
I have no idea the history of curb chains, but I'm curious about what book Bubba read. Sounds like an interesting read.
BITS: Their History, Use, and Misuse
by Louis Taylor
Written in the 60's, so kind of outdated, and probably well out of print. I don't know that he said exactly when curb chains developed, only that they are a relatively recent invention, and none of the ancients used them.
Greek bits, such as those advocated by Xenophon, were a lot of fun:
I don't recall if the ring bit was the precursor of the curb, or if they developed separately:
but the ring goes in the mouth and under the jaw to provide leverage pressure.
Also noteworthy is that a lot of the ancients used running martingale-type things with their chariots: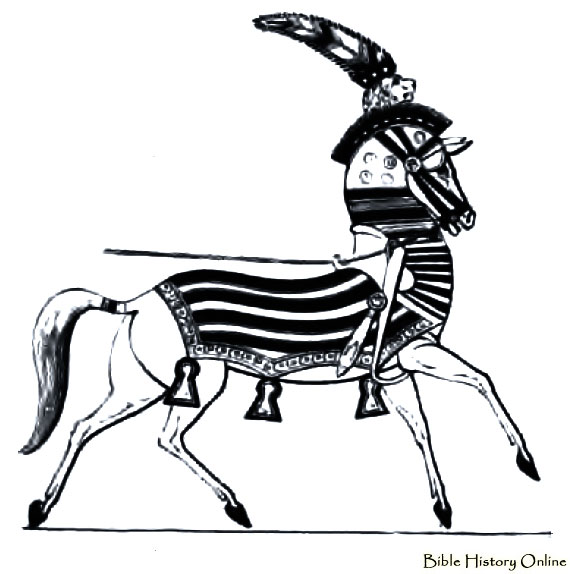 I'm going to look for it. It sounds interesting. Thanks. I think I've seen that first picture before..what a bucket of fun right there.
Hmm...sounds like what a curb chain does, if not specifically listed as such. (Though I thought I saw a chain in that second picture). Wicked looking stuff, gotta say.
---
"If you talk to the animals they will talk with you and you will know each other. If you do not talk to them you will not know them and what you do not know, you will fear. What one fears, one destroys." - Chief Dan George
I have that book. I love it
Posted via Mobile Device