Custom Bronc Halter
---
So Christmas is coming up soon....and im planning ahead for my present....to myself
I want to get Mr Jughead Charlie a bronc halter. but his head...is truly ginormous so im wanting like an extra big noseband.
definitely want some blue/turquoise sparklies since those are his colors and dark leather since he's pretty light.
not so much into the paint whatnot but tooled leather and maybe his name tooled on it or something
(jughead in question)
998989_610266678990962_297315098_n.jpg
so can anybody recommend a good tack maker/company to go to?
Look into Rockin' B Custom Leather. They have a great selection, and can make all sizes.
---
American by birth. Cowgirl by the grace of God. And I wouldn't have it any other way.
Graham Equine! Seriously, amazing work. Such quality. I get SOOO many compliments on Rumor's custom halter. Its thick, durable and exquisite work.
Posted via Mobile Device
O.o I just looked up Graham Equine on FB and hermehgerd CLaPorte I think I'm in love.


Mind sharing pics of Rumors halter???
Posted via Mobile Device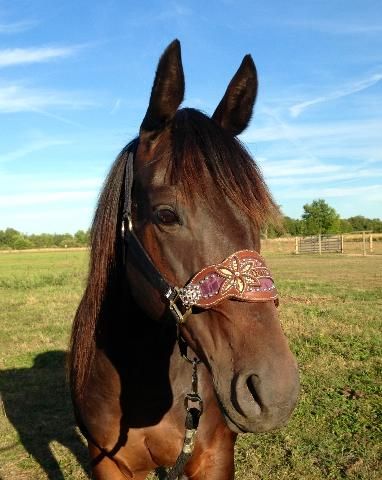 This is not the greatest picture since Rumor's face is turned, but if you look through the photos on facebook, mine is the only one that has the name Rumor.
Kayella (HF member) ordered from GE too. Her's is a blue one with Hennessy on it. I orinigally got referred there from Kayella. (Thank goodness i did!)
LoL, Erica from GE, will do whatever she can for you. She'll custom make anything you can think of...
Posted via Mobile Device
*swoon* love it!

ive seen Kays too so jealous! lol okay. definitely gonna hit them up
so.....ordered a noseband today. NOT charlies. I got a white/black cowhide with CASTLE tooled. should be here next month, got it from JAF tack.

but I'm still planning on going to GE for Charlies if they start taking bronc halter orders again soon!
LoL, I know. I'm going to order my mom one for Christmas, so I've been eyeing her site daily.

I refuse to go anywhere else. and I can't wait for Wrecker to grow up, cause I already have an idea in mind. LoL. (She's 6 months old...I have to be patient. LoL)
Posted via Mobile Device
haha I sent her a message on FB asking when they were going to start taking orders for them again. aaaaah. I don't even have my horse with me but 'i'm super impatient to get it lol

I figure the noseband I got now can work as my other guys halter lol. but Charlie has to have his own special one

haha well you could always get one for Wrecker now and then hang it up near her and tell her to HURRY UP AND GROW. lol

man. cant wait to see what you have in mind for her though!